04 | 04 | 2022
Designer Profile – Maria
Maria is Jigsaw's newest junior interior designer, with added experience working in the interior architecture department. Learn more about the inspiration behind Maria's work and the qualities she brings to Jigsaw.
What inspired you to become an Interior Designer?
I came to a point where I wanted a career shift from hairdressing but wanted to stay in the creative business. I have always loved watching TV shows where they flip houses, and the day-to-day tasks are so different… That is what I love.
How would you describe your design style?
I love colours – my (current) favourite color is green. I would always recommend colour for commercial projects or flamboyant clients, because it brings joy and personality.
I can also appreciate a relaxed minimalist style with natural materials and neutral colours. I hate clutter and thinks things need to have a home.  I like the Louis Poulsen Panthella lamp; it has a unique shape, almost like a trumpet, and the design is simple with its choice of material and sticking to one colour. I also like that you can dim this lamp, just makes it better.
Louis Poulsen Panthella floor lamp designed by designer and architect Verner Panton.
Where do you find inspiration for your work?
I find a lot of inspiration from talented designers that share their work on Instagram and LinkedIn. I am also addicted to the Youtube channel Never Too Small; they showcase small apartments and provide genius solutions when it comes to storage. Check out one of my favorite changes here.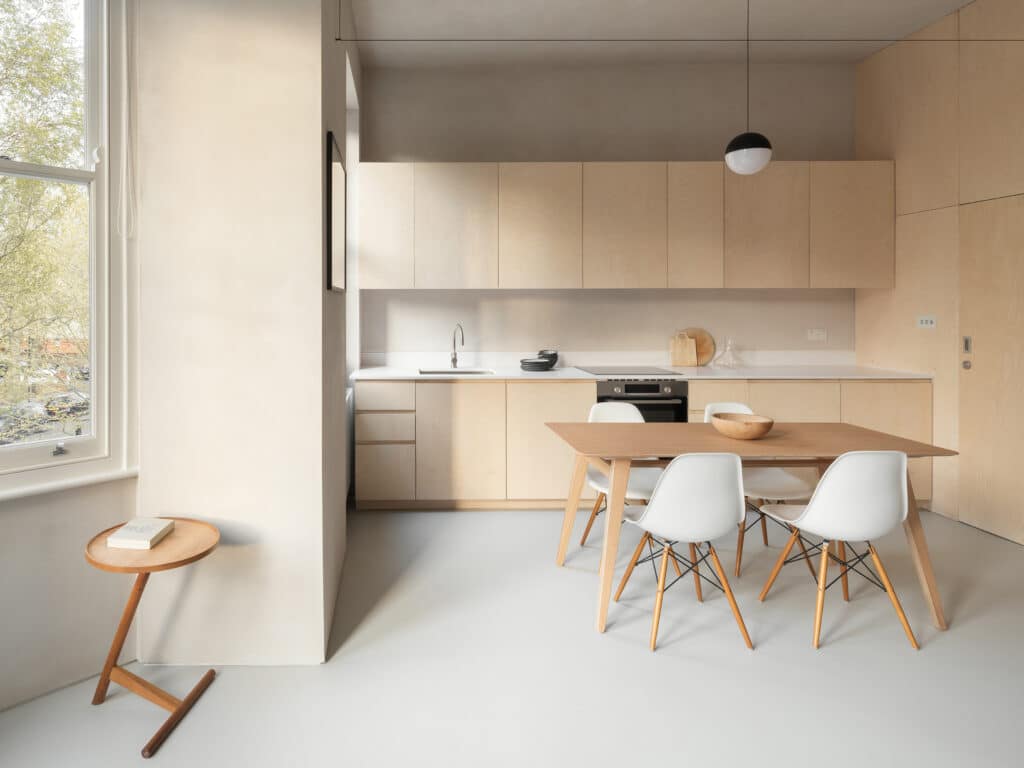 Boho Japanese small apartment, in London, designed by Never Too Small. Photos by Ståle Eriksen.
What are your favorite colours to use in projects?
I find green a versatile color that I can pair with other greens or mix with yellow, pink, and blue. Green is associated with nature and can help us feel calm and refreshed. It can also evoke a sense of harmony, security, and safety.
I think it is important to use color because there is so much psychology and feelings behind colors that we surround ourselves in.
What's your favorite room or home of all time, and why?
A snug that you can sit back and relax in with deep rich colors, a big sofa with room for everyone, and a good piece of joinery that stores and hides all wires from the tv, because loose wires look like clutter… and some beautiful flowers and green plants.
Are you a minimalist or a maximalist?
I am a good mix.
Do you prefer pattern or texture?
Texture – designing with textures helps combine the space with how they all feel different: Rough, smooth, soft, hard, and silky.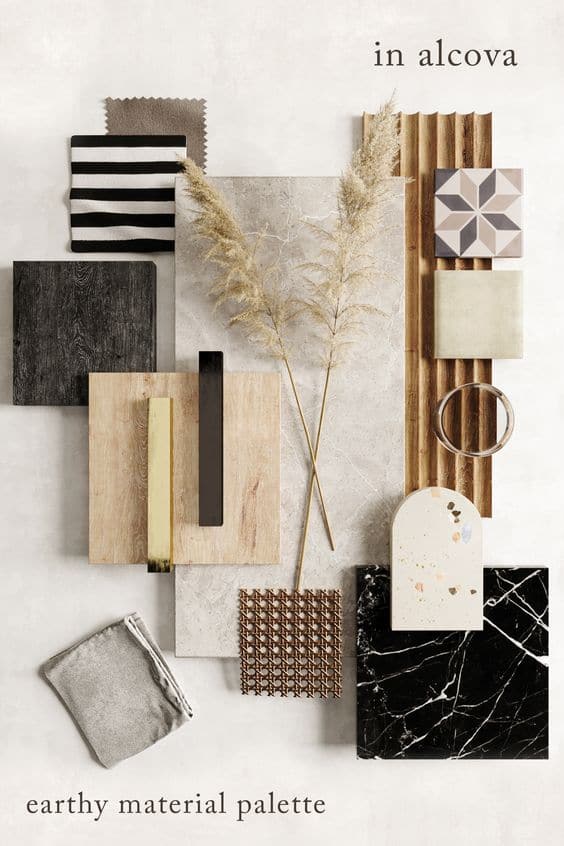 Board presented by In Alcova.
What do you consider the most overrated design trend?
Cliché signs like "live laugh love".
What is your motto?
"You can do anything. You got this"
I find it is important to have a motto or a mantra that will help me reach my goals and keep giving myself that inner pep talk when things get tricky. The more you say it, the more you believe it, and you will work hard to get it done. It helps inspire me, change a habit, and increase my productivity.
Which words or phrases do you most overuse?
I overuse the word "thing" or "thingy"… Usually it's because I don't know or remember the word. I try to avoid it as much as possible, and then I end up over-explaining something, just because I forget the word.
I am still learning after living in the UK for a year and a half, and currently playing Wordle which is teaching me new words every now and then.
What qualities do you bring to Jigsaw?
My broad knowledge of using SketchUp and Adobe Suite – I am always eager to learn more and will often go on Youtube to learn from other designers how to make my day more efficient and improve my visuals.
What is the most rewarding aspect of your job?
Being a part of a team with amazing designers, and creating designs that will give the client a better quality of life with functional designs.
Who is your favourite interior designer?
India Mahdavi is one of my favourite designers because she uses a lot of colours and shapes.
Designed by french architect India Mahdavi.
I can't get enough of the floor in the pink gallery at Sketch Café', it reminds me of the Missoni towels pattern. One day I am having a hallway tiled just like that beautiful floor of the multi-award-winning design. The pictures speak for themselves.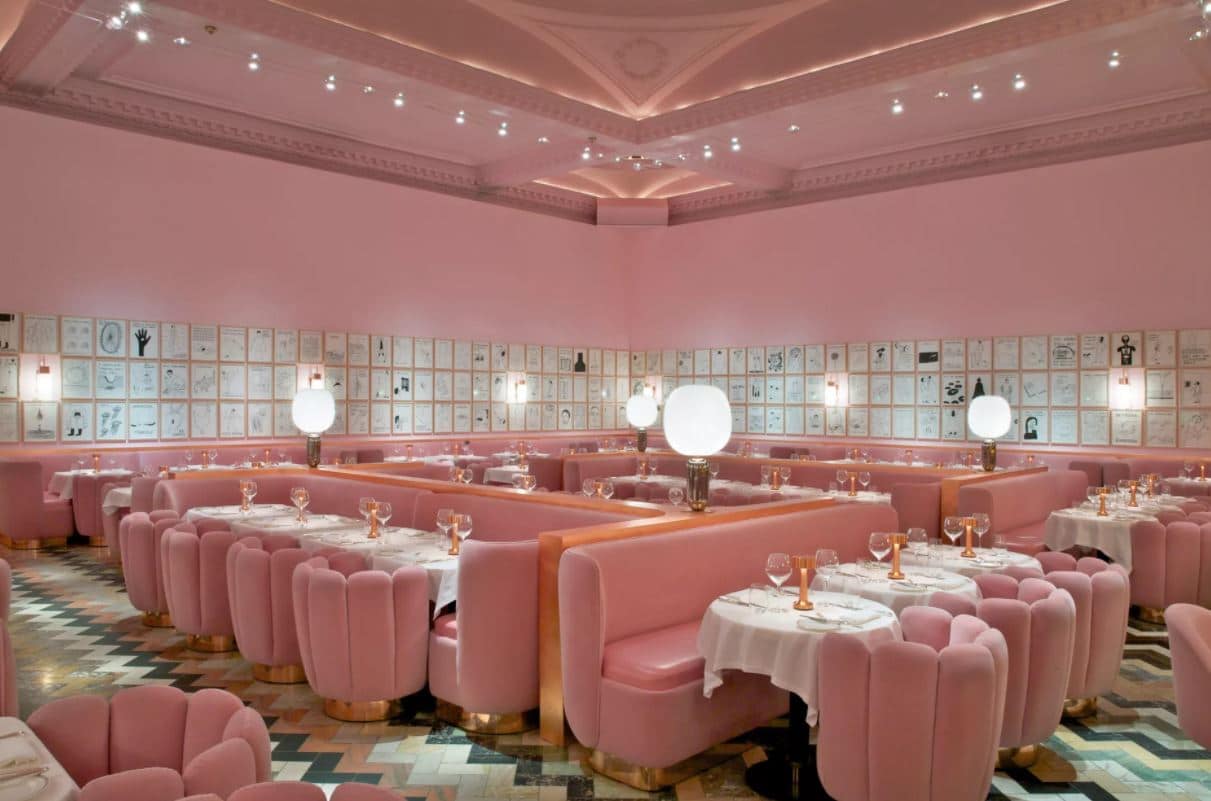 Photo of Sketch Cafe, located in London.
If you have an enquiry, click here to learn more about our interior design services, or contact us to book a consultation with one of our designers!