19 | 10 | 2022
Top 6 Styles to Maximise your Airbnb in 2023
Better considered spaces to maximise the holiday experience.
Airbnb represents a community of property investors who list spaces for short-term rental. Whether you're advertising a luxury villa in the South of France, or a cosy shepherd's hut in the Cotswold's, better considered interior design elevates immersive, memorable experiences that holiday residents are investing in.
BOX furniture schemes are pre-designed by Jigsaw's Interior Designers to make the most out of your investment. This turnkey solution guarantees no waiting around for deliveries or heavy lifting, with our professional installation team.
Whether you're aspiring for a cosy relaxed scheme celebrating texture and bohemian styles with The Crafter, or attracting bold personalities with The Artisan, BOX offers an adaptable inventory to complete any property, with additional bolt-on packages to get your property on the market.
BOX Standard Schemes
Images shown are indicative of furniture schemes, actual items may vary.
1. Industrial – The Barber
The Barber scheme offers a vintage industrial style for those looking to add real character to their property. Combining tan leather and black iron, this scheme challenges perfection with raw materials complemented with modern design. See The Barber come to life in a recent development project in Dorset.
The Barber is great for an Airbnb with exposed internal structure and large open spaces.
2. Bohemian – The Crafter
The Crafter celebrates texture and bohemian style, showcasing rattan, macrame, and cane work through its furniture and soft furnishings. The pale greens, terracotta and natural tones, combined with textually strong detailing, represents a cosy, relaxed scheme. See The Crafter come to life in a recent Airbnb project in Dorset.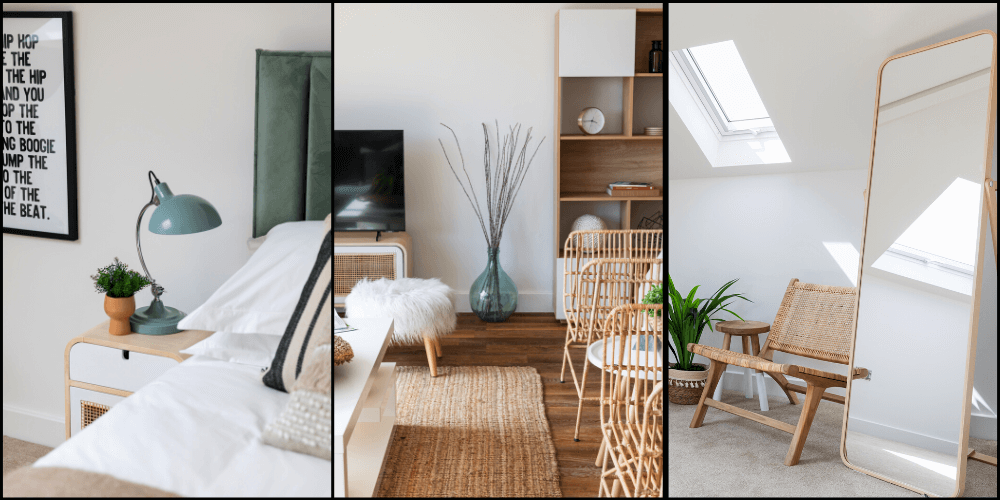 The Crafter is great for an Airbnb that celebrates earthy tones and natural hues with organic elements and textures.
3. Biophilic – The Botanist
The Botanist introduces a fresh ambiance to a property inspired by nature. It has a limited colour palette that allows botanical prints and green tones to bring life to this calming scheme.
The Botanist is great for a nature-inspired Airbnb surrounded by forestry, bringing the outdoors, indoors.
4. Maximalist – The Artisan
The Artisan asserts boldness with an exploding palette of colours enhanced with brass detailing for guests of big personality. This scheme can liven up any space and boasts great craftsmanship and elegance.
The Artisan is great for sociable guests looking for excitement on a city break, or exploring a new town for the first time.
BOX Prime Schemes
Images shown are indicative of furniture schemes, actual items may vary.
5. The Retreat
The Retreat elevates a sense of tranquility and escapism with a blend of soft pastel colours, fresh greenery, and light woods. Luxurious velvet and cosy textures complement each other to form a dream-like space. This scheme was inspired by a previous development project in London.
The Retreat is great for guests who want to take a step away, relax, and re-calibrate.
6. The Modernist
The Modernist inherits art movements from the 19th and 20th centuries, showcasing warm brass finishes and dark wood furniture, bringing a superior feel to this premium scheme.
The Modernist is great for architecturally characteristic properties with history and elegance.
We're Here to Help
Elevate your property with pre-designed furniture schemes meticulously curated by interior design specialists, as your turnkey solution to realising the potential of your Airbnb, inspired by those who will inhabit the space.
For more information on the process, inventory, and prices of these furniture schemes, please visit our recently launched BOX website.
If you're looking for a more comprehensive and bespoke approach to realising your property's potential, Jigsaw offers a complete Interior Architecture and Design service. Should you have a potential project, want to learn more about our products and services, or just want to understand how we can help you, contact us today and we will be happy to help.
Get In Touch
Keep up to date with Jigsaw Interior Architecture and Design by signing up to our newsletter, or explore our social media: