27 | 10 | 2015
Current trends for interiors
Here at Jigsaw we are big fans of geometric pattern, it's clear that clean lines, good design and stylised shapes go hand-in-hand with interior architecture. This is why we are really excited that geometric patterns are on-trend.
Often when people think of geometric patterns they imagine bold colours and loud prints but what we are seeing with this current trend is a more controlled colour palette, muted tones and a more subtle addition of pattern. When looking at soft furnishings something as simple as a patterned rug can add dimension to a room or the addition of a chevron cushion can liven up a bed or sofa. This trend is an elegant and contemporary twist on patterns that crop up throughout design history, geometrics are definitely here to stay. So if you are looking for something a little more permanent, decorative splash backs are a great way of introducing geometrics or if you are feeling brave, an intricately detailed wood floor can bring character to an open living space.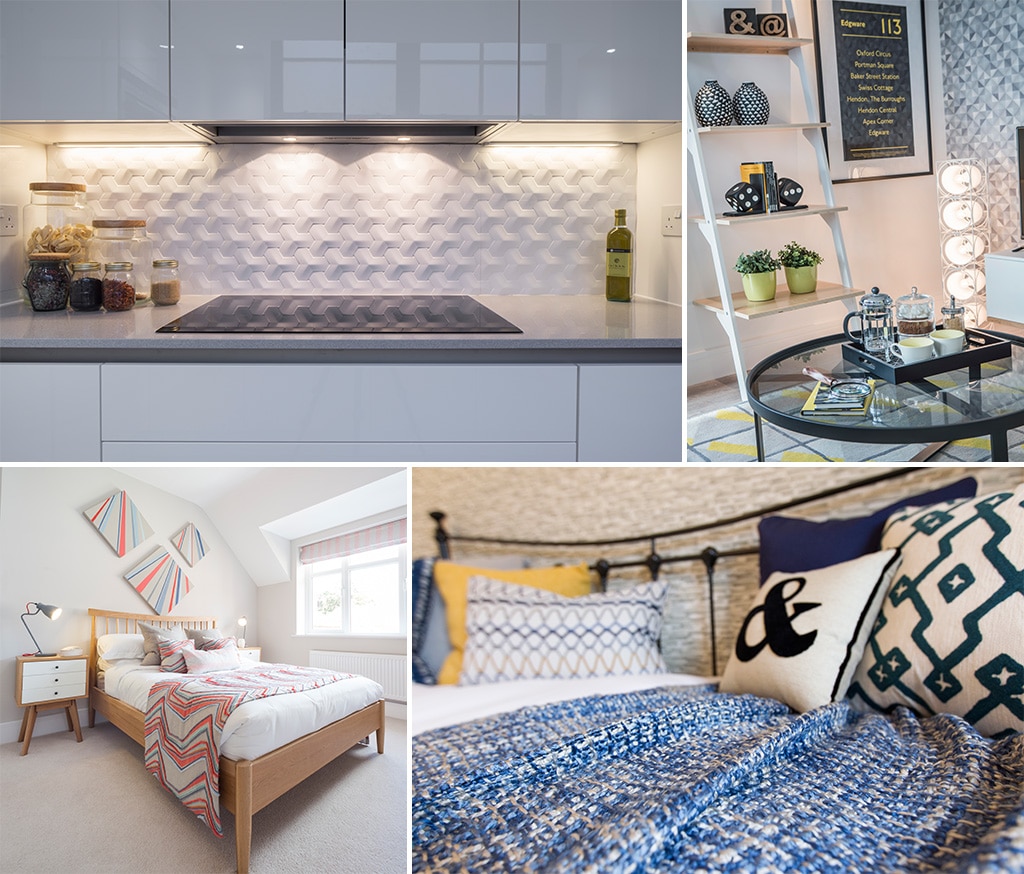 Mixed metals and metallics
The trend for mixed metals and metallics can be interpreted in so many ways; whether it takes inspiration from the art deco period, high fashion or industrial finishes, it can bring richness and atmosphere to nearly any interior.
Metal in the home isn't a new trend, for years we've seen stainless steel appliances in kitchens, chrome finishes throughout new builds and rustic exposed beams in industrial conversions but with the addition of warm bronzes and coppers, along with gold and brass tones, these metals are appearing in new ways in our homes. Whether it's a lamp or a decorative fitting, lighting lends itself to this trend. Warm bulbs create reflections and shadows that can really soften a space. Black iron can sometimes look utilitarian and masculine but alongside other metals its becomes crisp, clean and contemporary, bringing a high-end finish to lighting and furniture. Glowing metallic wallpapers are one of our favourite ways to add warmth to a room, complemented by well-designed furniture, this trend is one of our top choices for show homes.
Raw and rustic materials
A great way of adding depth, texture and character into your home is by introducing raw and rustic materials, this trend works really well in both bathrooms and kitchens but can equally work in a variety of spaces.
Minerals have been sneaking into interiors for a while; stunning drops of amethyst and quartz have been appearing on wallpapers adding natural geometric pattern to walls and reflecting light onto ceilings. Semi-precious stones are being turned into door pulls whilst the options for splash backs and work tops in kitchens are now endless. Concrete started as a high-end look but is now emerging into all sorts of places; this raw building material is being applied to unexpected objects including lighting, kitchenware and desks. Marble and stone are taking centre stage; whether it's in furniture or fixtures and finishes these raw materials are hard wearing, long lasting and spark conversation when used in creative ways.