30 | 08 | 2022
Designing for Student Living: Oxford Point
Enhancing the quality of student living for the upcoming generation of professionals with interior solutions, designed by JIGSAW.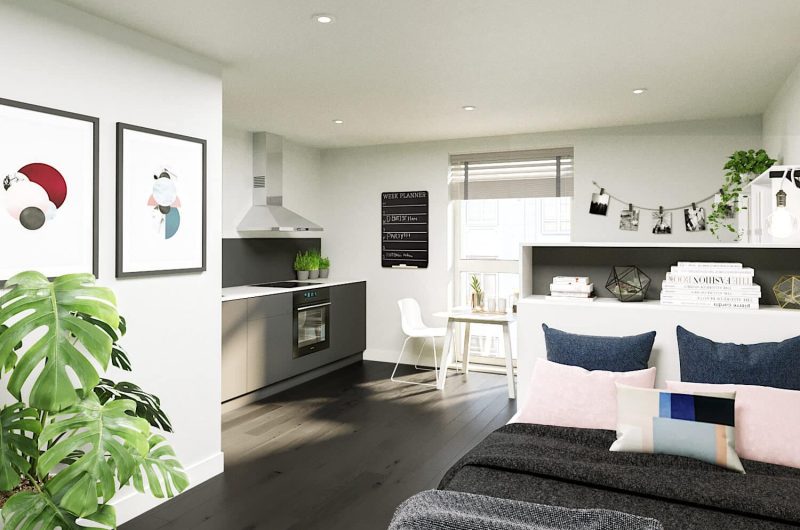 Designing for Student Living
Students are often misconstrued as lazy and detached from desirable accommodation. At JIGSAW, we strive to provide design specifications that welcome students to their new home away from home with exceptional modern design that accommodates student living, to maximise the potential of young adults in the journey to their future.
The Brief
When approached by Watkin Jones to design a full Interior Architecture and Design specification for local student accommodation Oxford Point, we were keen to put our philosophy into motion in enhancing student living with quality design.
Our fresh, modern scheme provides a relaxing environment in which to study, socialise and unwind. The Landscape Architect introduced natural greenery with numerous plans on the external terraces, infusing an uplifting freshness into the space.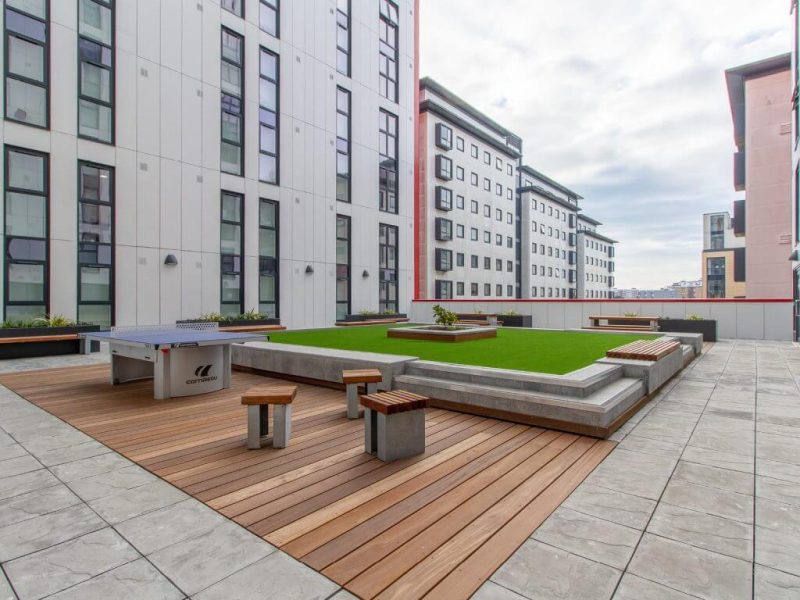 The Lobby
Residents are greeted by Property Management seated behind an angular mint desk, designed by our Interior Architecture department. Eclectic clusters of individual armchairs selected by our Interior Design team present on rugs welcome pockets of stylish seating, paired with a feature wall of warm terracotta. Our lighting scheme contrasts with usual bulkhead lighting that would look too corporate in the space.
3D design of mint reception desk at Oxford Point, Bournemouth, designed by our Interior Architecture department.
A Place to Relax…
The Common Room on the third floor is divided into three distinct zones: games area, study cluster, and cinema room, separated with geometric punched metal divider screens to invite privacy.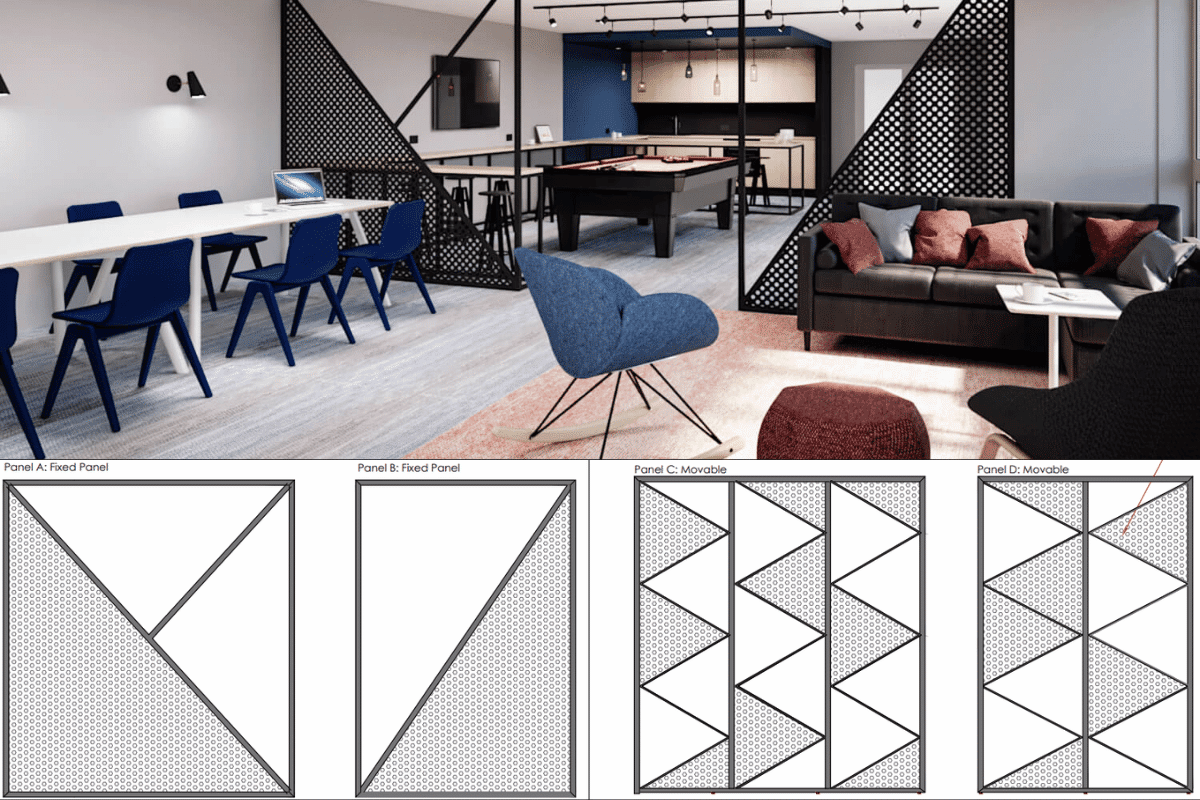 Fixed and movable mesh metal and metal-powder-coated room dividers.
The selected flooring throughout the third level is very practical, with hard-wearing woven vinyl carpet tile, that is durable and easy to clean, essential in communal living spaces. Upon request of the client, all furniture in the common room is loose and easy to move, to enable long-term adaptable multi-purpose environment for all. The common room and games area consists of a kitchenette for communal cooking and dining, with high-level benches surrounding the pool and fussball table.
A Place to Study…
A separate study zone is present on the third level, characterised with carpet tiles from Desso, arranged in a herringbone pattern. The accented terracotta colour complements the upholstery, overall provides a more structured study space with booths and a long work table.
Home Away from Home
Most studio flats are home to a double bed, fitted desk with shelving, wardrobe, and bathroom, while some also have a kitchenette. These have been designed in a layered effect with bands of finishes and colours to create an augmented sense of spaciousness. White walls contrast with dark grey cabinetry, and grey chestnut laminate flooring.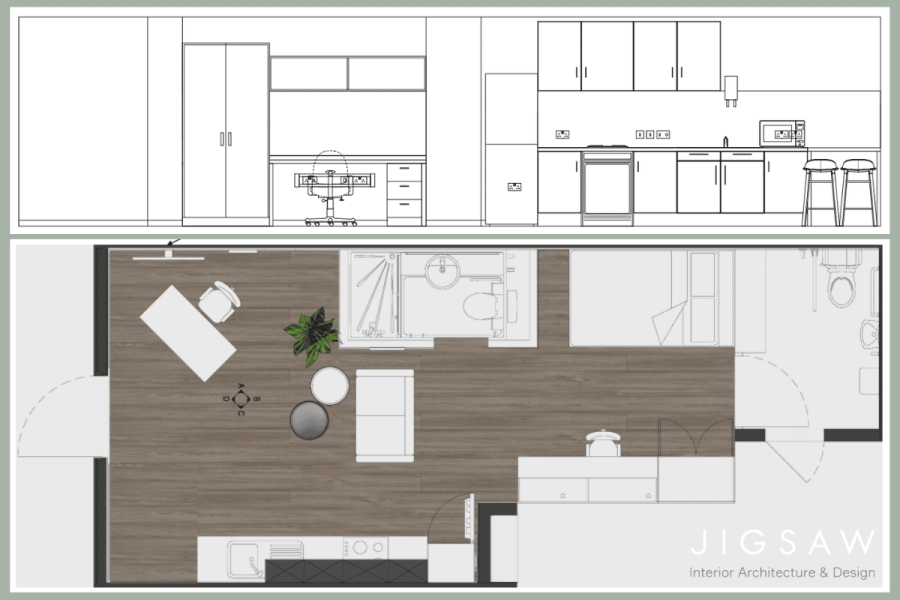 JIGSAW's Impact
JIGSAW's design scheme for Oxford Point, Bournemouth, reinforces a sense of community amongst residents, providing a inspirational space for enhanced productivity and social lifestyle.
Share your Vision
Keep in Touch
Keep up to date with Jigsaw Interior Architecture and Design by signing up to our newsletter, or explore our social media:
Instagram | Facebook | LinkedIn | Pinterest