14 | 10 | 2021
Roland Gardens 'Focus on Joinery'
In October 2019, Jigsaw Interior Architecture were instructed for a refurbishment of a 3-bedroom lower ground floor apartment.
Having met with our clients a few times, we understood that they had a strong idea of the design that they were envisioning, and with that we put together our concept and proposed layouts that incorporated this within the timescale we were given. Our clients had a scheduled moving-in date with not much room for shift, so we made sure to schedule regular meetings with the site contractors to guarantee the process and build ran smoothly.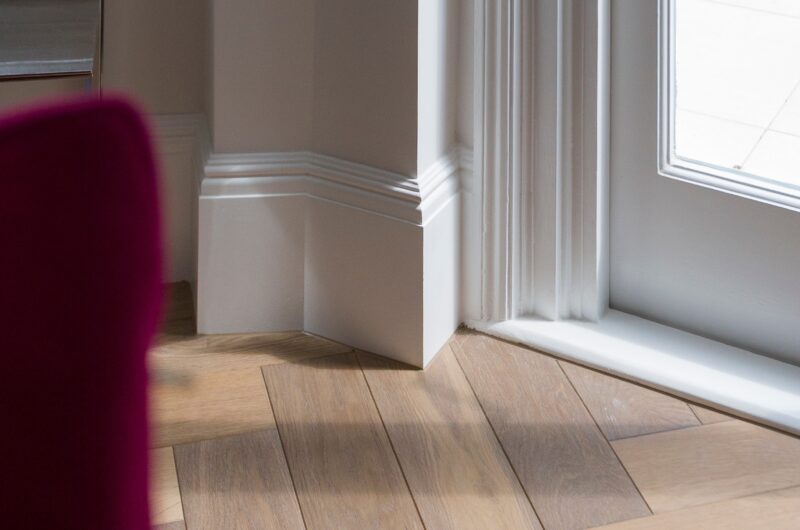 Optimisation of the layout.
An open plan study, living area and large master suite with walk-in wardrobe were the three key items on this brief. Due to the project being based in a basement flat, we worked side by side during our layout process with a structural engineer to establish the walls we could open without any implications.
We decided to reduce the size of the second bedroom so we could add half the space onto the living area, thus taking in the client's request of building a space for a large office. We then used the remaining space from the second bedroom and turned this into a walk-in wardrobe.
Hidden Storage & utility
The kitchen design is very minimal, with a crisp and clean lined off white Silestone worktop, with soft veining for a subtle marble effect. The cabinetry is completely flush, finished with a light wash veneer, and the minimal design cleverly incorporates a hidden door through to the utility room beyond. Large format tiling on the floor in an elegant limestone effect adds to the airy sense of serenity light and spaciousness in the kitchen.
Bespoke joinery features
Throughout the apartment, the details and features were not overlooked. From the traditional spinal balustrade in the entrance, we transformed this to a bespoke handrail cabinet to accommodate shoes and coats. Following on from the treads, the stairs leading to the living area incorporated Havwoods engineered oak flooring formatted to a herringbone pattern, completed with an antique brass trim. The over-high doors, specially commissioned by Denleigh, featured antique brass ironmongery with knurled detail.
If you have an enquiry, click here to learn more about our interior architecture services, or contact us to book a consultation with one of our designers!