08 | 11 | 2022
Top 6 Hotels Recommended to Stay in 2023
Whether travelling near or far, we always appreciate a fantastic architecturally designed hotel, and take inspiration from interiors we see along the way.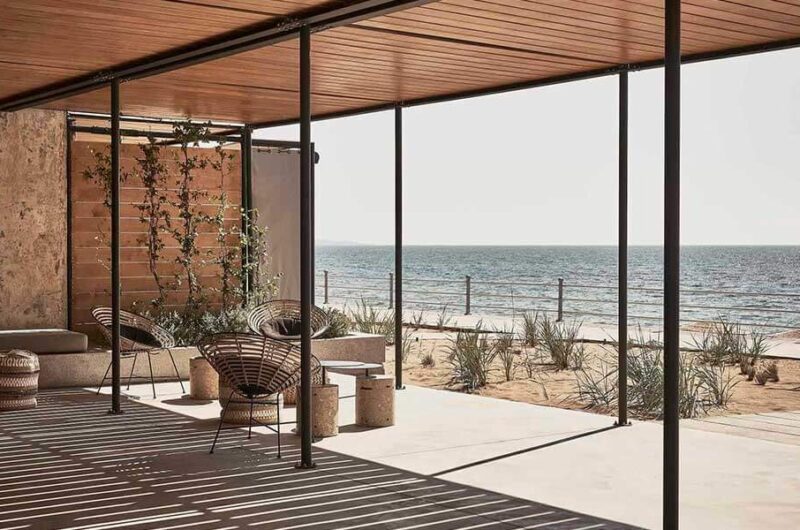 Dexamenes resort.
Dexamenes, Greece
– Rene, Interior Designer
Located in Peloponnese, Greece, Dexamenes offers 34 private rooms with the same experience: sleeping inside old wine tanks but beautifully designed by Greek Architectural firm K-Studio.
This hotel shares a raw architectural palette of concrete, steel, glass and timber, and is softened with a neutral interior palette and sustainable furniture, in terrazzo flooring.
It's brutalistic, yet comforting.
More about Dexamenes | Rene's Designer Profile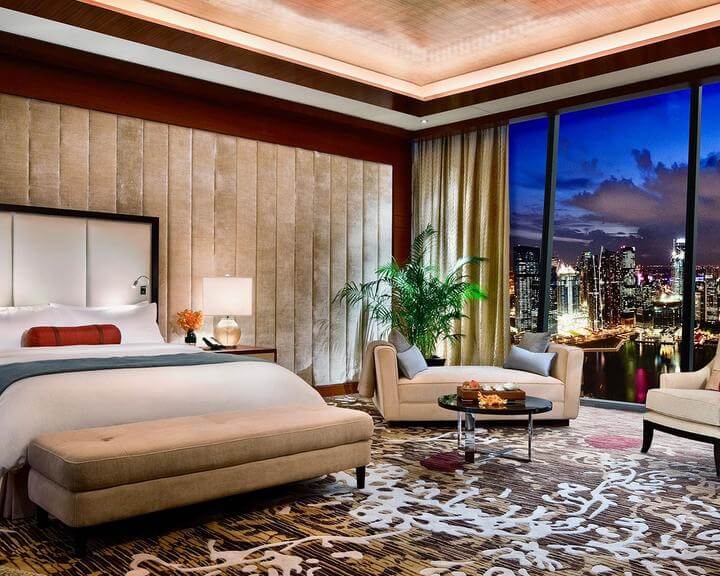 Marina Bay Sands presidential suite.
Marina Bay Sands, Signapore
– Nathalie, Associate Director & Creative Head
This hotel has an awe-inspiring swimming pool on the top.
The high ceiling in the lobby is enormous; the service is excellent however did feel a bit lost. But the pool makes it all good again.
Gamme northen lights cabins.
Snowhotel Kirkenes, Norway
– Pia, Senior Interior Architectural Designer
When traveling I like to immerse myself in the culture of the destination. For me, a hotel can be one of two things: being soley a place to sleep and rest in between adventures, or being a part of the experience of the destination.
I chose this hotel as being a part of the experience of Northern Norway, this is a perfect way to get a memorable stay in a winter wonderland by sleeping in a hotel made out of actual snow and ice.
The hotel also offers great local food, warm 24hr open lounges, and a sauna for that perfect northern Scandinavian experience.
You can choose from optional local adventures such as king crab fishing or a husky safari and if the weather conditions allow it, there might be a chance to capture a glimpse of the northern light.
More about Snowhotel Kirkene | Pia's Designer Profile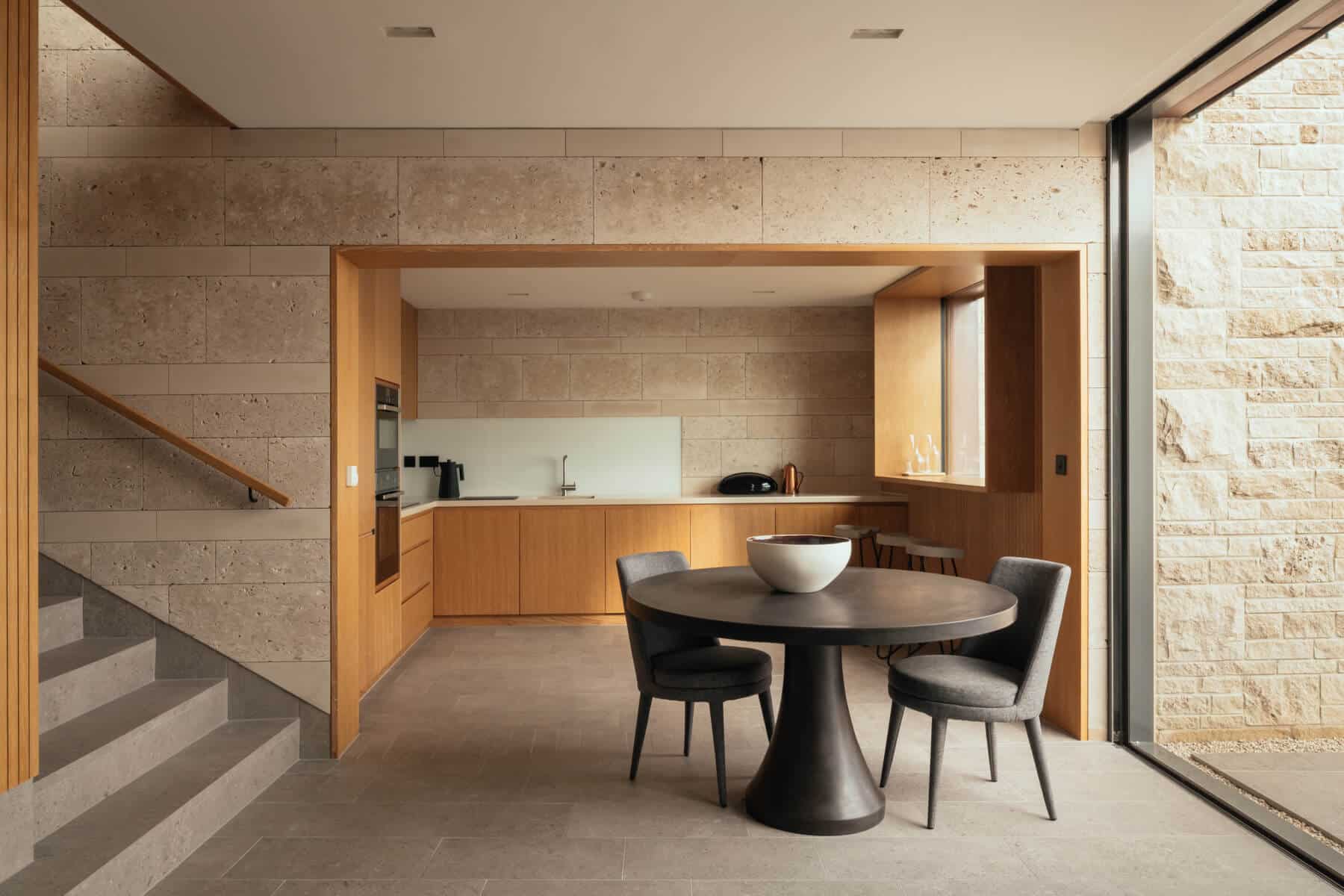 Open space kitchen and dining area in clifftop villa.
The Clifftops, Dorset
– Ivana, Mid-Weight Interior Architectural Designer
5 stunning lodges built on Dorset's clifftops with local Portland stone. Blending with the coastline, The Clifftops present genius spatial planning and architecture by Morrow and Lorraine, integrated within the natural landscape.
The interior also presents a palette of beautifully refined finishes, and clever bespoke solutions that wrap around and form cosy nooks.
What a dream escape with breath taking views of the English Channel. I would like to have a glass of wine on that roof terrace!
More about The Clifftops | Ivana's Designer Profile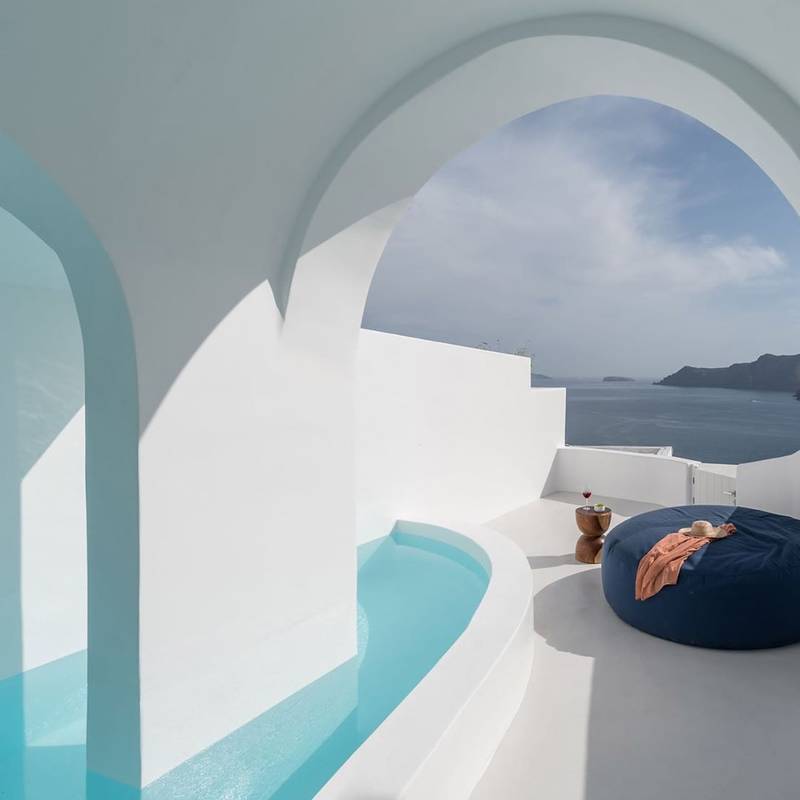 And relax…
Art Maisons, Greece
– Frankie, Finance & Business Coordinator
The hotel is on the volcanic island of Santorini, with the traditional village of Oia. I went for my 10th year wedding anniversary, and I think it is arguably the most romantic destination on the planet.
The hotel is build within an old fortress and is called the Castle of Oia. People come to this point of the island for the breathtaking sunset views, and the hotel cave rooms are perfectly situated for your own private view.
The rooms have a sculpted wall, marble flooring, and a private heated pool built into the caves. We booked a couple massages for added relaxation, and their sister hotel offered a different view of the island with outdoor pools, so stunning.
Sociable dining area for guests.
Leon's Place, Italy
– Alyssia, Digital Marketer & Office Assistant
This boutique fuses classical and modern architecture, following a restoration project of the ancient Palazzo Fabi Altini.
The strategically fitted lighting, botanical detailing and must pastel introduces a feeling of enchantment.
In the heart of Rome, this hotel embodies intimacy, peace, and curiosity, mirrors it exterior surroundings.

Keep in Touch
Share your vision by contacting Jigsaw today.
Keep up to date with new content by signing up to our newsletter, or explore our social media:
Instagram | Facebook | LinkedIn | Pinterest