20 | 01 | 2022
Thakeham Head Office 'Brand Identification and Office Interior Adaptation'
Every concept begins with a storyline; it is critical that Jigsaw provide guidance in each client's journey to realise their property's potential, through timeless design schemes that accommodate long-term functionality and value. It is exceptionally paramount that Jigsaw meticulously encapsulate the client's brand identity when designing commercial schemes.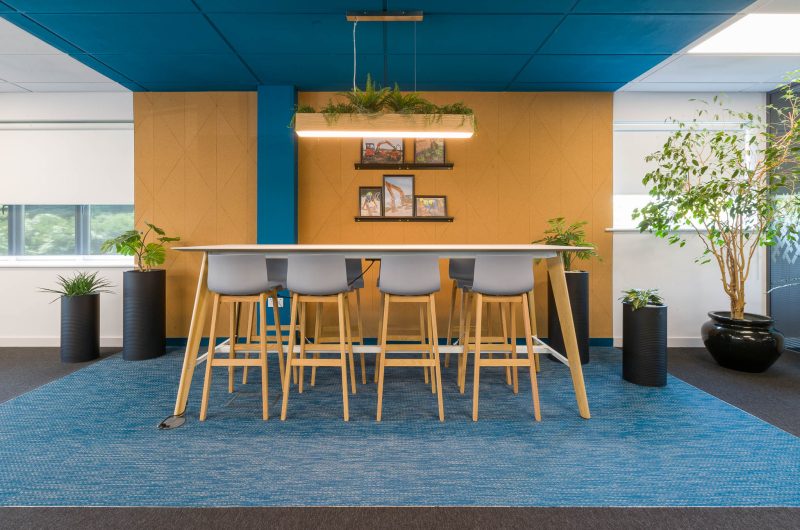 Thakeham: Brand Identification, Values, and Functionality
Thakeham Group are leading residential developers, who take great pride in their environmental and societal consciousness in community development. Their services range from pre-existing community improvements, such as implementing new facilities and housing, to building complete standalone residential areas. Thakeham value the world's transition to sustainability, providing accommodation for families of various lifestyles, with the mission to enhance quality of life for communities and their surrounding environments.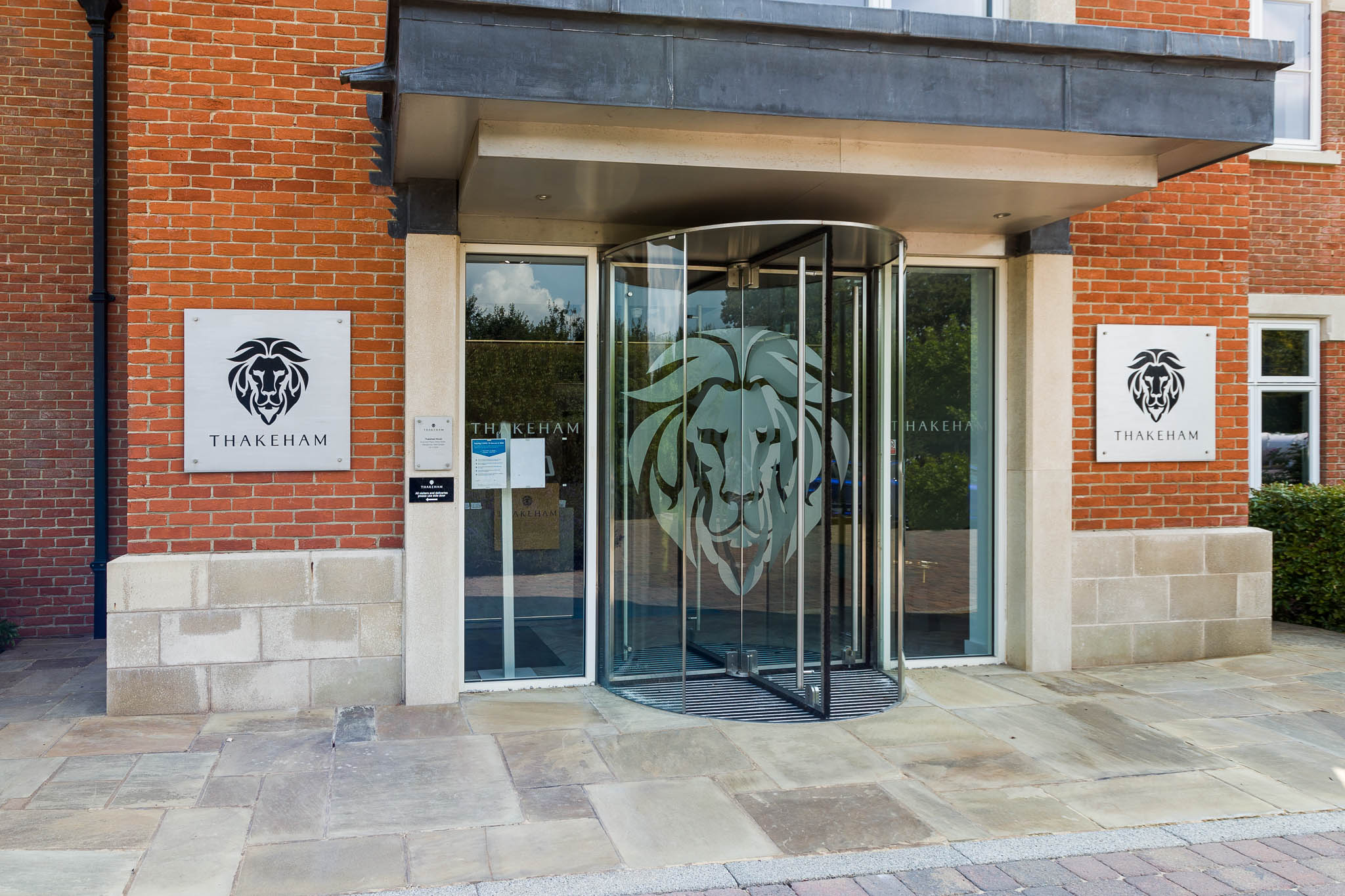 Formerly consisting of chunky furniture, simple carpet and wall finishes, Thakeham first appointed Jigsaw to design a sustainable solution for their head office in Billinghurst, West Sussex, shifting a digital lightweight approach through remote work flexibility and minimal paper-use.
Standard storage spaces, such as desks with integrated drawers, were eliminated to discourage inefficient paperwork stashing, and replaced with furniture designed to solely fit their technical purpose and implemented a central storage system to kickstart Thakeham's 'hot desk' system.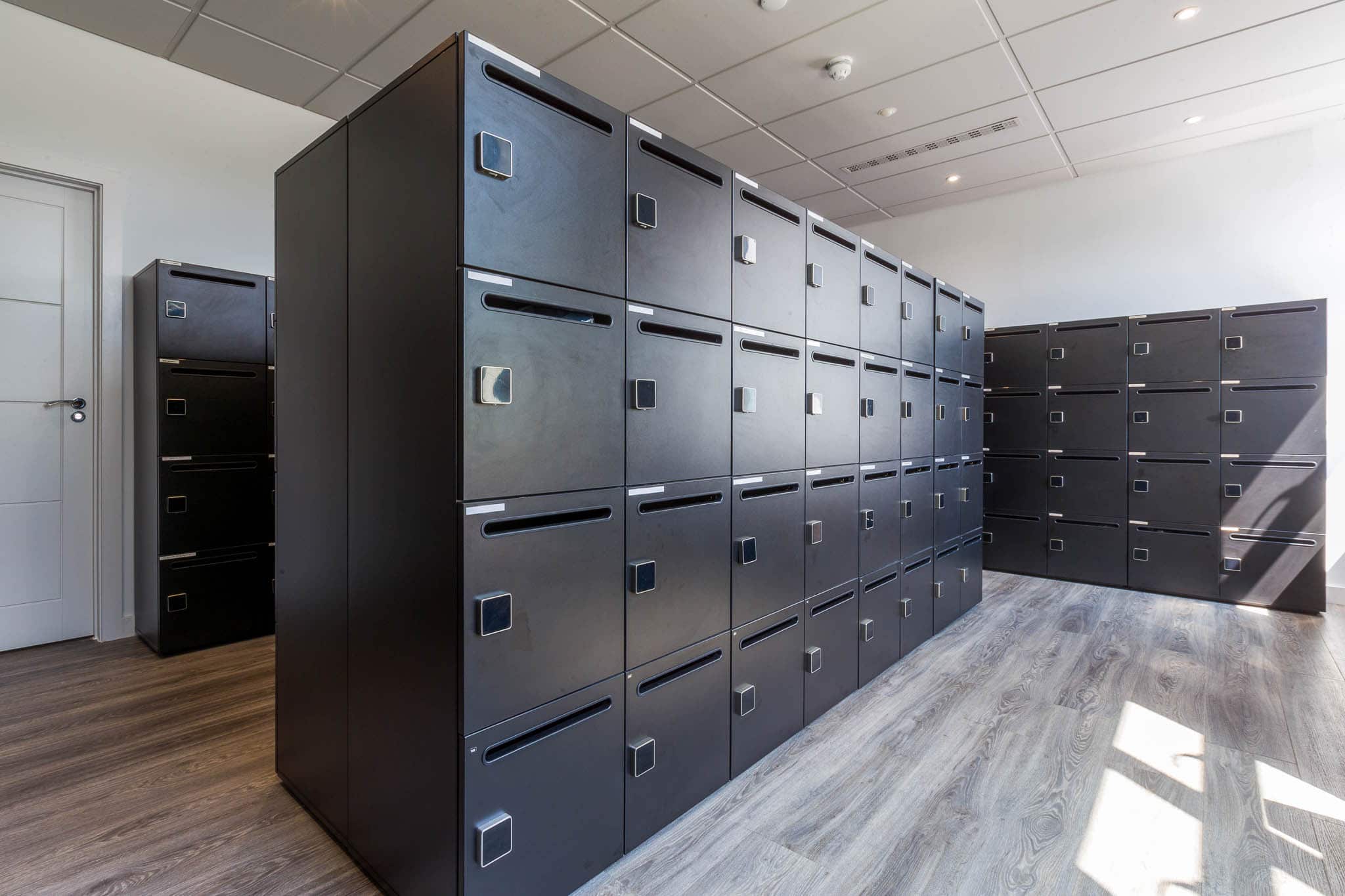 Work Flexibility and Zoning
Thakeham's objective was to establish a direct reflection of their brand's value, to design an office space tailored to the needs of its occupants to enhance quality of productivity and wellbeing, with sustainable solutions. Thakeham aspired to introduce flexible working, with a desired outcome to accommodate various workspaces tailored to different work preferences. Employees are each assigned equipment withdrawn from the central storage system to work remotely based on their preferred work environment that day.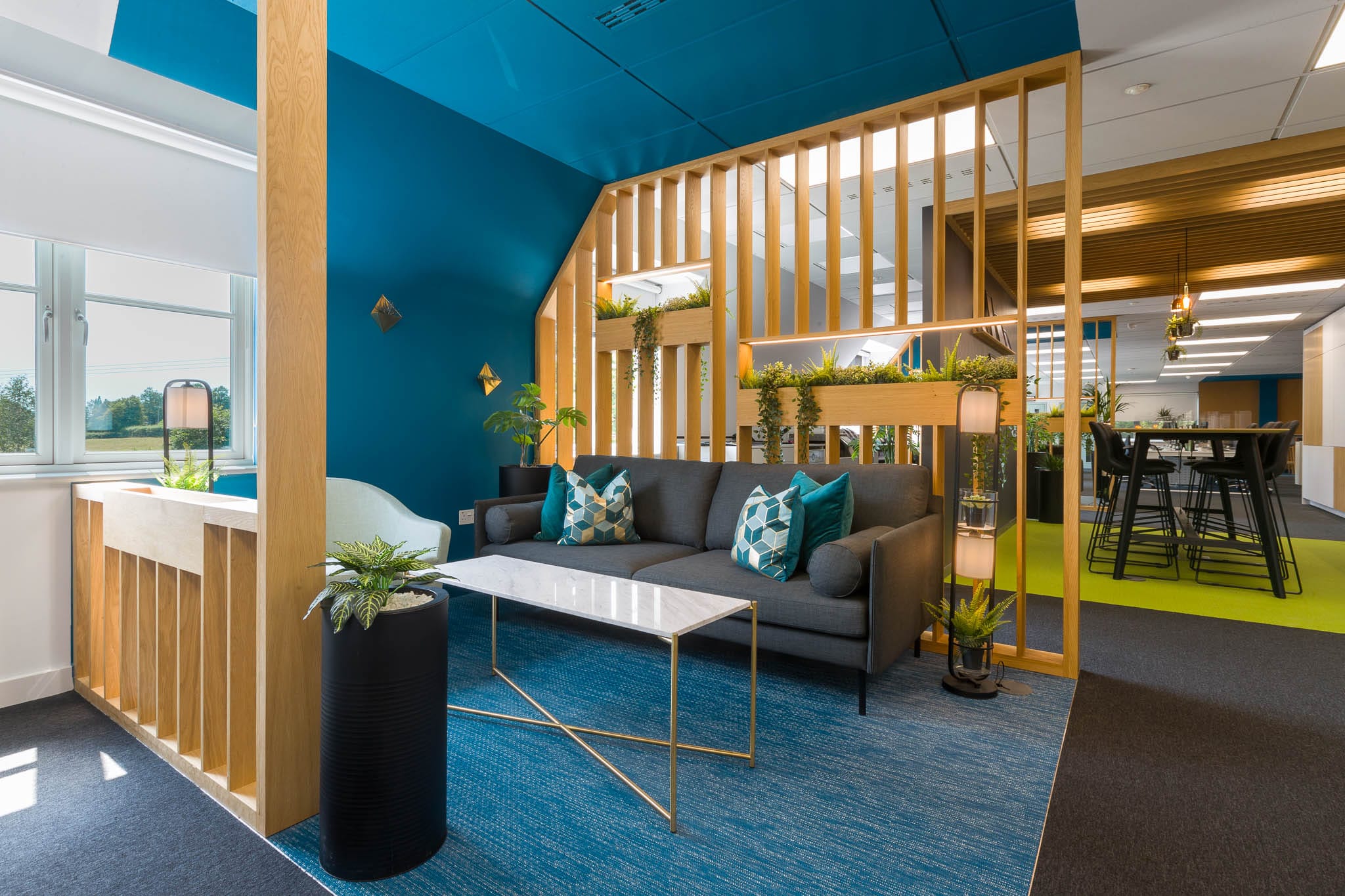 The office represents a standard, open-space office environment, enabling plenty of creative freedom for Jigsaw, to utilise space in means of meeting the brief. Carefully segmented into colour coded zones, following Thakeham's naturalistic brand colours of bold greens, blues, teals, black and white, primary working zones were constructed within the main office space.
Workspace Zones
Each zone represented various professional environments. Working zones replicated standard office desk environments, with bright LED lighting.
Informal breakout spaces are coded blue to welcome a relaxed working environment, providing opportunities for socialising when desired, but remains its own individual workspace. Here, the lighting is taken away from the ceiling, and brought down to floor and wall height, to create a sense of intimacy for employees who wish to informally discuss work over coffee.
Whilst predominantly sectioned through colour coding, other separation methods include timber slat partitioning and plants, to enhance a natural environment while maintaining structure within the facility.
Private Spaces
Contrasting to the main office zones, the boarding room is designed to focus specifically on the table and surrounding screens. Both the flooring and ceiling are dark, to narrow the eye range of employees and to maintain focus on the room's purpose of holding important formal meetings.
Two walk-in 'pods' implemented on each floor support temporary private spaces for employees to carry out private calls, via Zoom or telephone, that do not require a whole room. Each pod is soundproof, and contains a small desk with a chair, with signage above the doors to signal when available to use.
The Hub
The Hub is a main kitchen designed by Jigsaw covering the ground floor, with two smaller versions featured on the remaining floors for easy accessibility.
Reception
As the first point of contact with customers, it is paramount that a brand's identity is immediately translated to the visitor, both new and familiar, upon entering the building representing the 'world of Thakeham'. All details were meticulously considered by Jigsaw's designers.
The interlocked concrete and wood reception desk is designed to represent Thakeham's brand of incorporating two existing fabrics to become one, complementing the old with the new.
"Jigsaw influx a lot of design identity to reflect the client's brand to give a wow factor and identity."
One Established Scheme, Two Architecturally Contrasting Spaces
Upon completion of Thakeham's head office, Jigsaw were appointed to incorporate the same design scheme in another office located in Thames Valley. Whilst newly built, this office presented an older appearance as a barn conversion, with timber beams, a dominant staircase, and open ceilings.
Working with a pre-existing concept built for an open-planned office space to complement a property of pre-existing strong interior architectural characteristics, Jigsaw's challenge was to interlock the two bold identities of Thakeham's brand and Thames Valley's office building to complement one another.
Reference image of Thakeham's Thames Valley office interior architecture.
The concept remained the same, with few alterations; each workspace follows the same colour coded system but toned down in saturation to allow the rest of the building to sign. Each zone remained the same in their positioning, lighting, and purpose.
The kitchenette points mirrored the original site, with just a bar section introduced, the reception remained the same for brand consistency, and the office contained one large meeting room treated exactly the same.
If you have an enquiry, click here to learn more about our interior architecture services, or contact us to book a consultation with one of our designers!