14 | 10 | 2021
Woodgate Sustainable Showhome
In this project, Jigsaw explores inexpensive design hacks and environmentally conscious decisions to promote sustainable living for first-home buyers seeking a long-term home in Woodgate.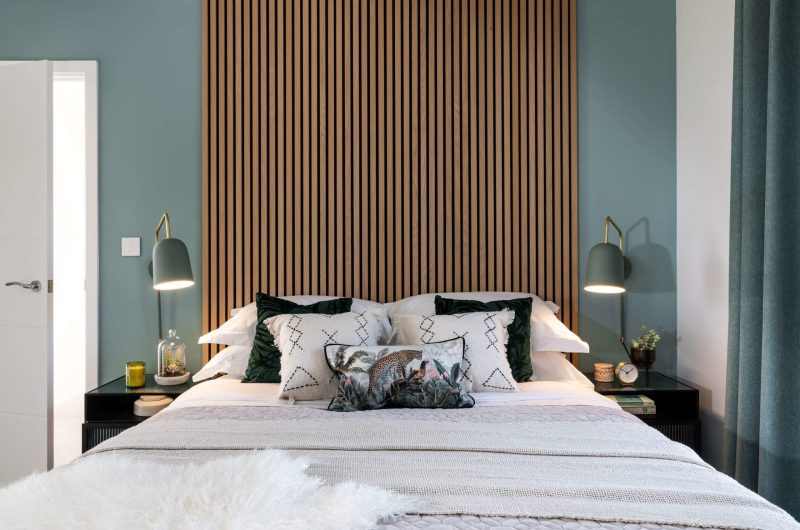 Our Client's Vision
As one of the leading developers in the southeast, Thakeham Group develops leisure, education, and business communities. Their goal is to provide affordable, sustainable homes that enhance the quality of life for residents and restore the environment. With their Sustainability Strategy, Thakeham aims to make all Thakeham Homes zero carbon by 2025.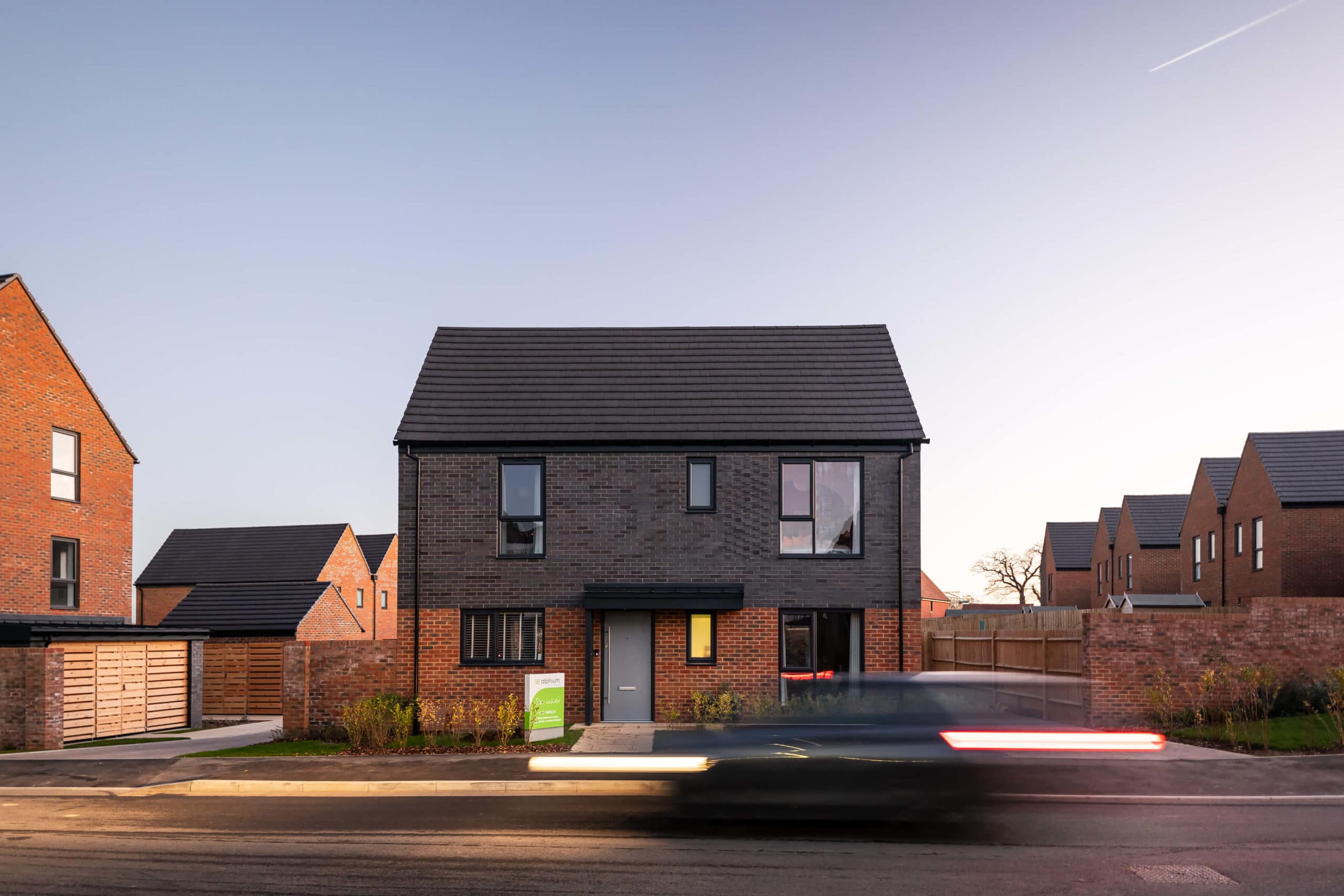 The Community
Located in West Sussex, Thakeham have been working on a development in Woodgate, to encourage first-home buyers away from the city. Woodgate incorporates the benefits of countryside and city living with direct connection to Brighton and London, whilst accommodating a safe, environmentally conscious village community.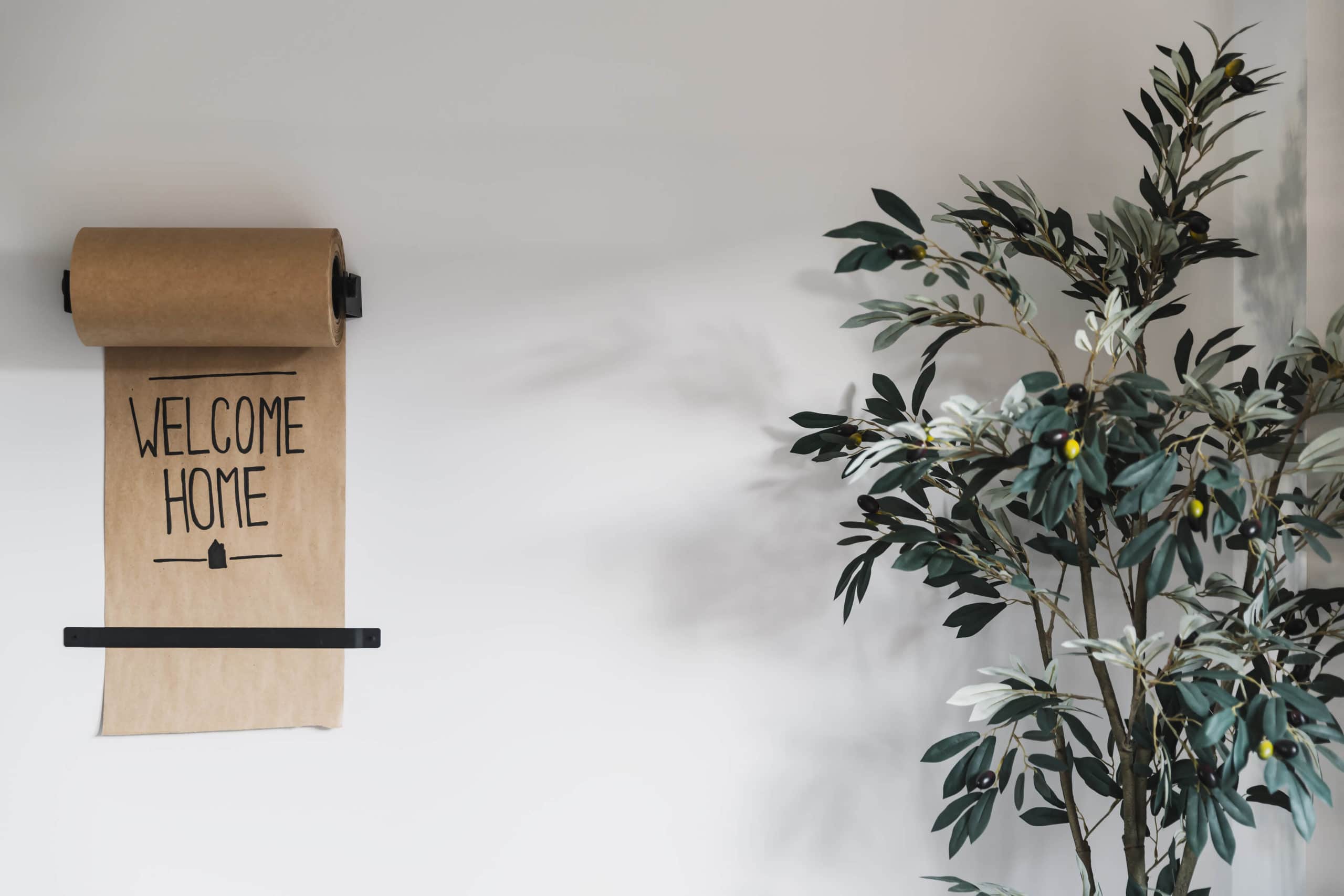 The Brief
Alphium Homes, a sub-brand of Thakeham Group, specialise in developing first-home developments tailored to the specifications of first-home buyers. The objective of Alphium was to design a show home that reflects the personality of first-time home buyers, while promoting conscious living through sustainable materials and inexpensive design hacks for inspired buyers. Recently, Thakeham appointed Jigsaw to complete this project after redesigning their head office and has since appointed Jigsaw to other projects within Woodgate. Keep an eye on our website for more on this development soon.
A Lesson in Sustainable Lifestyles
Our designers at Jigsaw value the importance of telling a story with their design specifications, treating each project with a fresh perspective to guide clients to their goals. To gain insight into the brief, an eye-opening seminar was arranged with Thakeham's Head of Sustainability, who educated Jigsaw on the environmental impact of material use. During this, our designers learned how to incorporate sustainability in design to help restore the environment through recycled materials, supporting small businesses, and multi-purpose layout design.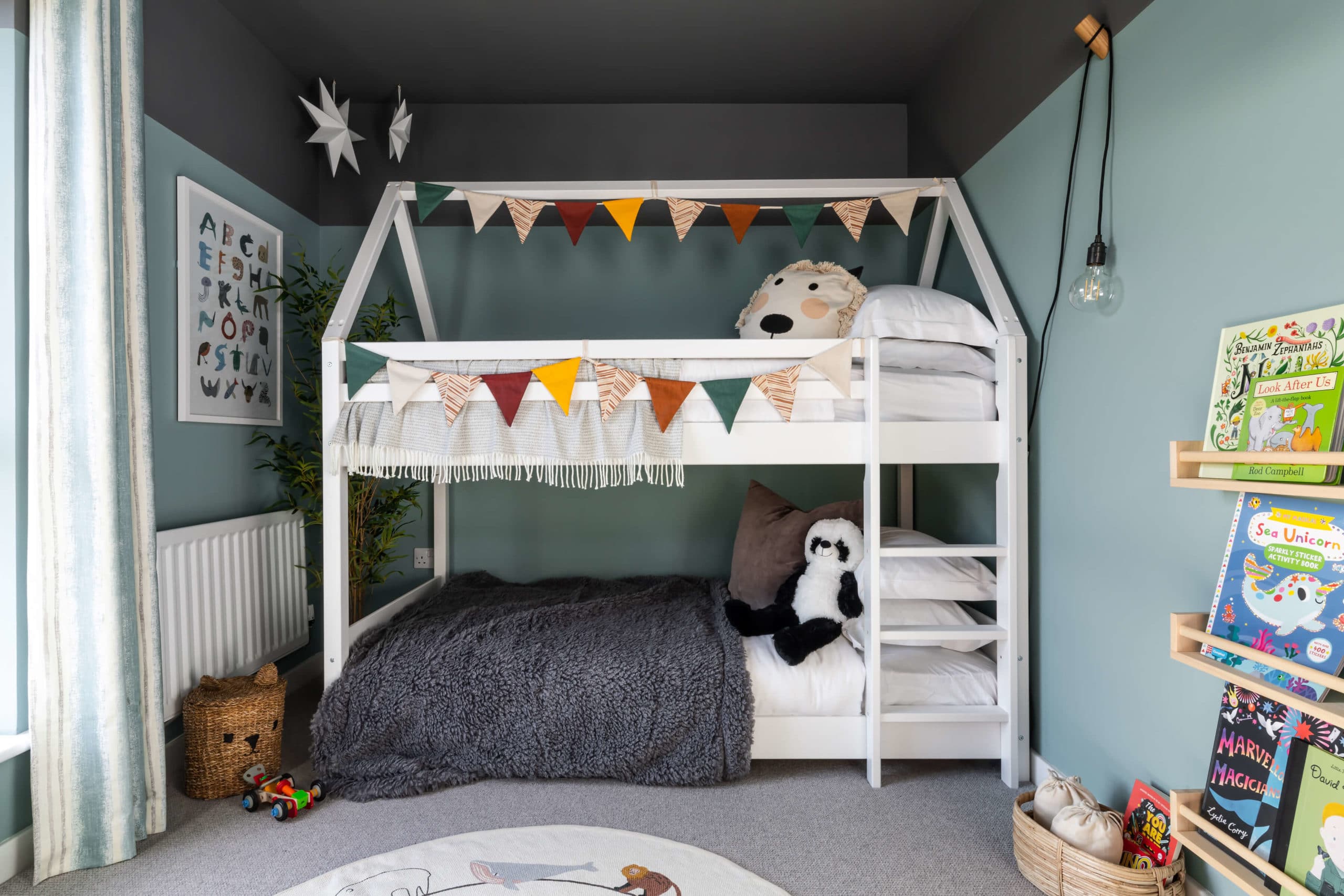 Within the show home, we incorporated inexpensive modern architectural and interior design hacks applicable to any simple space, without permanence, to inspire and be emulated by Alphium buyers. On the living room walls, acoustic paneling can be easily installed or removed, to complement a multi-purpose space and design.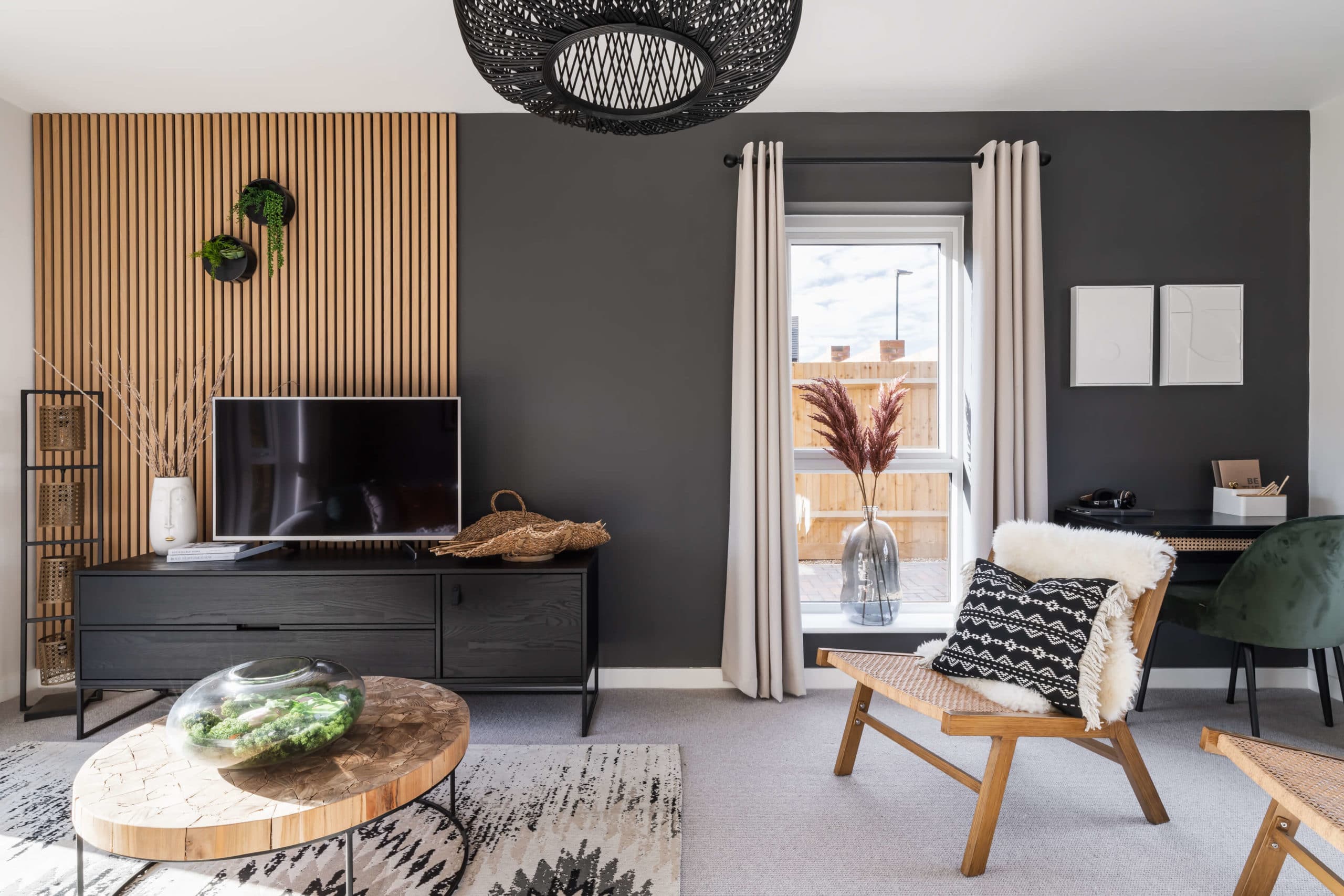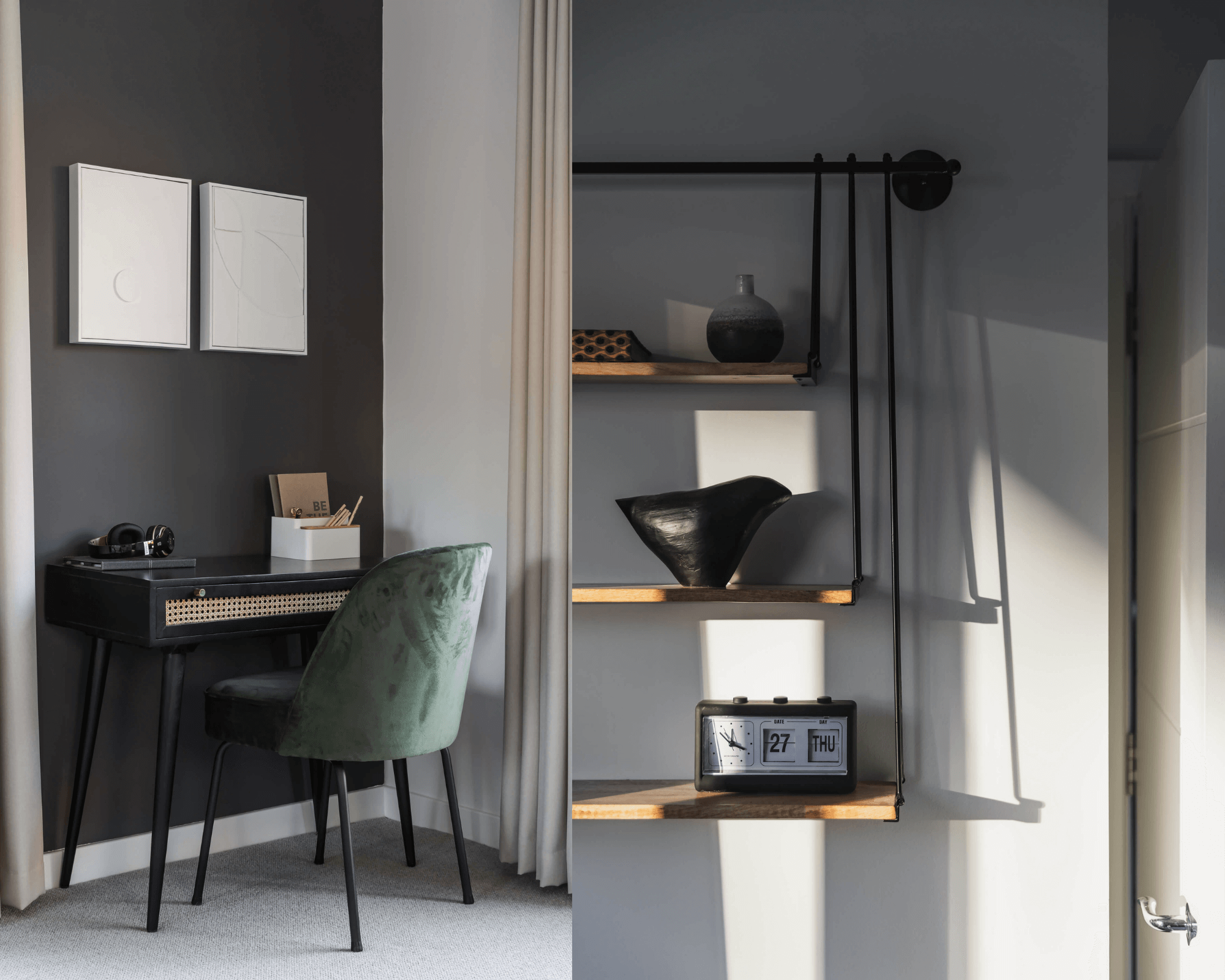 Interior Architectural Design
Designers carefully considered the use of wall paint to establish "zones" within open space environments such as the kitchen/dining area,  also designed to adapt to the current "working from home" lifestyle, incorporating multiple functionalities. These creative decisions are not only efficient in establishing personality but can be applied accordingly to the purchaser's preference without permanence.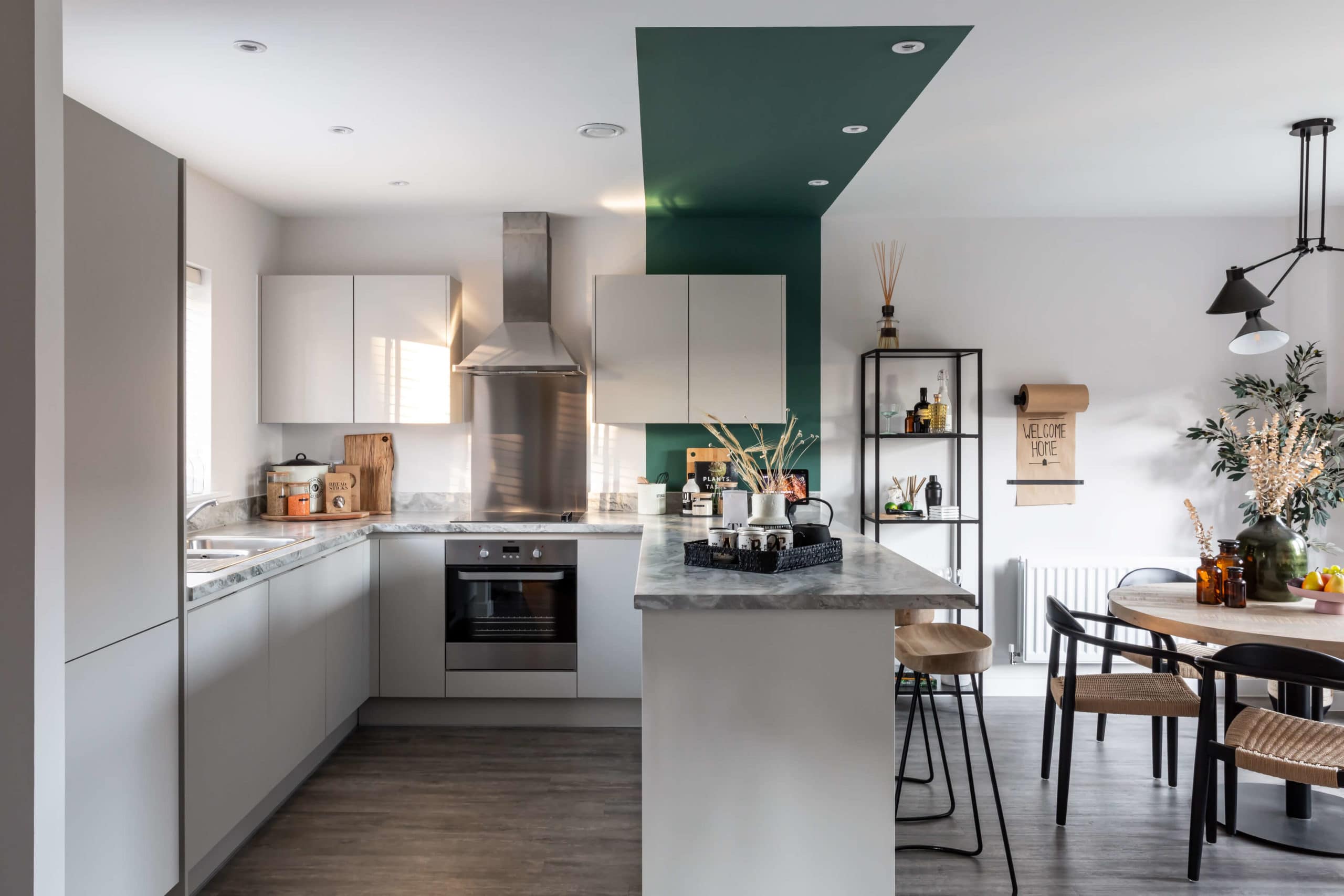 Additionally, to carefully selecting bespoke joinery for long-term flexibility, our Interior Architectural Designers also considered environmentally friendly materials. For example, our designers Pia and Ivana replaced MDF countertops with plywood. This is a more recyclable material still effective for functionality, that would evolve with the space's purpose. Achieving some design hacks, was a collaborative experience for both departments at Jigsaws. The Interior Architectural Designers replaced some light fixture hooks, for instance. This promoted the use of removable power sources instead of fixed lighting, providing flexibility for residents to modify. The Interior Designers expanded on this with additional light pendants and styling.
You can learn more about Jigsaw's interior architecture services here.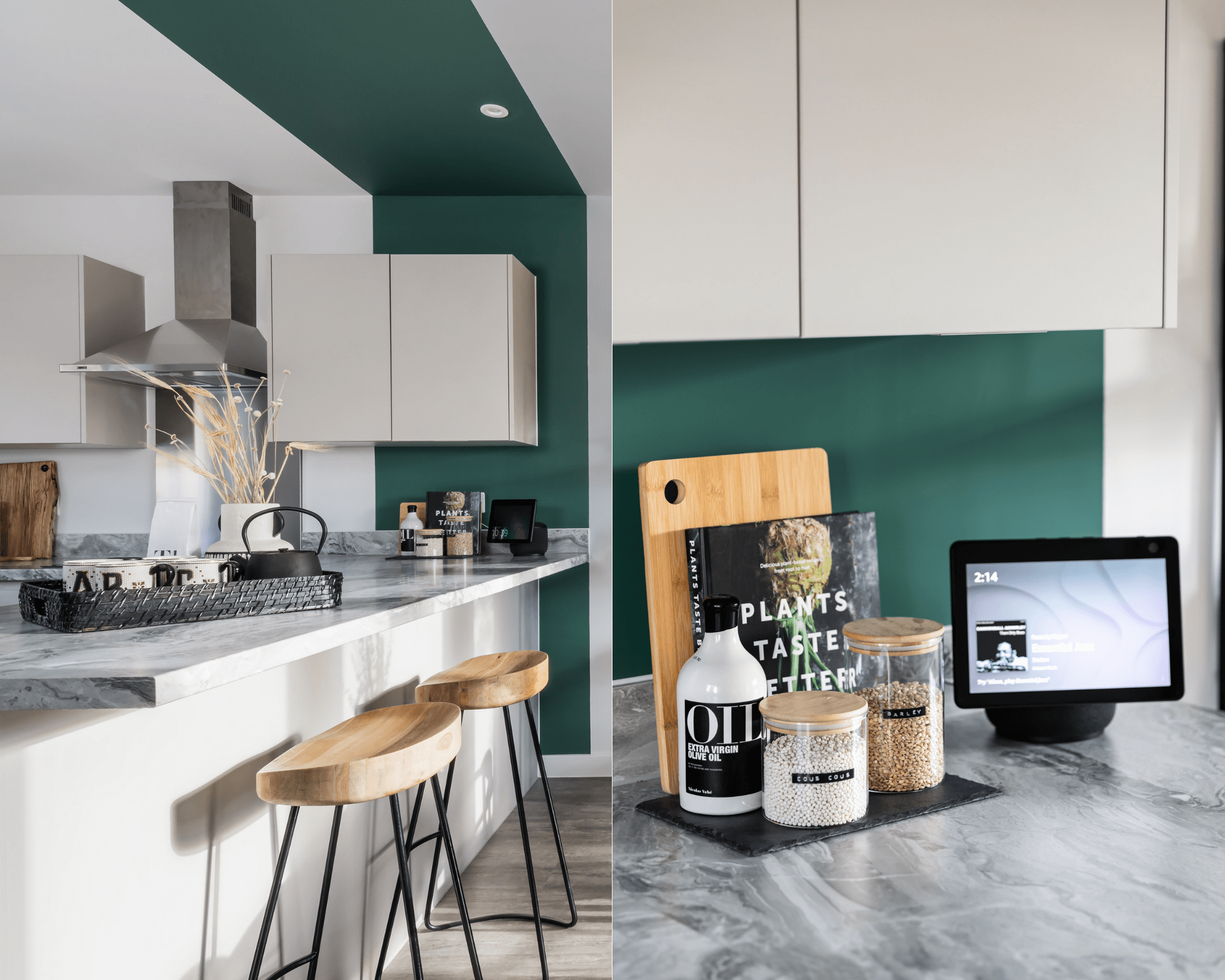 Interior Design
The project's lead Interior Designer is an advocate for sustainable lifestyles, volunteering as a Regional Rep at Surfer's Against Sewage in her free time. Therefore, her values aligned within the project by minimising plastic use in the specification.
We used bamboo/metal straws and refillable storage containers, representing the theme of trendy bars and quirky cafes in our kitchen/breakfast area. A refillable dish soap dispenser and bamboo washing brush head were also implemented.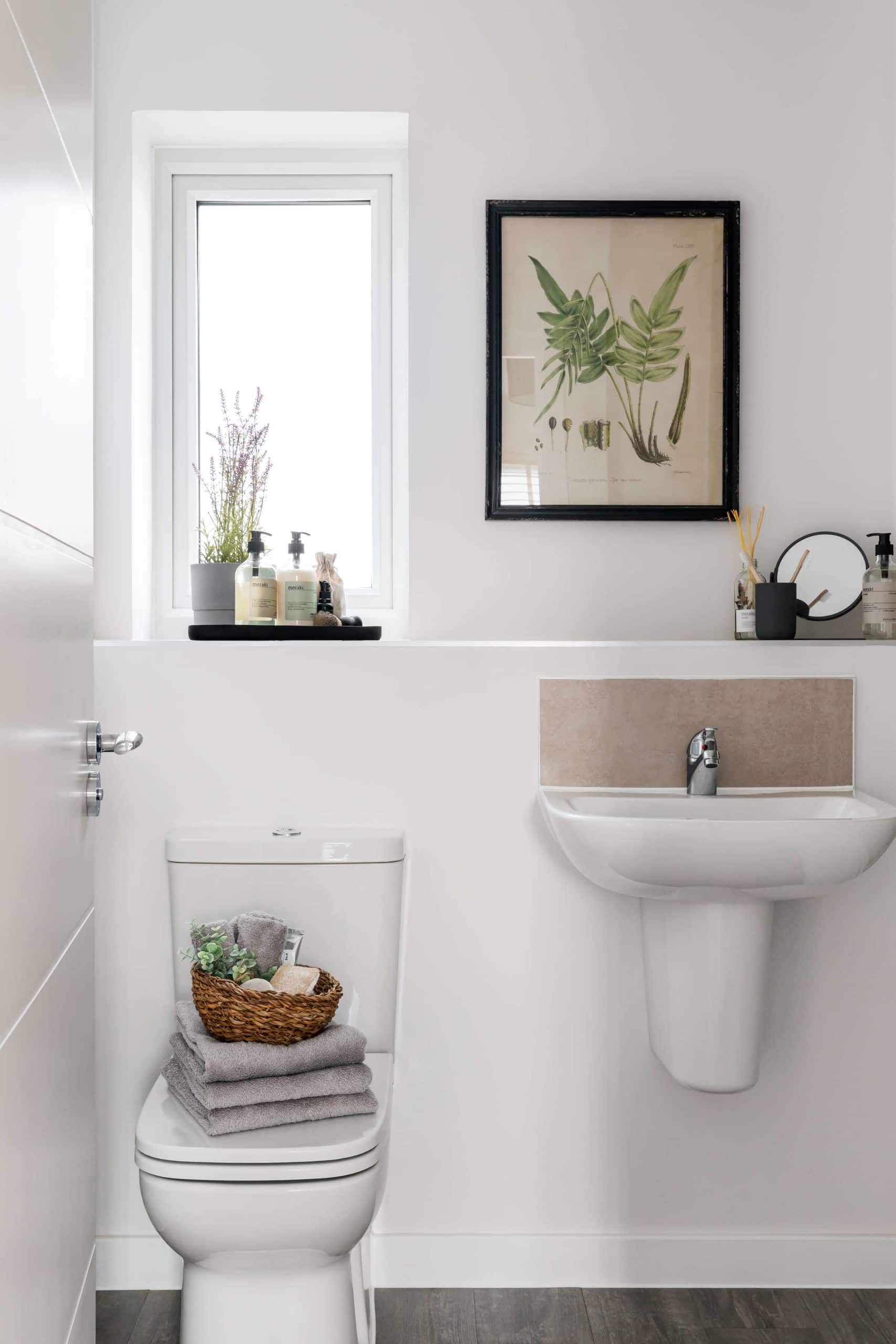 Our Interior Design approach formed a 'bring-the-outdoors-indoors' style, featuring an earthy colour palette of greens, oranges, and accented gold, to form a connection between the resident and the natural environment.
According to a series of field studies conducted by Kuo and Coley, an individual's connection with nature encourages a connection between others and the world. This connection was accentuated through a range of trends. House plants were cautiously placed around the property as a reminder of our relationship with nature, and carefully selected dried flowers, supplied by Atlas Flowers. In the bathroom, a beautiful large faux green/living wall of plants was installed to inspire biophilic design at a much larger scale.
Sustainable Lifestyles – the Next Level
Sustainability isn't only achieved through material consideration, it's important to be aware of the environmental destruction caused by mass-production companies. Emma Shipley is a graphic designer who specialises in fine drawing, with inspiration from myths, legends and nature. She is renowned for bringing originality through craftsmanship. She draws each design by hand, and her stock is now available in some of the most prestigious stores and boutiques around the world, including Liberty and Fortnum's, in London.
Emma Shipley's unusual style and admiration for the natural world brings a unique feel to a space. Her wallpaper is used for feature walls in the entrance/hallways and kitchen/breakfast area, to accentuate the home's personality.
You can learn more about Jigsaw's Interior Design services here.
Sustainable Design Won't End Here…
Our partnership with Alphium and Thakeham Homes will continue to inspire designers in future projects as a result of Woodgate's show home. The show home has provided incredible inspiration for the purchasers at Alphium, receiving great praise from Thakeham's Product and Design Director, who have since informed us that they have had a very successful sales period.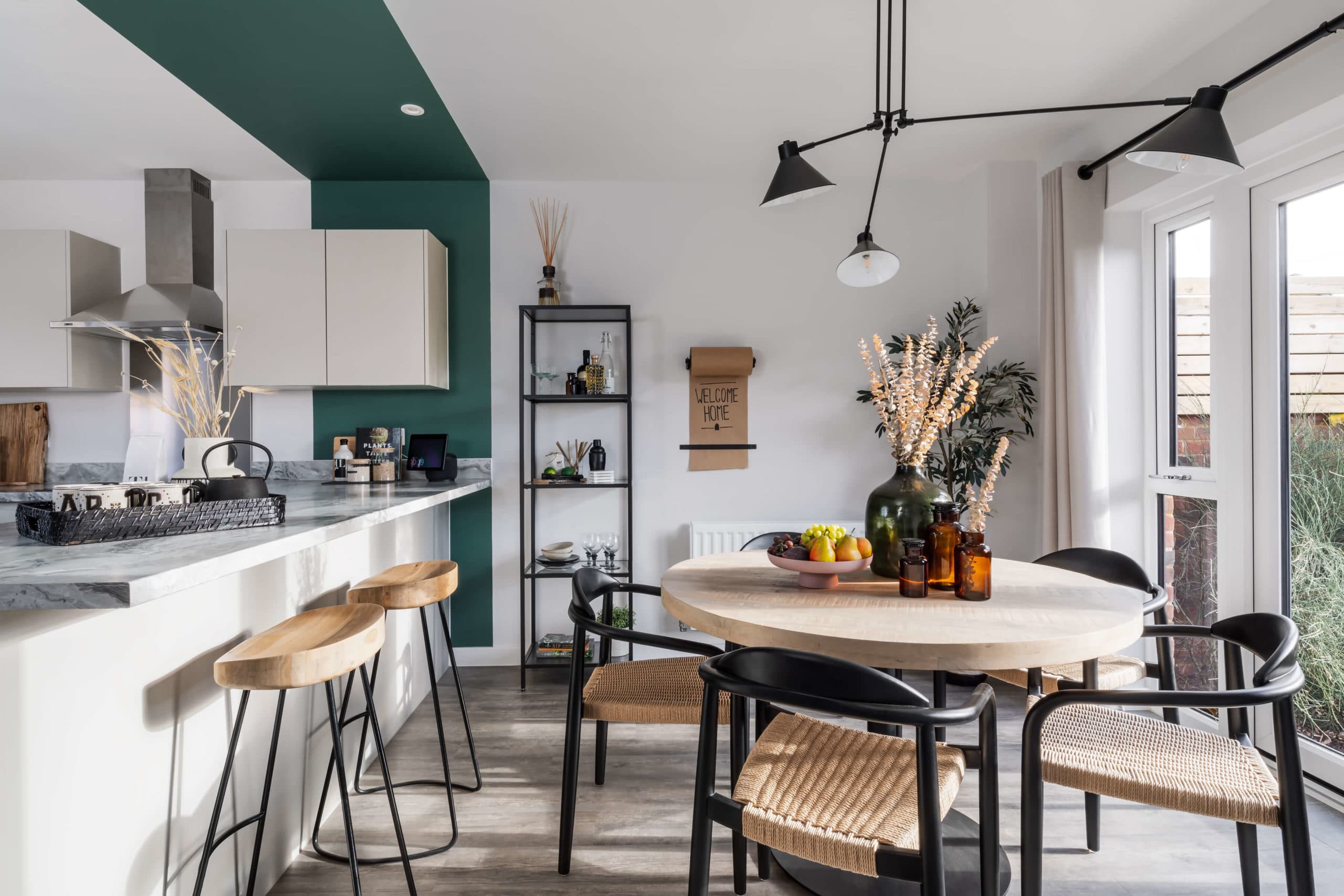 Are you seeking Interior Architecture and Design solutions for a commercial or residential space? Contact us today to arrange a consultation!
Keep up to date with Jigsaw Interior Architecture and Design by signing up to our newsletter, or drop a follow on your social media: