12 | 05 | 2022
In the Eye of the Designer: Connaught Place
Discover Jigsaw's interior architecture process with our Senior Design, Pia. We discuss Connaught Place – a new residential development in Brockenhurst, Hampshire for Hurst & Hurst Estates.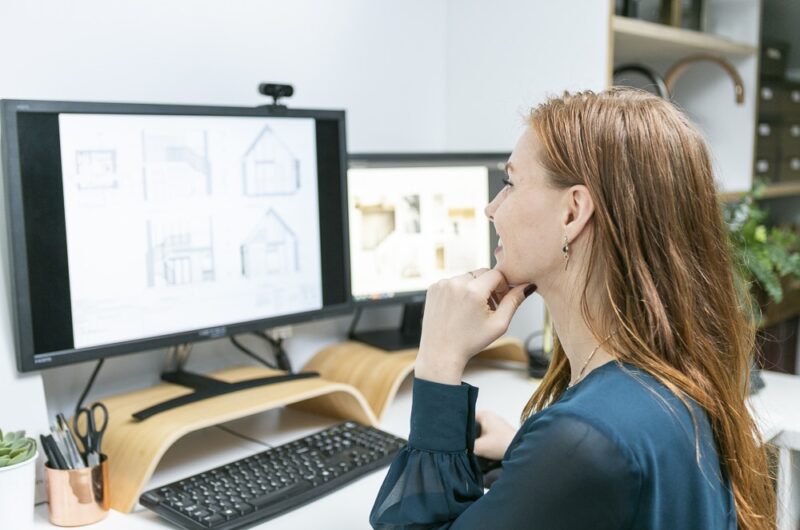 With a background in retail design, Pia's approach as Senior Interior Architectural Designer focuses on enhancing people's experience. With this, she has gained a good eye for detail and brings a holistic approach to Jigsaw.
What type of project was Connaught Place?
"Connaught Place is a brand new private residential development, consisting of 9 new-build homes mirrored in design. Our client and renowned property development company, Hurst and Hurst Estates, appointed Jigsaw's interior architecture department to provide a design specification mirrored across all homes, delivered to accommodate 2-3 bedroom occupancy."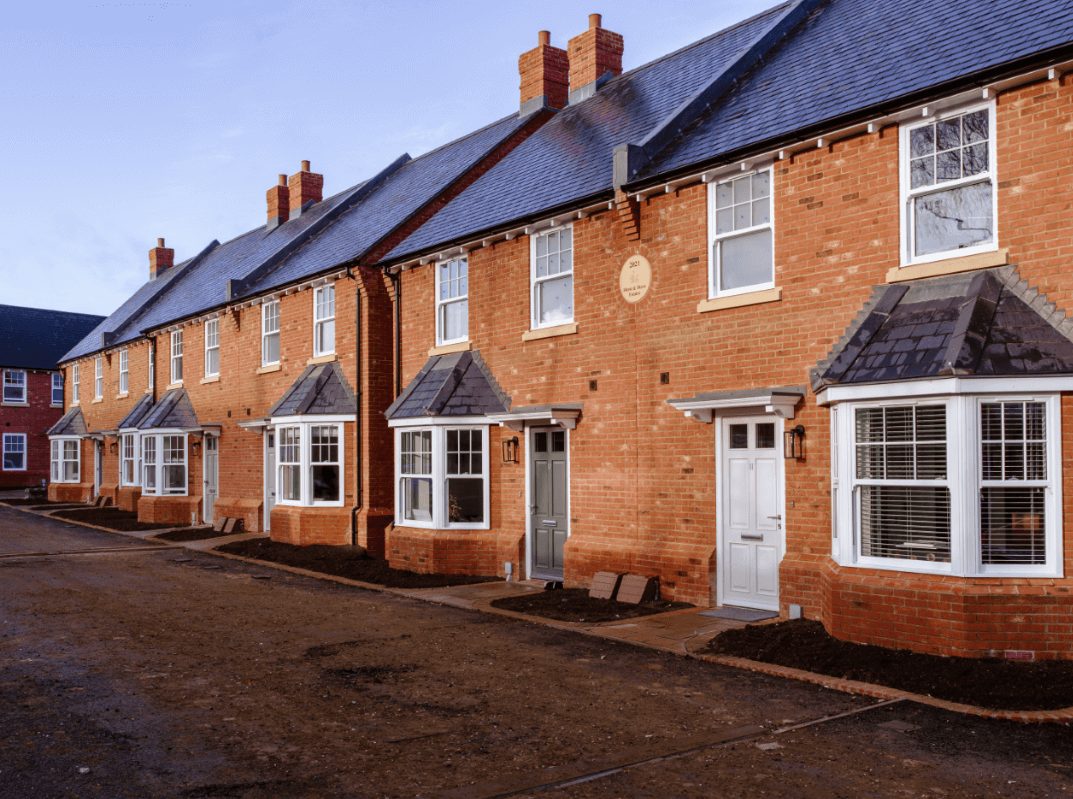 Exterior view of Connaught Place, located in Brockenhurst, Hampshire.
What was your experience working with Hurst and Hurst Estates on this project?
"Jigsaw had a pleasant experience working together with Hurst and Hurst Estate to create a bold and modern luxury design for this development, located in the New Forest. As I inherited this project from a former Jigsaw member, I did collaborate with the client and the main contractor in a manner of RFI and on-site guidance during the building process and installation. My experience working with Hurst and Hurst Estates is an appreciation of their team of professionals. We worked out any unforeseen problems we came across and helped each other out as a team, and I knew that the design would not be compromised as their team would deliver excellence. On-site liaison often means providing solutions for complications that naturally occur during this process, on behalf of the client, to ensure we remain within budgets while meeting deadlines. When working with all our clients, to establish the brief and budget in the early stages of our services, and carry out extensive research in achieving the client's brief, while remaining within the discussed budget and time frame."
Who was the end-user in mind when designing the interior architecture for these properties?
!The end-user in mind was a mixture of both first home purchasers and downsizers. Hurst and Hurst Estates works towards ensuring to provide premium quality homes in Dorset and Hampshire, combining the benefits of country and city living, with a help-to-buy scheme for first home purchasers. Throughout the design we wanted to incorporate elements of the surrounding New Forest by incorporating warmer earthy tones that is seen throughout the property, with a hint of green to further connect the surrounding green forest to the interior. Jigsaw wanted to give a natural, yet unique feel within these family homes that could be appreciated while sustaining an easy commute to London via the nearby train station."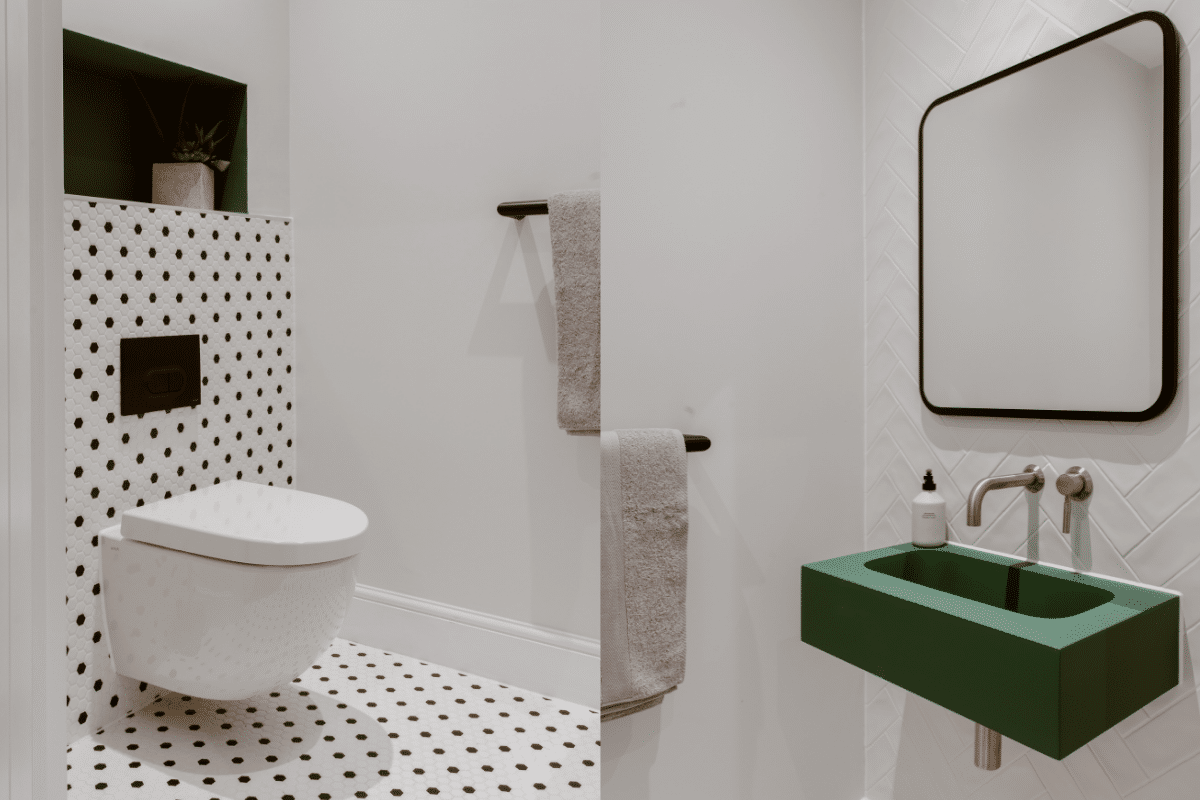 Matching bespoke green paint is seen throughout each home, influenced by the surrounding forest area.
What additional considerations were in place when designing the specification?
"When we started looking at the layouts, we had some suggestions for how we as interior architectural designers would optimise by offering our input in how an end user would move around the space and how a modern family lives in todays society. We are more social, and we are seeing that more and more new builds are opting for an open plan living. At Jigsaw we understand that people have their preference and various lifestyles, and our main mission is to navigate the layouts to ensure to realise their property's potential and a pleased client. For This development we wanted to ensure that all 9 houses were designed to optimise a person's day to day life and to have the ability to evolve with the family, and at the same time showcasing enough of a personality to peak interest. Did you notice the front doors of the homes are slightly different shades of grey? It's the little things like that which add character and a unique feel to new homes and communities, while maintaining modern elegance."
"The 2-3 bedroom houses were designed to accommodate space, storage, and multi-purpose use, tailored to the end-user. For example, bedrooms accommodating children required alterations in design specifications catering to additional space for that could comfortably fit a wardrobe, as an alternative solution to a study/guest room."
COVID-19 has become a huge part of lifestyle changes over the last few years, how does this influence new modern design specifications?
"One of the main considerations we noticed in the property development industry, following COVID-19, is an increased desire for space – there are a lot more people that are working remote either full time or on a part-time basis. With the aspect of working from home, we see that more and more people are looking for a home that can house at least one study, however whenever we have the opportunity we will also think about how and where you would use a laptop comfortably, and this doesn't have to be limited to a dedicated study. Connaught Place offers the opportunity to work around the home with the sun. You can work socially in the bright open-space kitchen, or feel more focused in the snug of the lounge, separated by an archway. This multi-purpose functionality was a huge consideration in our general design where we always will have the end-user in mind."
What was a unique design specification implemented in this project?
"We had to be creative with the master bedrooms, as we purposely chose not to square off the roof, resulting in these generous high-vaulted ceilings. We therefore put more thought into how we would light the space through carefully considered light fittings that would work both functionally and aesthetically. To achieve this look and feel, on behalf of the client, we liaised directly with the project's contractor and the appointed lighting supplier for this space, Astro Lighting, to extend the length of the cable for the light fitting to create this bespoke look with the high ceiling and achieved to avoid any design compromises."
Master en-suite bedroom with high-vaulted ceilings with unique light fitting, supplied by Astro lighting.
What was the outcome of the development?
All 9 houses within the residential development have now been sold only a few months after completion. One purchaser invested in BOX standard furniture pack The Barber, designed and installed by Jigsaw within just 8 weeks following consultation.
Overall, BOX provides 6 bespoke, on-trend furniture packs, designed and installed by Jigsaw's designers, perfect for any space. Learn more about how BOX, by Jigsaw can help in realising your property's potential here.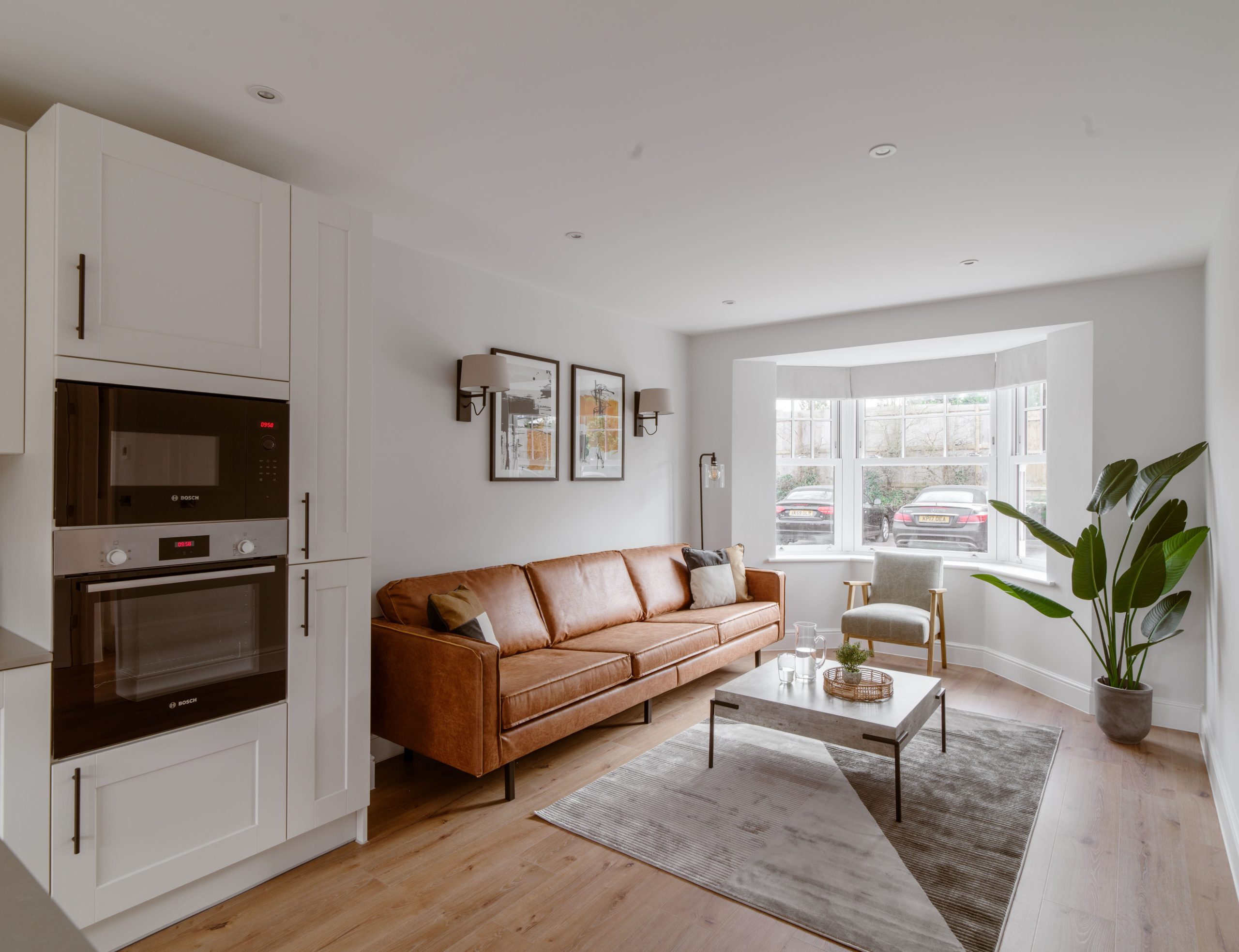 Open-spaced lounge furnished by BOX, designed, installed and styled by Jigsaw.
"We continue to partner with Jigsaw because their team shares our passion for exploring creative ideas to explore what is possible, not what is acceptable. We connect perfectly with Jigsaw as their openminded thinking and risk taking is embraced in all discussions which contributes not just to an exciting working atmosphere, but also to the results we are striving for."
– Hector Hurst, Hurst and Hurst Estates
Designed by Jigsaw to enrich lives through better spaces that exceed the standards of modern living.
If you have an enquiry, click here to learn more about our interior architecture services, or contact us to book a consultation with one of our designers!