04 | 01 | 2022
Interior Designer Profile – Mia
Our team take great pride in our passion for interior design and architecture,  evolving our knowledge with new inspiration and trends to discover fresh approaches to our schemes. Sit down with one of our interior designers, Mia, who shares her idea of the perfect room, favourite interior design styles, and various admired architects, artists, and interior designers.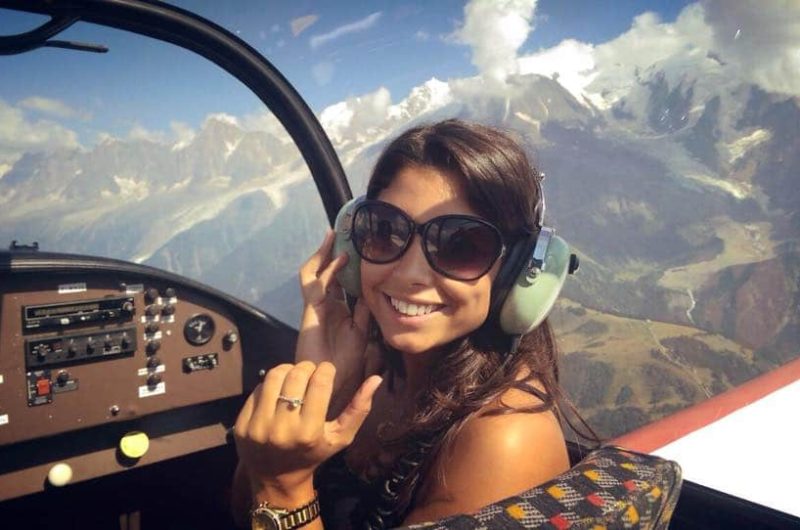 What is your idea of the perfect room?
For me I am drawn towards a balance of simplicity and symmetry, but with personality. I prefer large windows and heavier set key pieces of furniture such as deep modular sofas and statement rugs, fusing modern and traditional pieces to add a story and keep it from looking too staged (although I hate clutter). I also adore dark dramatic spaces and love natural materials. Oh and plants… Lots of plants!
What is your greatest design fear?
That something doesn't fit – We usually only get to visit a project on site a couple of times before installation and despite our best intentions with spatial planning, templating and sending suppliers to measure directly, you can really never be 100% satisfied until you are on site and the work is done. It is amazing how many structural elements of a build change on site last minute, between us receiving plans, visiting and actually getting to site for installation day!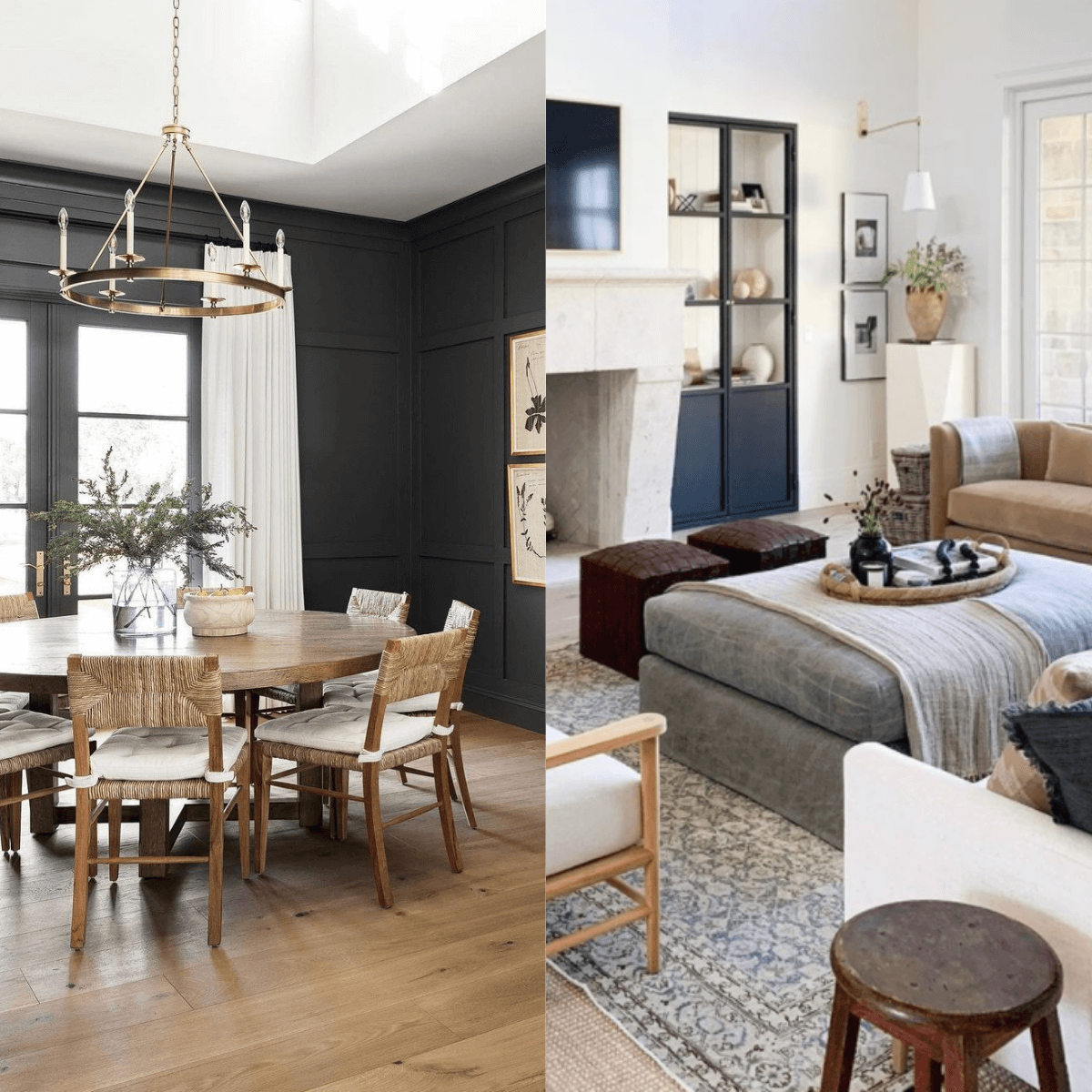 Learn more about Studio McGee here.
Who is your favourite Interior Designer?
It is hard to choose just one, but I would have to say either Studio McGee or Amber Interiors who are both US based and focus on clean, simple lines and using plenty of natural materials which I love. They have a way of bringing the outside in and making a space feel so fresh, cosy and inviting. There are also a few Instagram people I follow such as @maggiemillerinteriors and @thehousethatblackbuilt , although I am not sure if they are technically 'interior designers'. But hey that is how we all start, with a natural eye and a passion for interiors!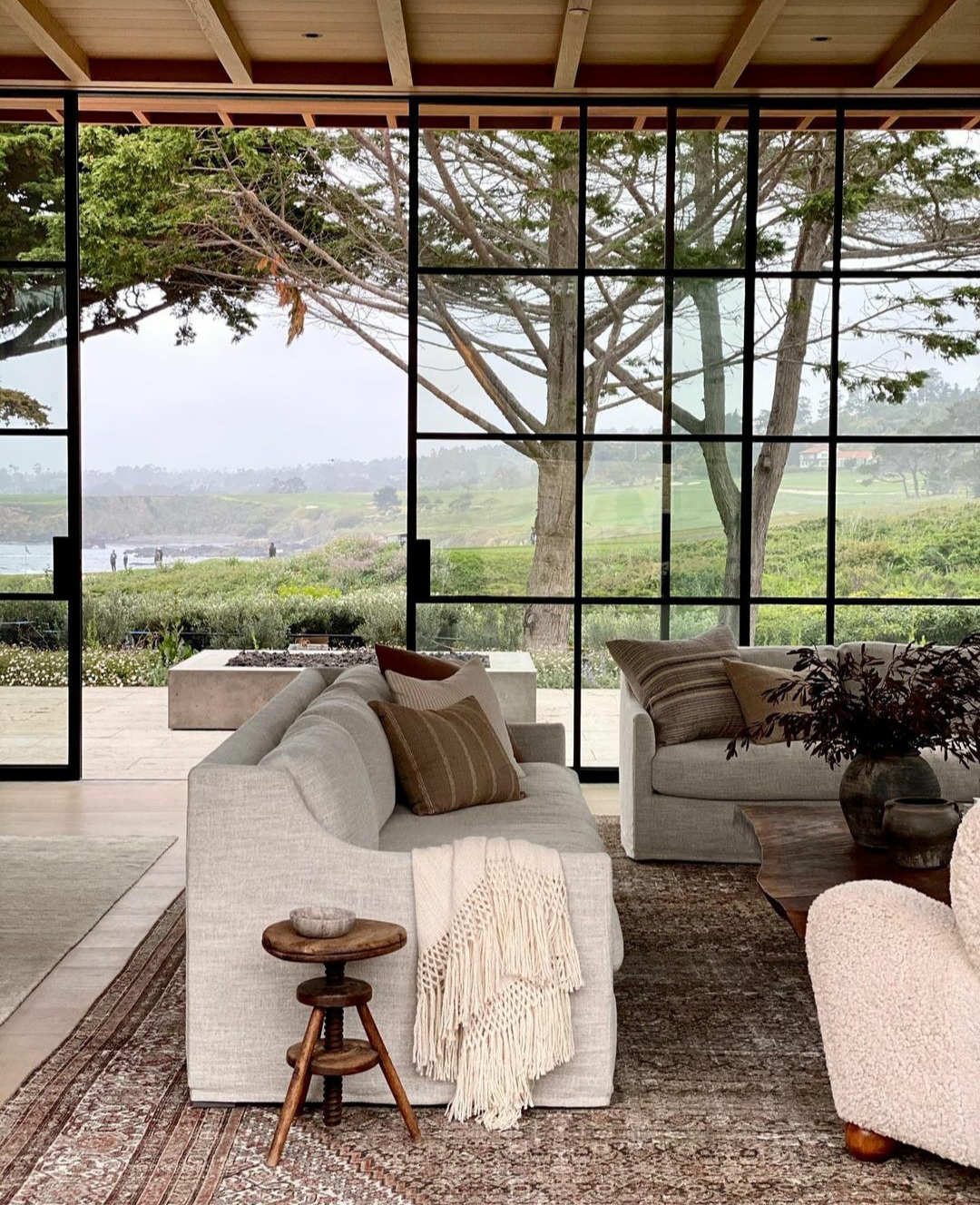 Learn more about Amber Interiors here.
What is your favourite iconic designer chair?
The Wishbone Chair created by iconic Danish designer Hans Wegner. I love the elegance and simplicity of it, using natural wood and paper cord for the seat. It is actually styled on wide rounded wooden seats used during the Ming Dynasty in China a very long time ago. Despite the open back, it is by far the comfiest chair I have sat in, often cross legged with a cup of tea!
Designed by Jigsaw Interior Architecture and Design
Are you a minimalist or a maximalist?
Definitely a minimalist! I try to find a balance between minimalist but inviting and there is nothing worse than a cold room with no personality, but equally I hate clutter!
What do you consider the most overrated design trend?
Rose Gold got very boring very quickly. And themed Nautical rooms! If you want to see how a seaside property can be done well, head over to @puresaltinteriors on Instagram… Love!
Open plan or separate living room and kitchen?
It really depends on the building. I love properties with character and would always encourage keeping original features such as fireplaces and cornicing so knocking down walls with these features may be disheartening for me. On the flip side I really love large open plan living areas with kitchen islands, a sociable dining table and bi-folding doors, so long as they are 'zoned' well. There is no point in keeping rooms separate if they aren't being used as functioning spaces and end up disused and unloved.
Gold or silver?
If I had to choose, I would say brushed brass used sparingly. Can I say matte black? I am just starting to explore mixing metals (which goes against my OCD) but I have seen brushed gold and silver be paired well recently and want to push myself to explore new concepts.
What do you prefer pattern or texture?
For me personally definitely texture. You can create something really warm and inviting and still inoffensive with texture. You can also layer with texture more than pattern! Patterns are more personable but have the tendency to date quicker.
Shiny and new or preloved vintage?
Oh that is a tricky one. I would say if you have the time and the knowledge then pre-loved vintage for key furniture items. There is always a sense of pride upcycling or re-using an item that has served a purpose for somebody else. It has a story and you become a part of that. I like to mix the two together though…. A comfy new sofa with an antique or mid-century sideboard for example.
Which words or phrases do you most overuse?
I use the words 'Perfect' and 'Fantastic' a lot when speaking on the telephone and often make myself cringe…. Way too enthusiastic!
What's your current state of mind?
Nervous excitement!  We are buying our first renovation project this year which is something every designer dreams of and are also expecting our first child in the Spring. So for me I would say I switch between nervous anticipation and excitement!
If you could change one thing about your job what would it be?
Probably the admin that goes with designing. People assume it is all creative and fun, but there is a serious amount of admin and maths to contend with before you have the glory of a finished project. Oh and also peeling labels off basically everything during an installation…. Our nails are permanently ruined!
What is your greatest design achievement to date?
I have been with the Jigsaw Team for a good few years and am now at a stage where I will carry a project through from concept and design through to installation which is so rewarding in itself. Sometimes I have to put my personal taste to one side in order to meet the clients brief, which leads me to constantly reach outside of my comfort zone. As a result, I think I have come out with some quirky designs that I am proud of such as Foal's Hurst Green in Kent. This was a traditional four-bedroom family home, but I ensured each space had plenty of personality and was bold with my colour and artwork choices.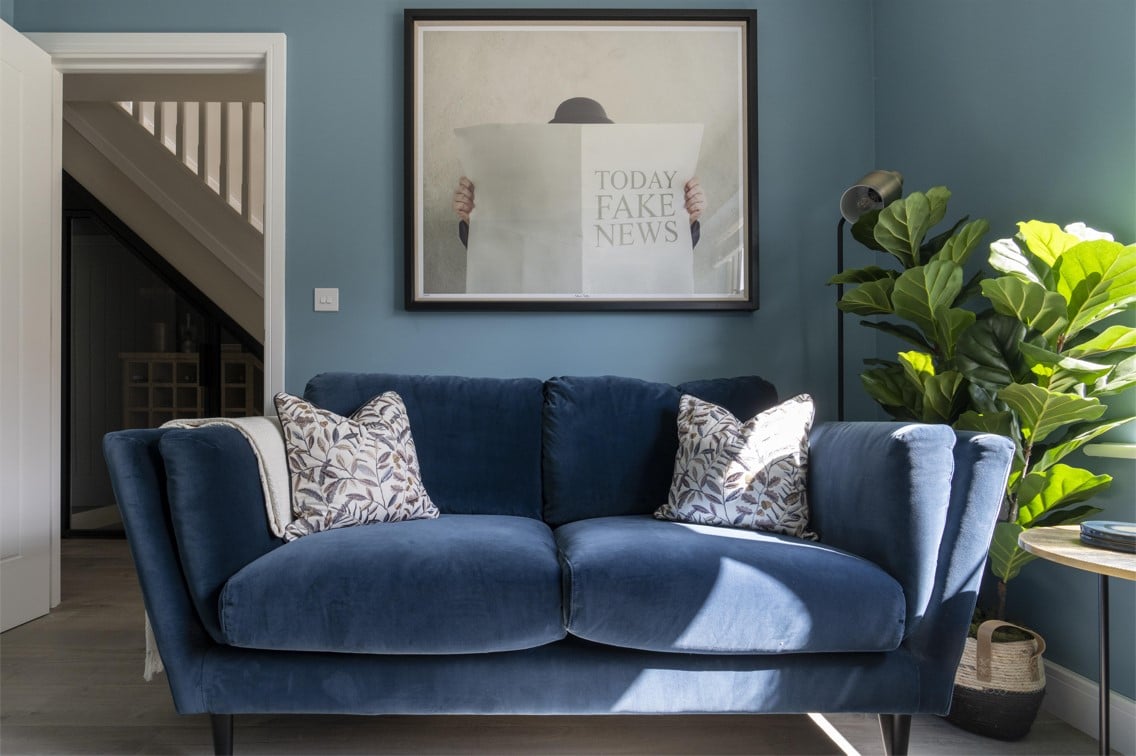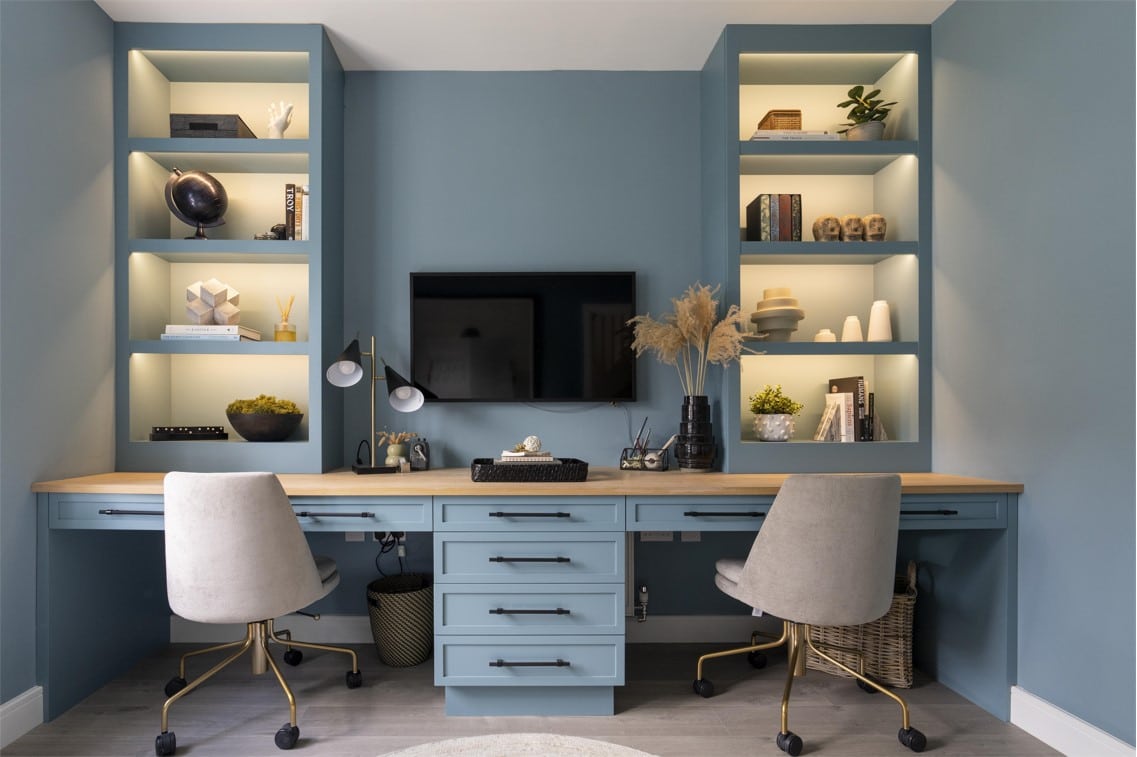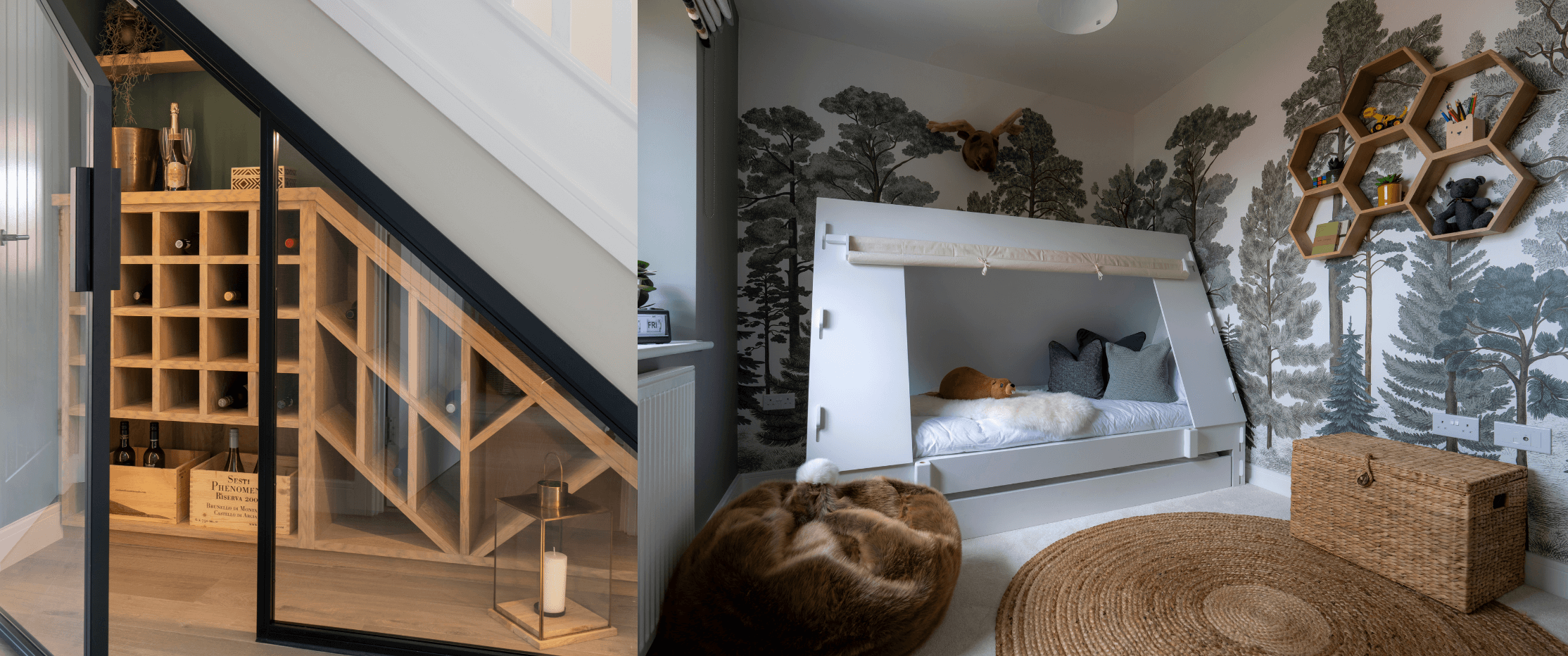 Designed by Jigsaw Interior Architecture and Design.
What do you consider to be a common design mistake?
I would say firstly not hiring an interior designer… Jokes! I often see artwork and mirrors hung in the weirdest places with no rhyme or reason as to the position, height and spacing which really upsets my OCD! And people filling every windowsill, nook and surface with objects and clutter. Keep it simple guys!
Who are your real-life design heroes?
I am proud that it is a predominantly female driven sector which is empowering and think anyone that manages to successfully run an interior design business is a hero! Working to extremely tight deadlines, managing budgets, co-ordinating suppliers, understanding and effectively communicating with clients from different cultural backgrounds. Shout out to the Kelly Hoppens, Sophie Robinsons & Emily Hendersons of this World. And of course, our very own Melissa Horne!
What is your motto?
Fake it til you make it – By this I mean if you have a passion or an itch then don't be afraid to chuck yourself into something new and take the risk! Because honestly, nobody knows what they are doing at first and knowledge comes only with real life experience. I knew I loved property and interior design, but have spent most of my adult life in sales jobs with interior design as only a hobby on the weekends. I took the plunge and re-trained before landing a trial with a company I could only have dreamed of working for. It was extremely intimidating at first, but I focused on what I was good at and made a point to learn as much as I could. It took a year for me to really feel confident in my ability and be proud to call myself an Interior Designer without feeling like I was an imposter! Three years on, I am still learning every day.
If you were to die and come back as a person or thing what would it be?
I would probably like to come back as Radio 1 presenter Maya Jama. I like to talk (a lot) and she gets to talk for a living, listen to music all day, travel the world and present at music festivals. Oh, and is sponsored by Adidas! She doesn't take herself too seriously which I also love.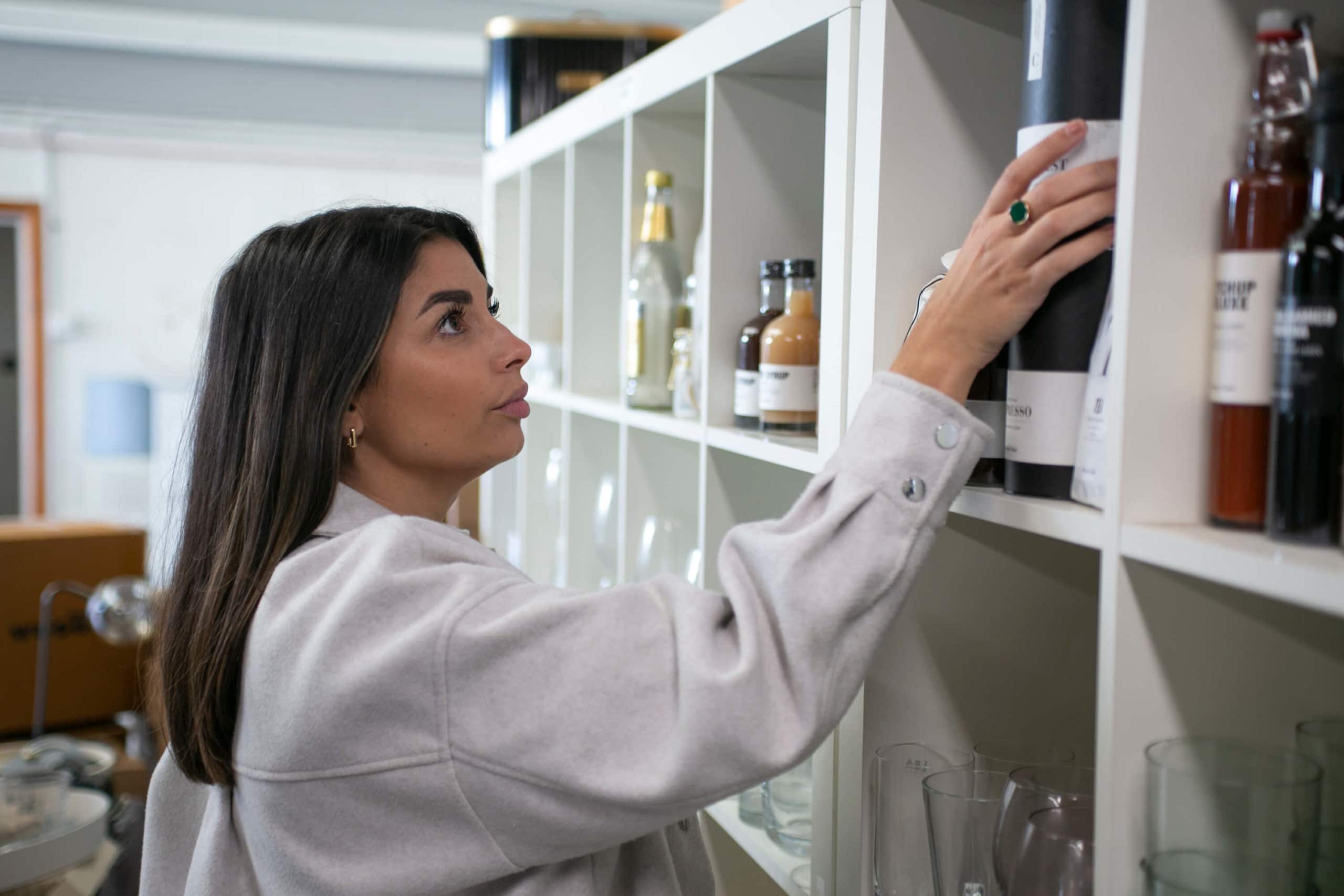 What do you most value in your colleagues?
I most value everyone's unique personalities and our ability to make each other laugh…and I mean really belly laugh on a daily basis! We always lift each other up on down days and keep the office a fun environment to work in, however pressurised it can feel at times with workload.
If you had to pick one interior design style to live with forever what would it be?
I don't think I can be restricted to one style as such. Let's call it 'California dreaming'! It is a mixture of both vintage and modern, clean lines and minimalist design. Let the materials do the talking! I also love plants and good craftmanship so some maybe a little bohemian chucked in.
Which historical design movement do you most identify with?
I would say Contemporary as it is a mixture of all different styles from the 20th Century. It is eclectic, modern, traditional, urban, environmental, sculptural and cultural!
Who is your favourite Architect?
I won't pretend to know a load of Architects. The only one that has really stuck with me is Gaudi as I cried when I visited the Sagrada Familia. The inside especially was just breath taking. Shame about all the scaffolding on the outside, but his work is so enjoyable throughout Barcelona I would highly recommend visiting the City.
Learn more about Sagrada Familia here.
Who is your favourite artist?
I love Dustin Yellin's sculptures, I could honestly look at them for hours! He pieces together thousands of paper cut outs to create the most intricate and hypnotising 3D Art, set in Perspex glass boxes. It certainly makes you stop and think, which is what good art should do.
Learn more about Dustin Yellin here.
If you have an enquiry, click here to learn more about our interior design services, or contact us to book a consultation with one of our designers!