09 | 02 | 2023
Explained: What is Interior Architecture?
Meticulous space optimisation based on research, experience, and technical expertise, by a team of specialists with a passion for design and style.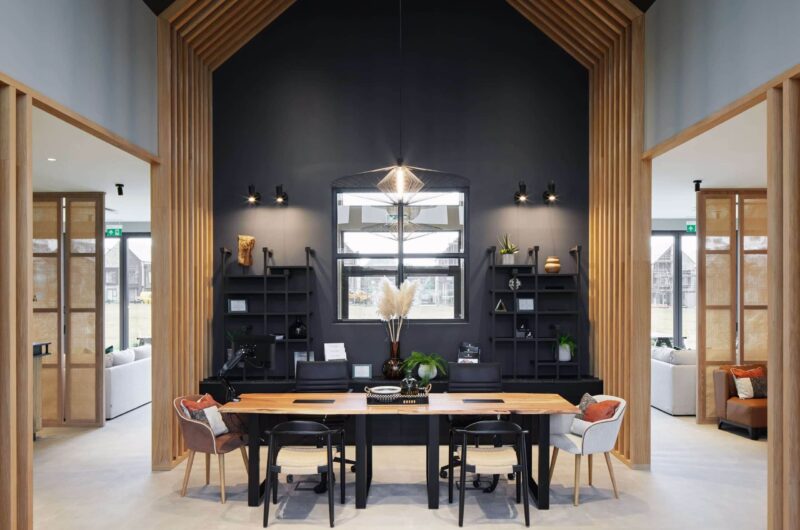 Marketing suite at Woodgate, Pease Pottage, designed by JIGSAW.
Interior Architecture and Interior Design
JIGSAW's Interior Architectural Designers specialise in designing and building interiors for safety, functionality and aesthetics by spatial planning and possible reconfiguration, while an Interior Designer changes the appearance of a space by focusing on furnishing and decoration of an existing interior. For more information on the difference between interior architecture and interior design, click here.
"Imagine if you were to turn a house upside down, everything that would fall out would be part of the interior design.

What stays inside on the other side, the fabric of the space, could be considered interior architecture."

– Melissa Horne, Director at JIGSAW.
What is Interior Architecture?
Interior architecture is bridging the gap between the pure architecture of a building and its interior design, blending the interior design and decoration with a general understanding of the structural and material nature of a building.
Our interior architectural designers focus on the understanding of interior spaces, viewing them through a lens of how the spaces will be utilised. By merging aesthetics with functionality interior architecture aims to create and develop new builds, restore existing interiors, or convert a building from its intended usage to a new use, often from commercial to residential usage.
In short, interior architecture can be described as the spatial planning and optimisation of new and existing internal spaces. With a focus on the configuration and design of the fixed elements to a space, with regards to functionality and the construction of material and finishes.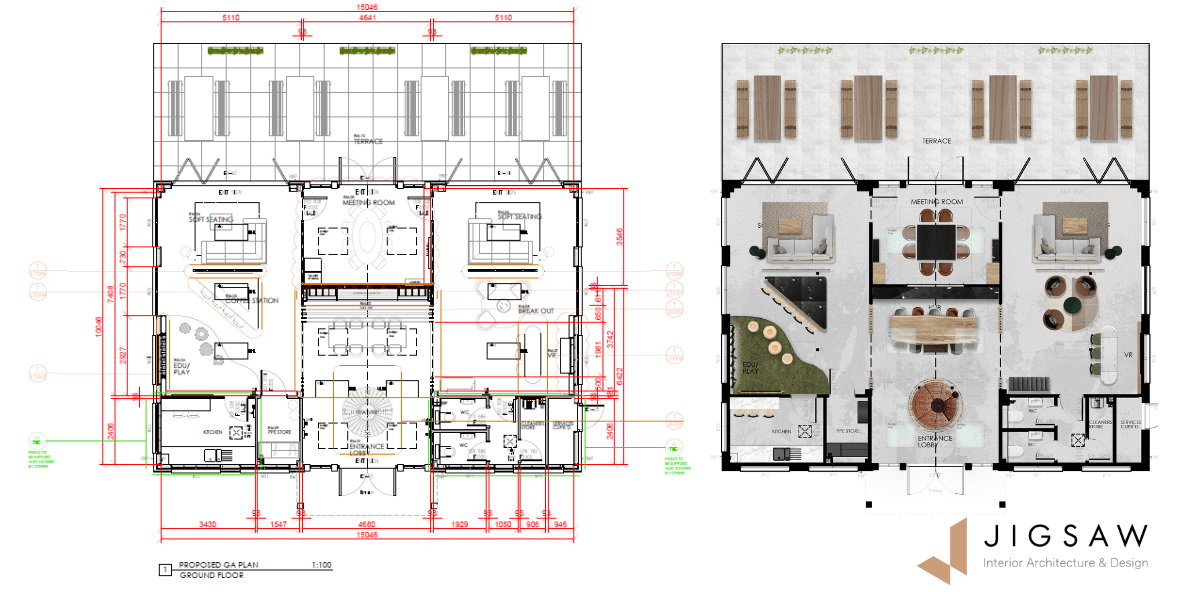 From developed concept to optimised detailed floor plan, produced by JIGSAW.
What does an Interior Architectural Designer do?
Interior Architectural Designers gather information about the project in a strategic plan with backed research to fully understand the overall budget, the location, the client or end-users, and how they live and utilise various spaces. This will provide as a solid foundation for the next stage of the process: developing and proposing layout optimisations.
Our team will take the next steps of developing the design from initial concept, through design consultations with both the client and various suppliers to develop a substantial technical pack that will help achieve the intended design to become a reality. The technical pack covers various aspects such as layouts, lighting design and small power plans, bathrooms, kitchens, finishes plans and any elements of bespoke way finding or joinery.
At JIGSAW, we offer bespoke interior architecture services, following stages tailored to the needs of residential and commercial clients nationwide, from any stage of property development up to completion.
When would you need an Interior Architectural Designer?
If a client or a project team are sitting on a property or a project and feel that the initial layouts still have potential to be optimised, or they are missing a functional aspect or some personality, this is when someone would approach an Interior Architectural Designer.
Interior architecture should be considered as an integral part from the beginning of the development of a property, As the designers can review and optimise layouts in collaboration with the client and Architect.
Our team works alongside the Architects RIBA work stages, looking at how to optimise a layout with an in-depth understanding of the client's vision to implement at the very beginning of the design process, for a cohesive concept throughout.
How can JIGSAW help?
JIGSAW is a leading Interior Architecture and Design practice devoted to providing sympathetically designed and stylishly crafted interiors that unlock the full potential of any commercial, residential, and domestic properties, whilst keeping on top of understanding and fulfilling the demands of modern living.
JIGSAWs mantra is to treat each new project as an individual entity, providing a fresh perspective to each concept design. We design intuitive interiors with a holistic approach, providing luxury and unique specifications for an array of projects since 2005.
Our team takes pride in streamline communication from start to finish, liaising with clients on time frames and current building regulations, to obtaining quotes from trusted suppliers and trade manufactures, to assisting on site with the project team throughout construction for a guaranteed stress-free experience for clients.
We partner with ambitious clients to create aspirational interiors which fully realises a property's potential, by adding value and elevating the lifestyles of their residents.
Our Interior Architecture team has a passion for design, in depth technical expertise, and extensive product knowledge, and they will assist the process by taking the brief to completion through, through coordination with suppliers, gaining the relevant quotes, create detailed technical drawings and specification documents ready for tender. At its final stage the team will release the information to the main client and contractor.
JIGSAW will continue to liaise with the client, Architect, M&E and Structural Engineers throughout the construction process, to ensure that the information issued is a unified and understood design across all disciplines. We attend Design Team Meetings and Site Meetings when requested by the client, to assist with any unforeseen issues, and the team remains an integral member of the team until construction is complete.

Get in touch
Are you seeking interior architecture and design solutions for a commercial, residential or domestic space? Get in touch today to arrange a consultation.
Keep up to date with JIGSAW Interior Architecture and Design by signing up to our newsletter, or drop a follow-on social media:
Instagram | Facebook | LinkedIn | Pinterest