Esher is a tale of two cities. A perfectly placed London suburb, it combines all the benefits of the capital with a more relaxed and distinctly leafier quality of life.
Esher Park Gardens
Developer
Service
INTERIOR ARCHITECTURE & DESIGN
Jigsaw relished the challenge of designing the interiors in an old dairy factory for longstanding clients, who through the permitted development scheme are breathing new residential life into an old commercial space, with the addition of a new floor to provide views over the beautifully landscaped grounds and neighbouring fields.
A collection of one-, two- and three-bedroom apartments, Esher is a tale of two cities. A perfectly placed London suburb, it combines all the benefits of the capital with a more relaxed and distinctly leafier quality of life. Not to mention the added convenience of knowing that, whether you are travelling for work or pleasure, Central London is as little as 24 minutes away.
Our bold scheme was well received by the clients and prospective purchasers alike thanks to its glamorous and fun take on apartment living. We wanted to create memorable, modern spaces with a playful use of colour in the kitchens and bathrooms, which are either dark blue or rich green. Not an inch of space was wasted in these modestly sized apartments as we finessed the layouts to maximise storage space.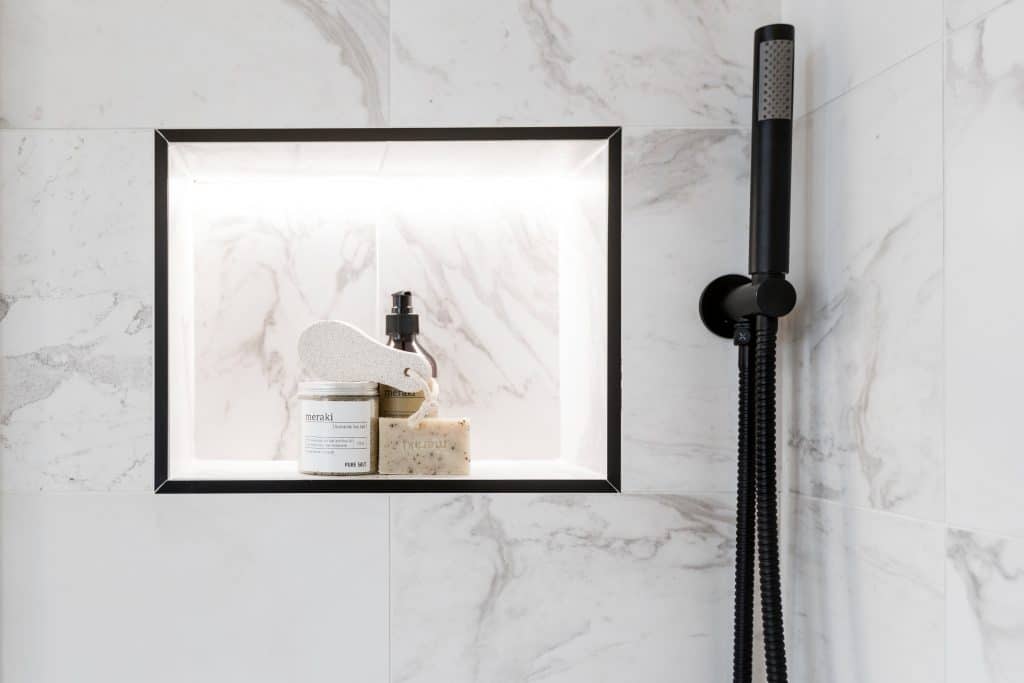 Permitted developments or refurbishments are not as straight forward as new build; the existing window locations were fixed and had to be incorporated within the new design layouts. The vertical fins to the exterior break up the expansive windows that bathe the apartments in light.
In the kitchens square tile splashbacks add a little retro touch, and in a few units where the kitchen units finished next to a floor to ceiling window, we turned a spatial disadvantage into a design feature by ending worktop runs with integral planters for kitchen herb gardens.
In the Bathroom we created niches at the end of the bath with LED lights and matt black trims to tie in with the Matt black Brass wear from Crosswater.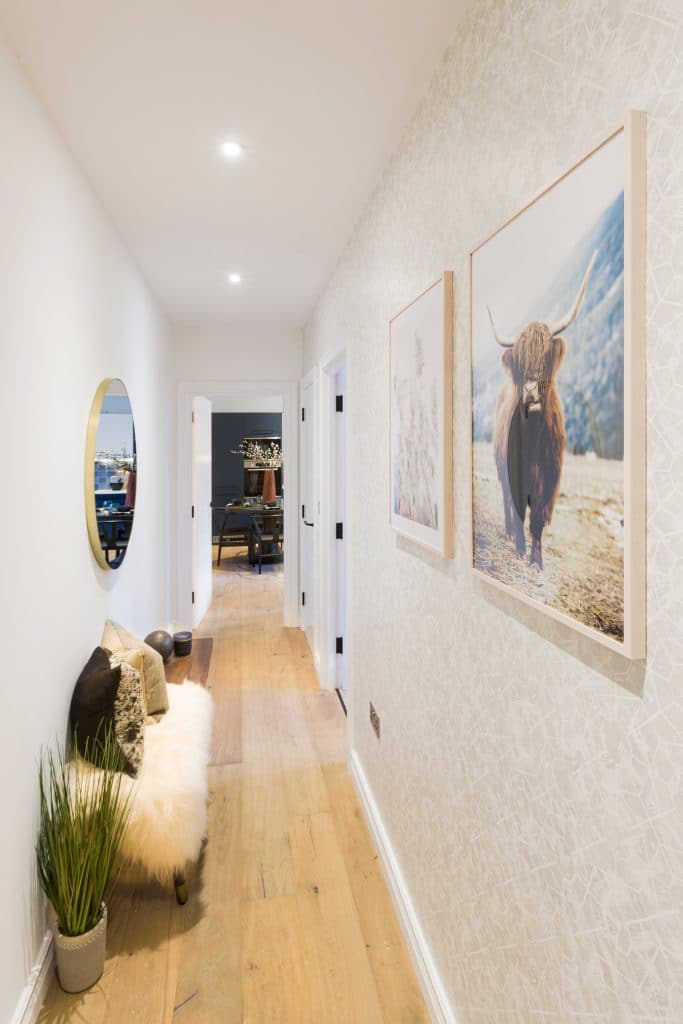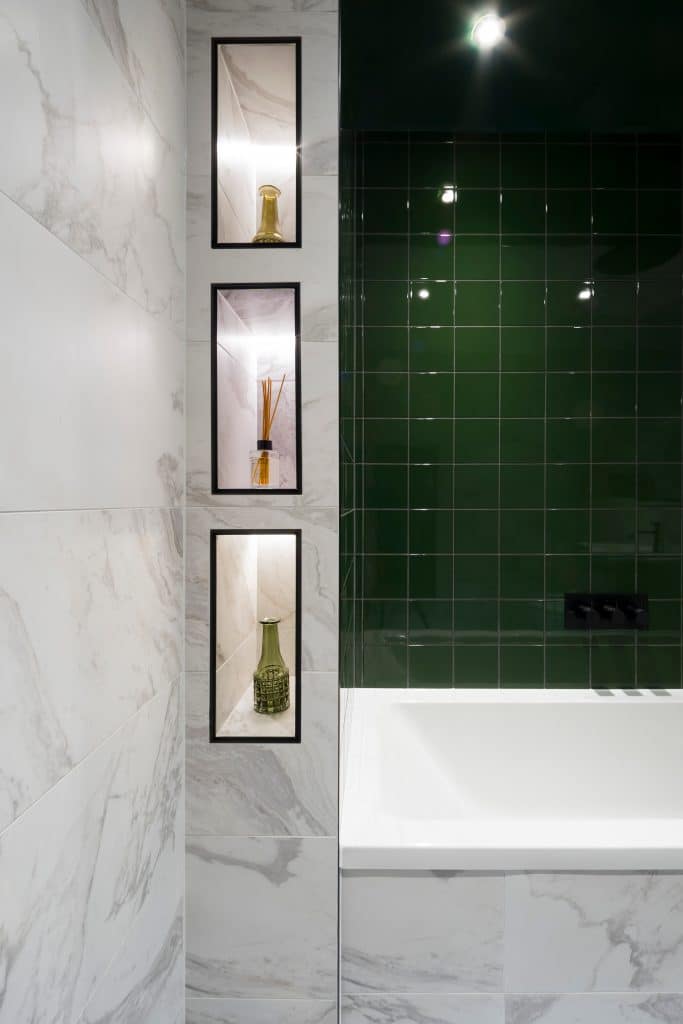 A nod to the past; In the lobby we Introduced greenery with a wall of faux plants creating a luscious backdrop for reception desk and subtly referenced the building's past life, a monochrome mosaic floor echoes a traditional milk parlour. The development's logo was inspired by the original milk bottle tops, and we echoed this feature with circular signage in the wayfinding.
Jigsaw Interior Design ensured the show home worked seamlessly alongside the bold, contemporary colours already chosen by our IA department for kitchens and bathrooms. We focused on statement blues and a contrasting tan/rust colour, alongside a mixture of black and brass accessories to keep each room feeling modern, but affluent.
Visitors can find nods to the building's previous life as a dairy factory through the use of cow hides, fur throws and quirky artwork & accessories. As the development is perfectly placed for commuters, being only a 24minute commute to London, Jigsaw chose luxurious cushions fabrics that are styled on retro geometrics from 1930's London Underground, through to the present day.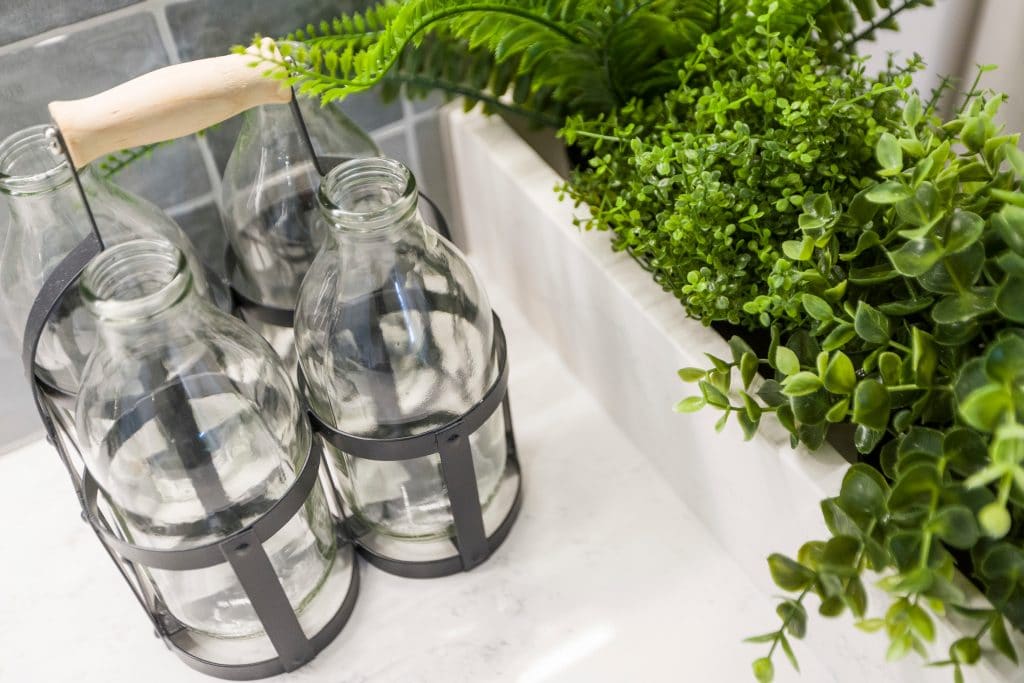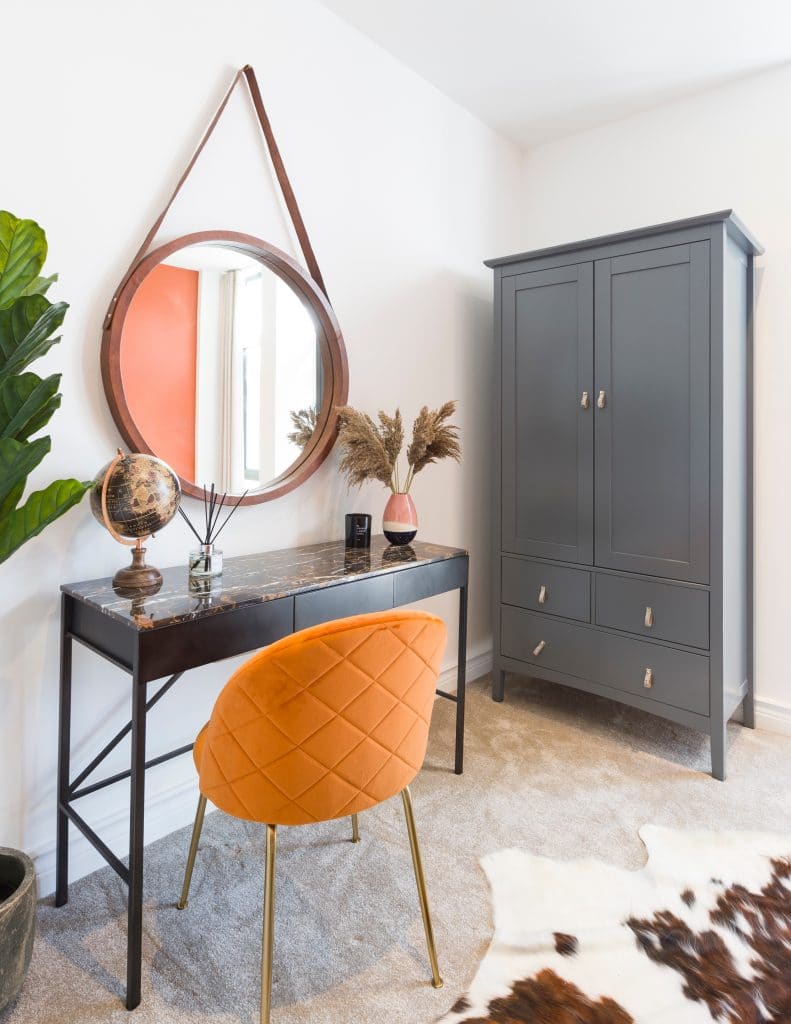 "It is always a pleasure working with Jigsaw Interior Design. With a team of professional interior designers and architects they always surpass our expectations. Their ability to research, design and deliver a product that suits the local market is invaluable and has always been crucial for us to maximise the values achieved on our schemes. We have worked with Jigsaw for many years and can't imagine the process without them having an integral role."
Daniel Ginsburg – Claygate,
Reichmann Properties
If you would like to discuss a future project, or learn more about Jigsaw, please contact us.
GET IN TOUCH