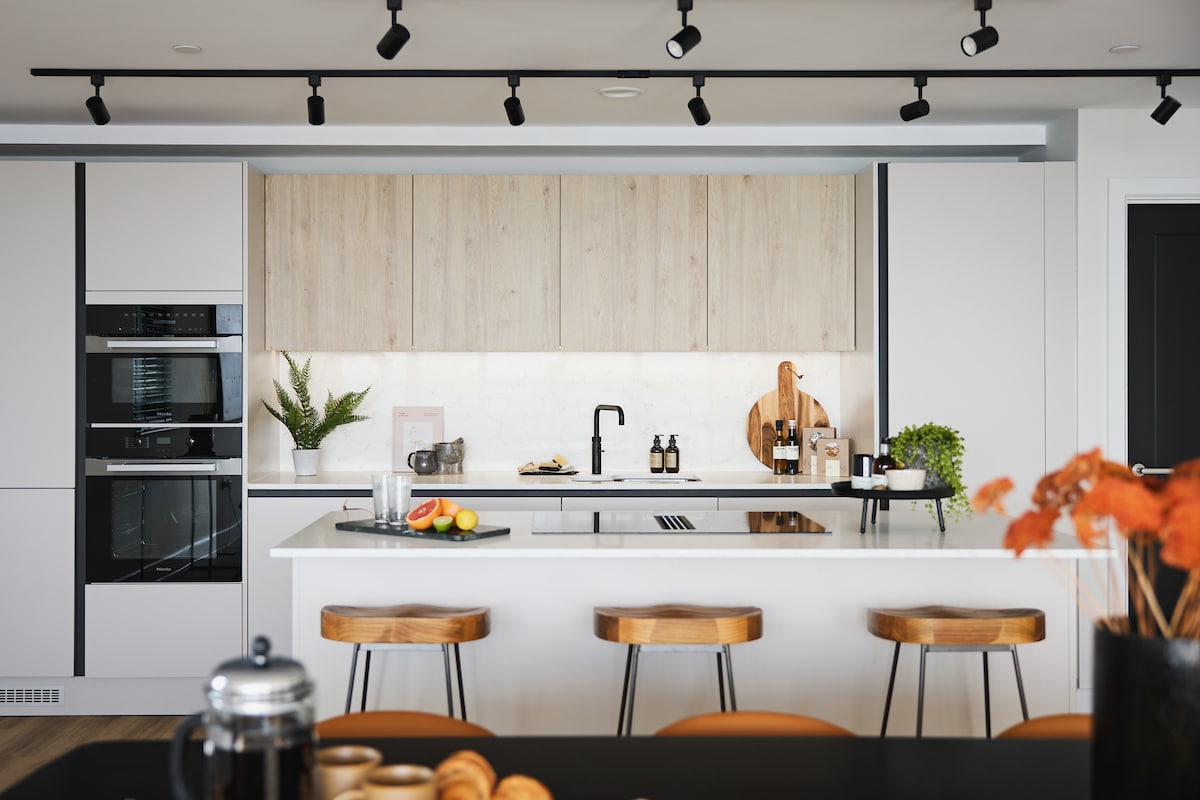 Art Deco meets modern luxury.
Radcliffe Court
Developer
Service
INTERIOR ARCHITECTURE AND INTERIOR DESIGN
Location
East Cliff, Bournemouth
A luxurious new development of 26 apartments with an Art Deco-inspired design for Hartdene Homes. Ranging from 2-3 bedrooms, duplexes and penthouses, this modern plot sits upon a stunning cliff-top location, offering exceptional links to the town and uninterrupted sea views along East Cliff, Bournemouth.
Jigsaw hold a longstanding relationship with Hartdene Homes, collaborating on past projects including Alum Grange, Timbertops, and Buckland Granaries. This time, our Interior Architecture department were appointed from early stages of Radcliffe Court to work on optimising the internal layouts in collaboration with the architects and client, focusing on maximising storage potential and perfecting functional aspects of each apartment type.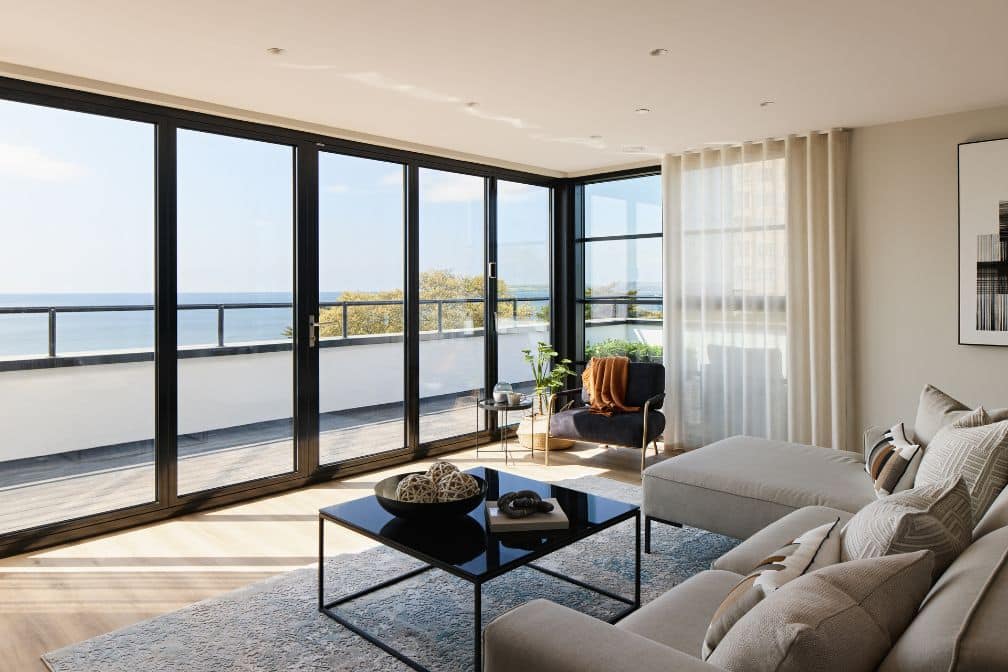 Contemporary twist on an Art Deco-style building
We developed a concept for modern apartment living that works cohesively with the exterior Art-Deco style of the building. Working on the communal areas, as well as the hard finishes & lighting design for the apartments, our aim was to achieve a contemporary scheme that reflects the client`s vision. We delivered a neutral palette suited to a broad target market of potential buyers. In contrast to the warm oaks and subtle neutrals, we modernised the spaces by using clever architectural lighting accents in black finishes. Additionally, we introduced a playful geometric pattern as seen in the bathrooms design.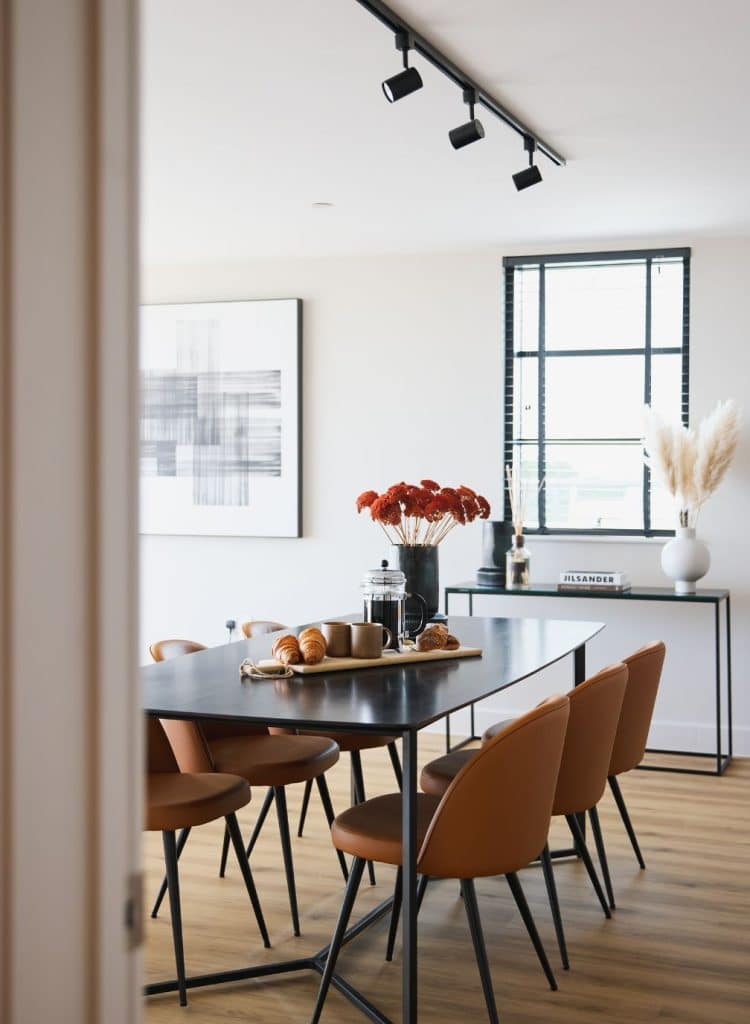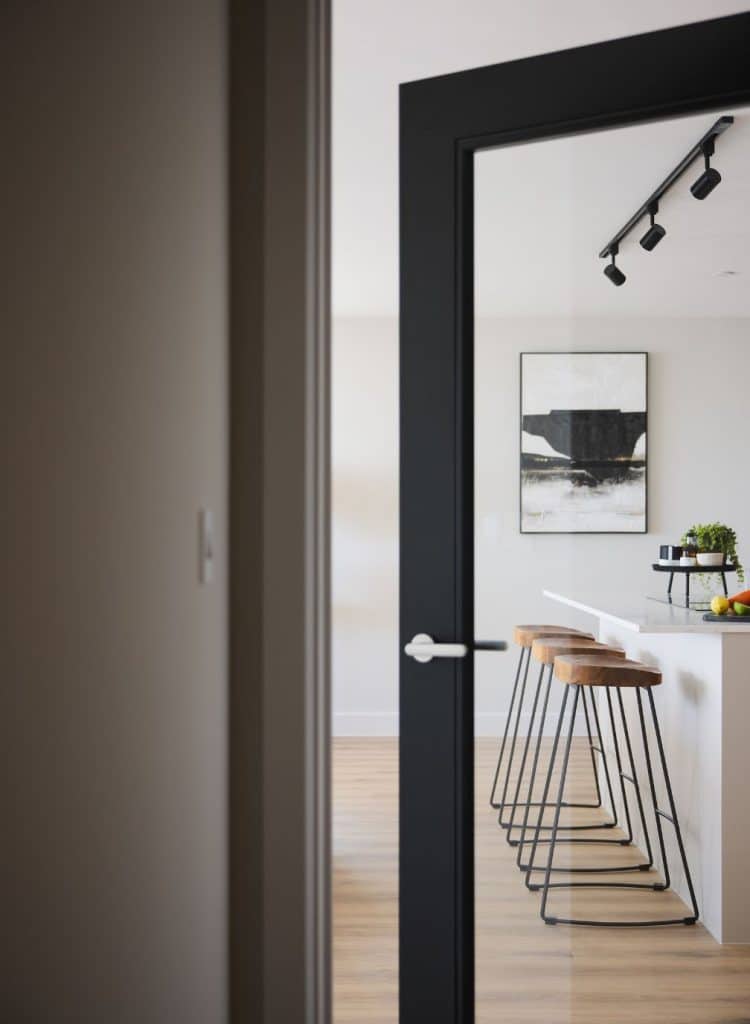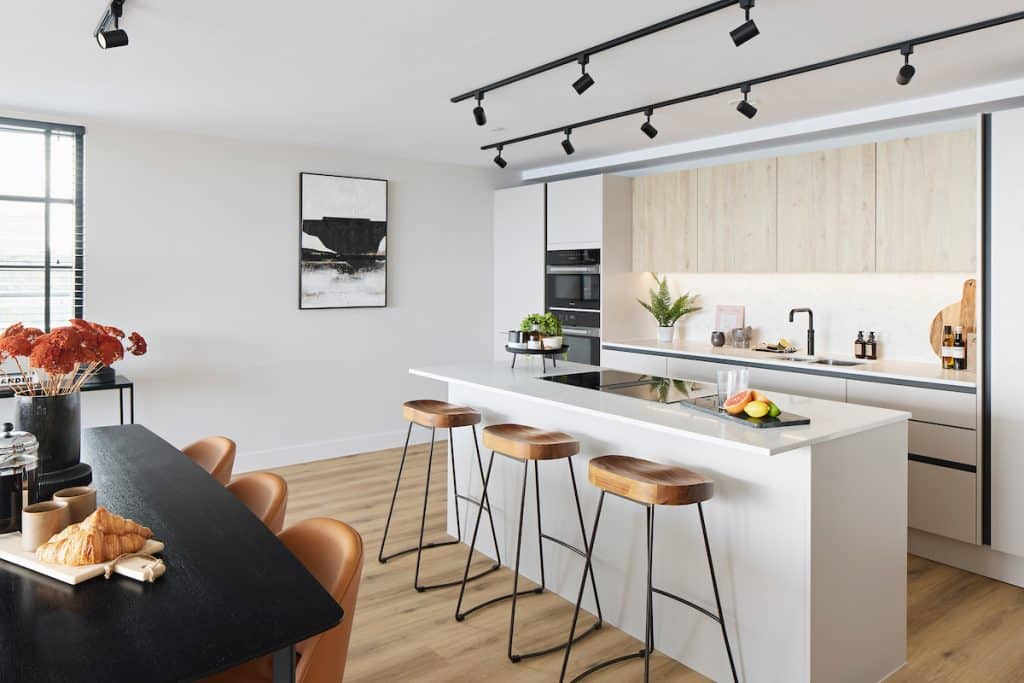 Functionality and integrated storage
Generous space for sleek and modern integrated storage in the hallways was also allowed for, aiding bright and non-cluttered entrance ways. We defined each entrance further by using a marble-effect porcelain tile on the floor at each apartment`s entrance which transitions into a natural oak-effect flooring running into the open-plan kitchens and living.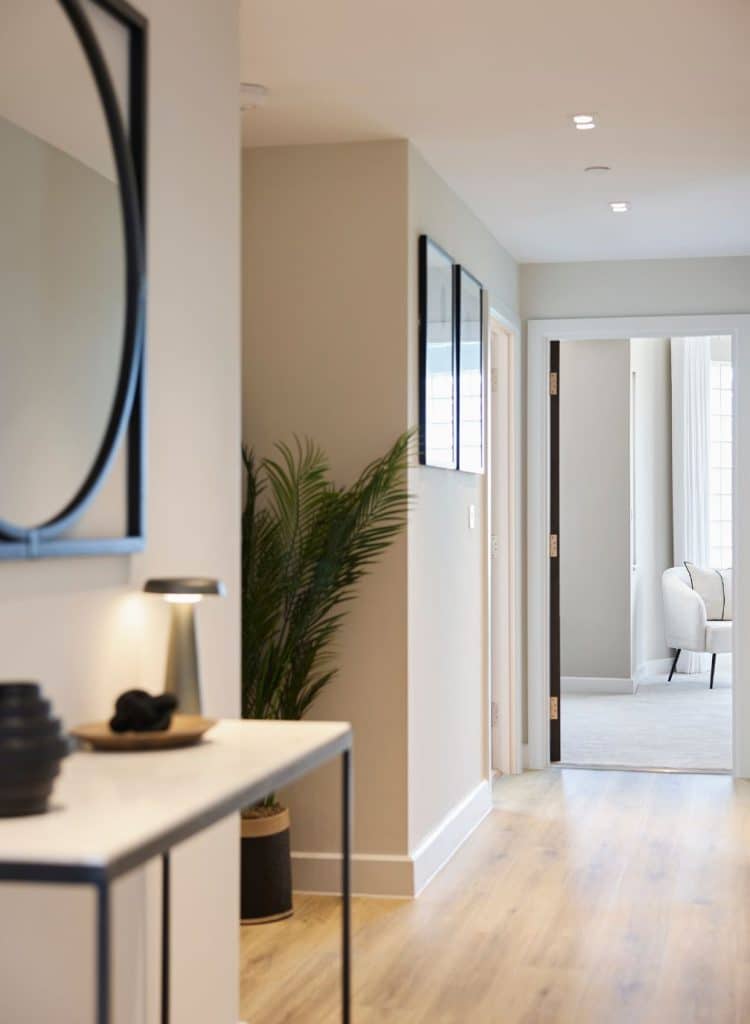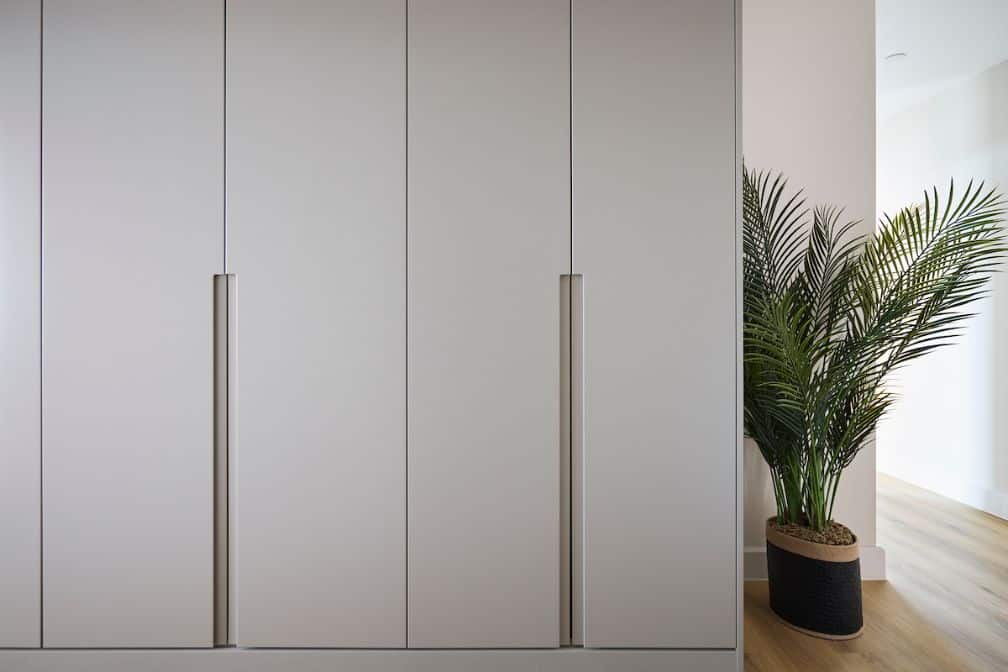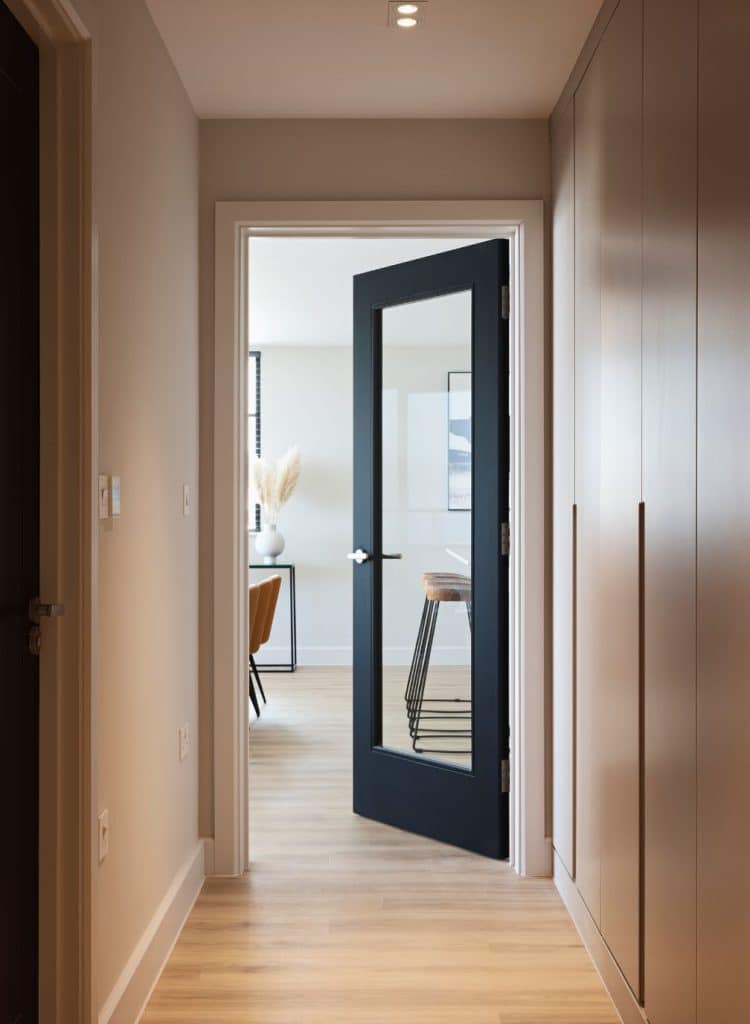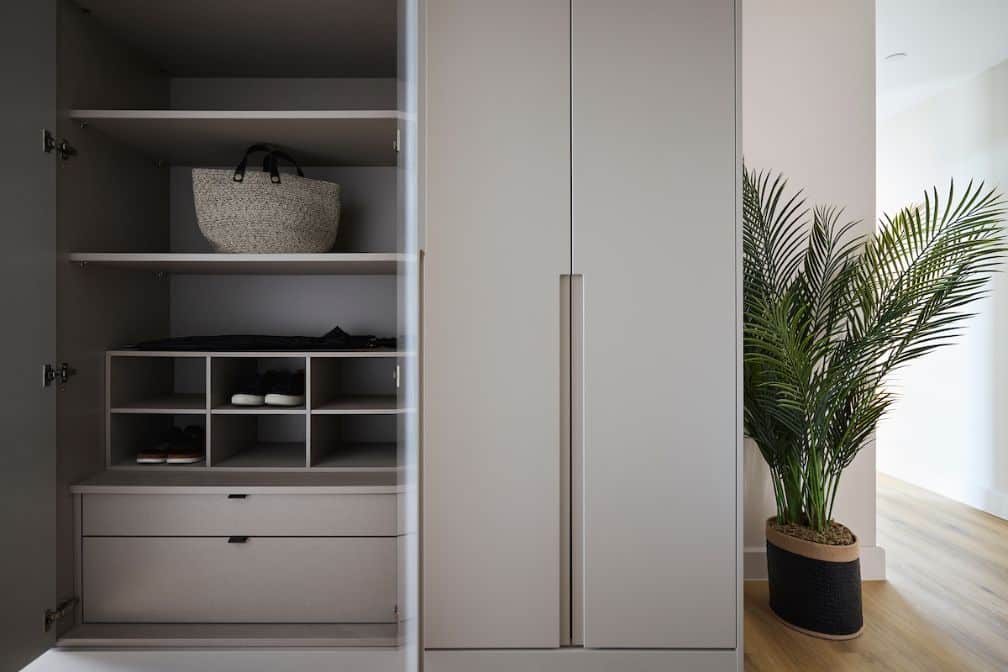 Our expertise and focus on space-planning ensures that every corner`s potential is maximised.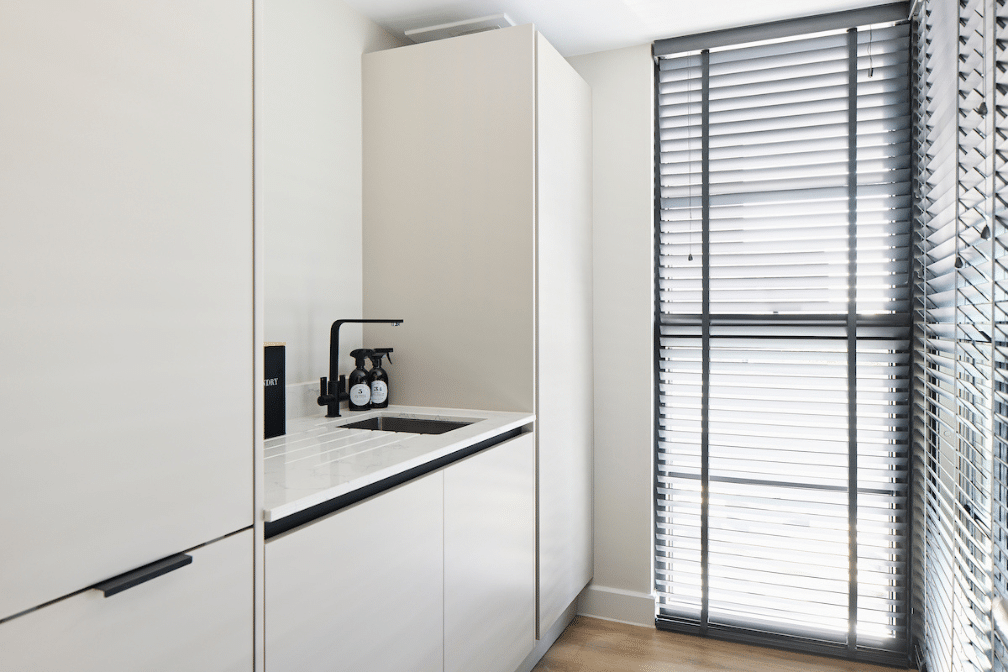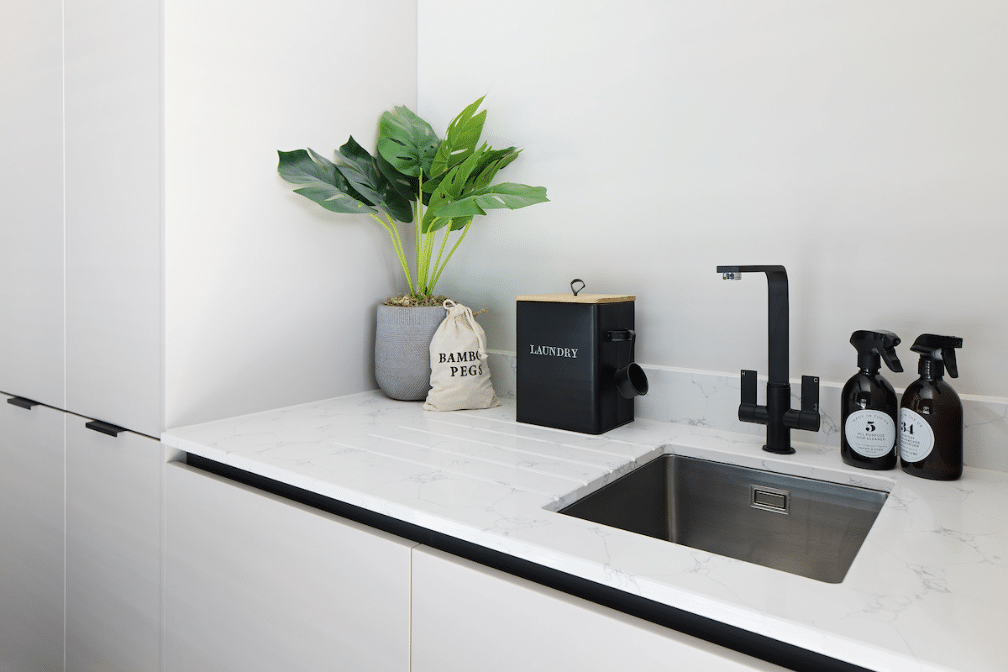 We paid special attention to ensure that services are cleverly hidden and sufficient space is provided for a well-functioning utility. This is such an important room in every home, and we find that it often gets too compromised, especially in apartment living.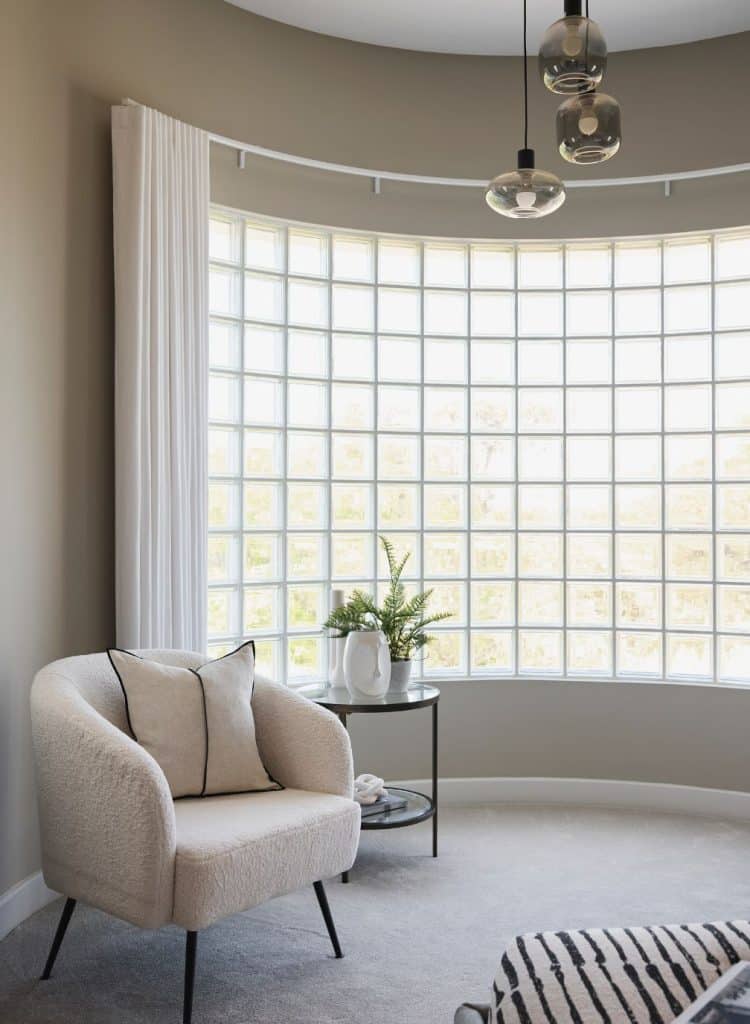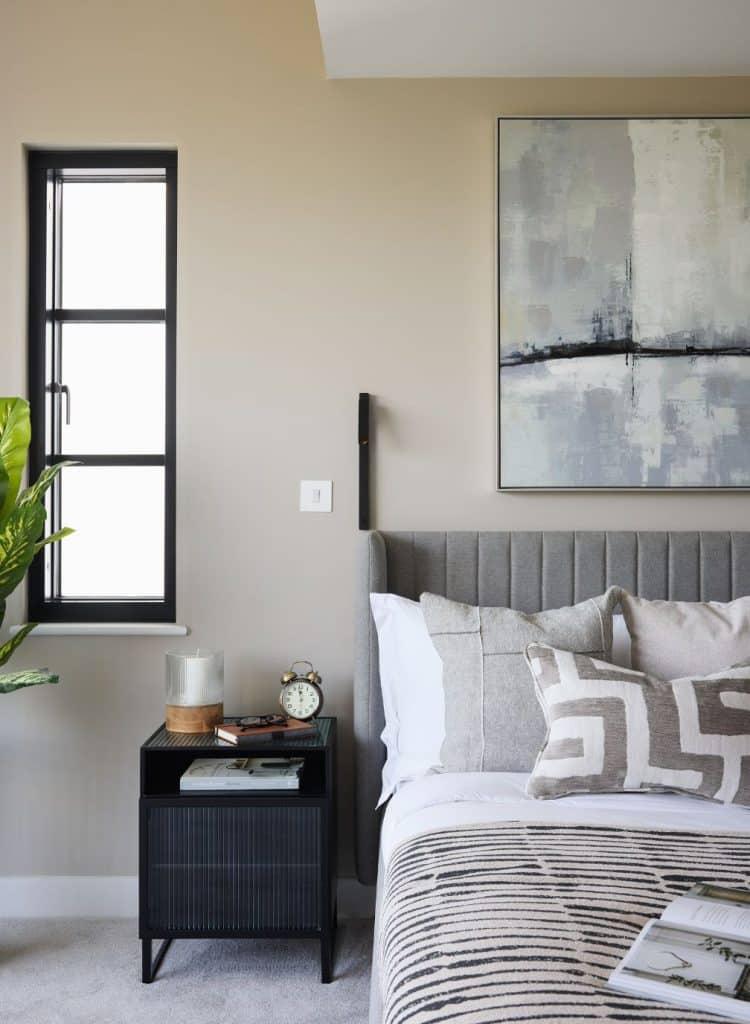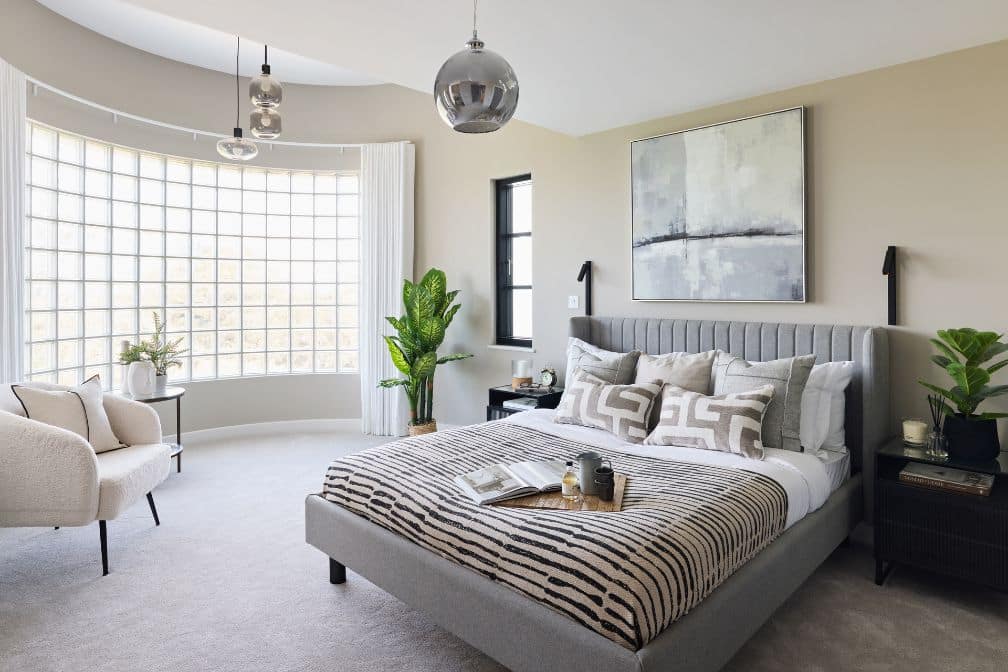 Within bedrooms, we ensured that generous area is allowed for fitted wardrobes not only in the primary bedrooms where we also dedicated areas for a fitted dressing table, but also in secondary bedrooms.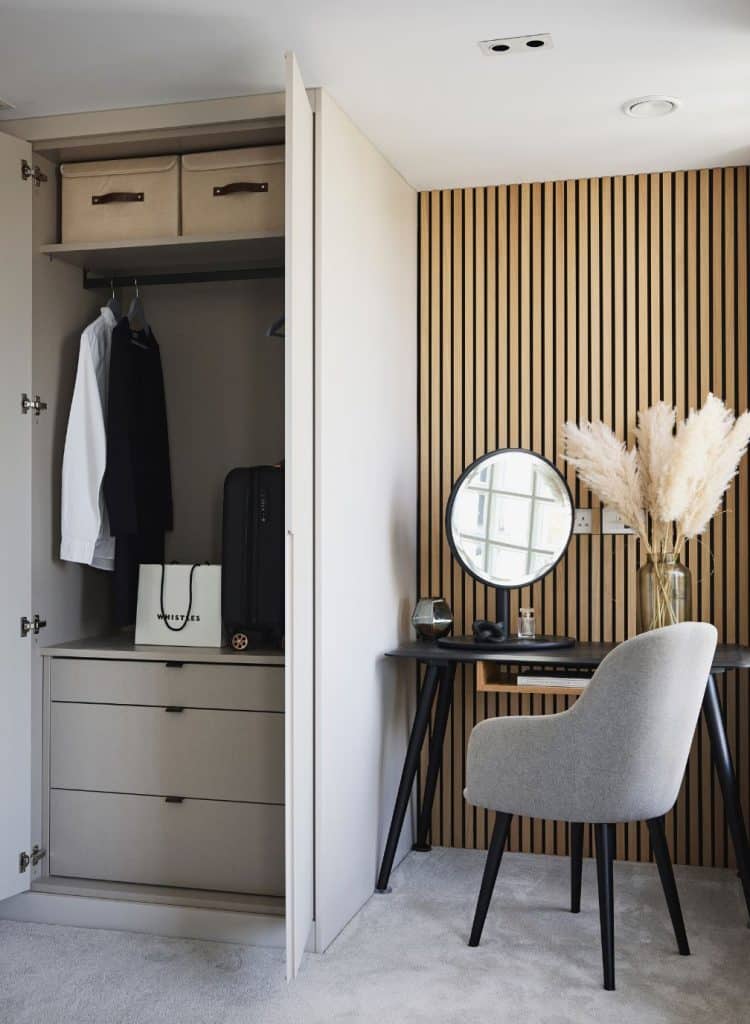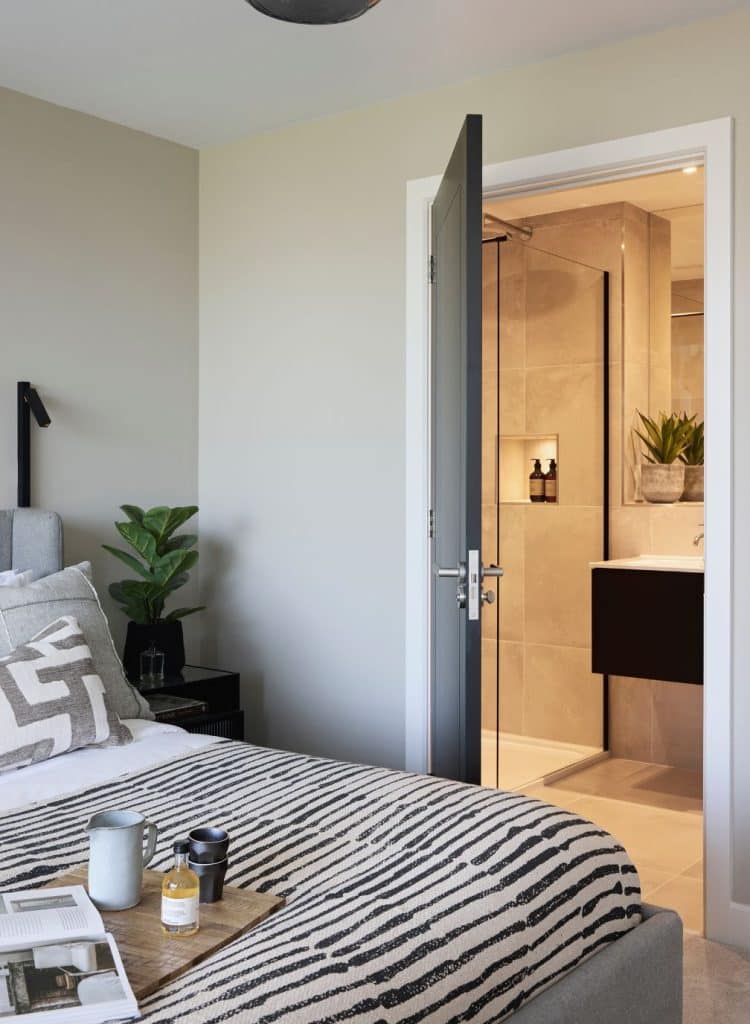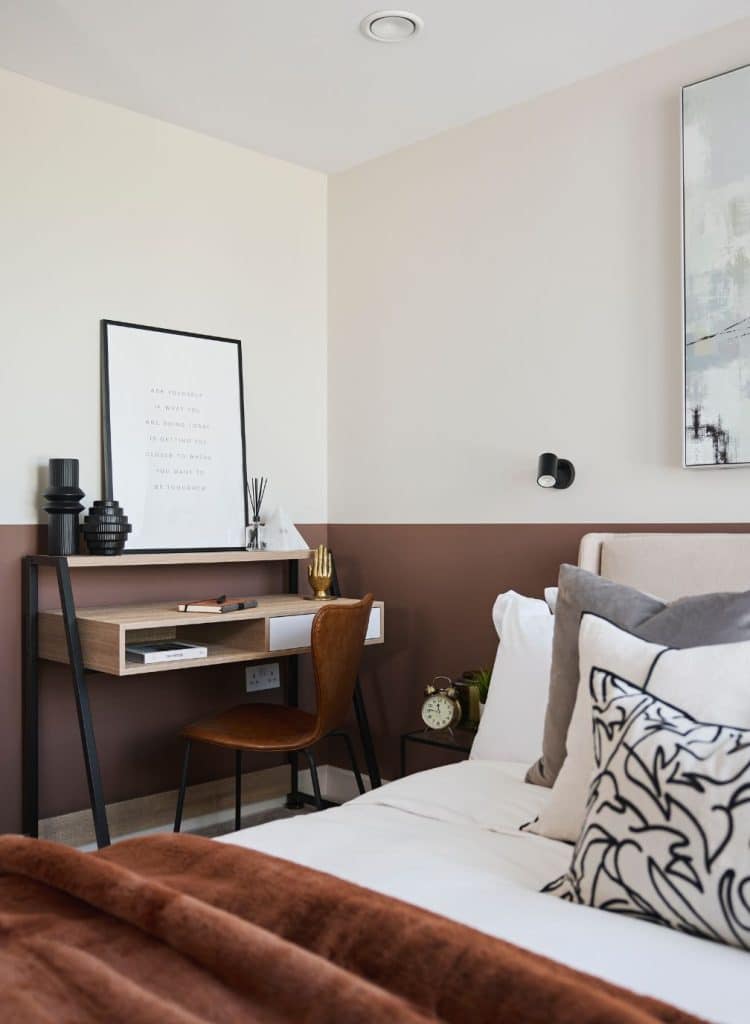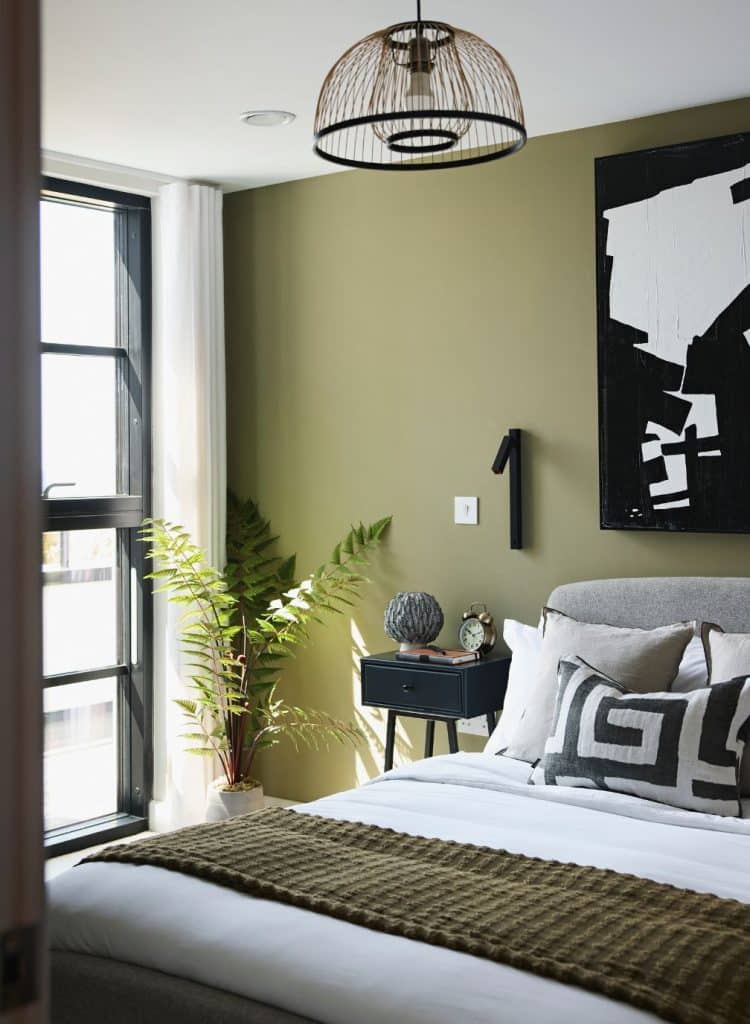 Grand Entrance and Communal Design
Our aim was to deliver a soft palette for the lobby and corridors that references the art-deco features of the exterior. The main entrance features the characteristic curved window in a double-height space. We selected a warm timber-effect porcelain tile for the main lobby floor which works in perfect harmony with a subtle wallcovering in a fine weave pinstripe pattern with gold accents that carries through into the corridors.  We pay special attention to circulation areas such as communal staircases and lift, so these work cohesively with the overall look and feel.
Lighting design here was also very considered – we focused on balancing the amount of ambient lighting in selection of the feature pendants by the main lobby and wall-wash linear lights going into each corridor space. We opted for a cashmere warm finish for the communal and apartment doors which worked very well in contrast to the wayfinding signage in black finish.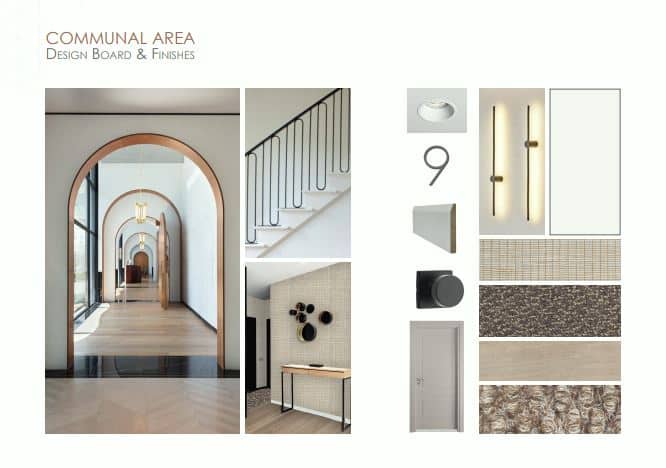 Communal Areas concept - watch this space!
Show Home Rental
Our Interior Design department were appointed to create a show home that felt aspirational, luxurious and inviting whilst showcasing the beautifully designed property and its surroundings. We were approached by Hartdene Homes in November 2022 and installed in March 2023.
The penthouse apartment consists of a master bedroom with a statement curved window, two guest bedrooms, open plan kitchen/living/dining room with sea views, utility room, two bathrooms and a wrap- around balcony. As with all our show home, we dressed every room, cupboard and wardrobe with accessories to reflect the design and lifestyle.
We paired Art-Deco inspired forms with warm colours and layered different materials, patterns and textures to bring depth, grandeur and contrast to the space. The colour palette consists of rich rust, deep olive green and warm neutral shades paired with marble and bronze accents. These came together to create a harmonious and memorable space.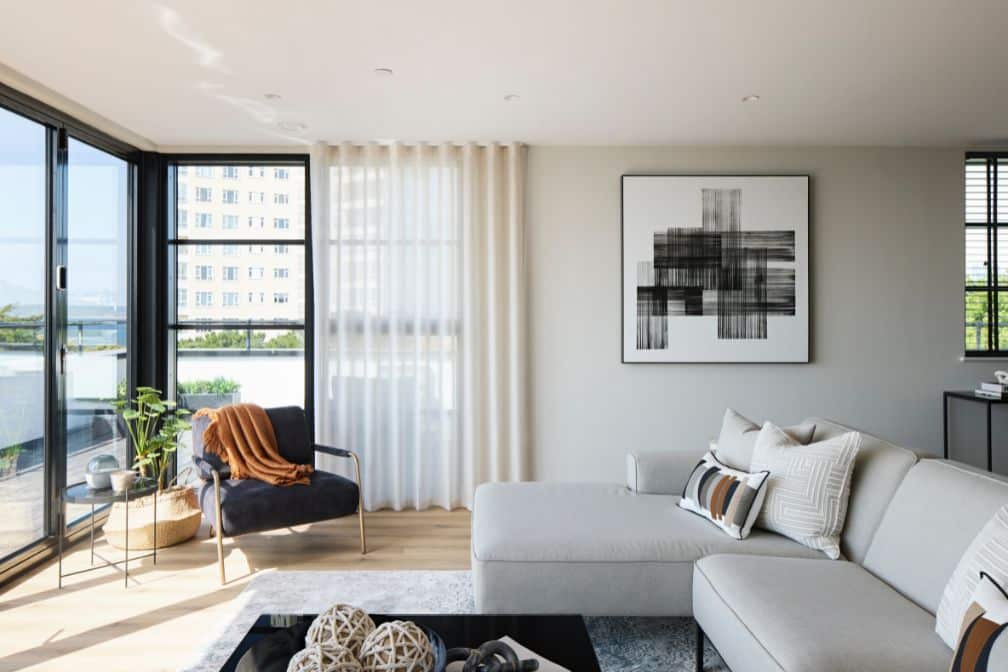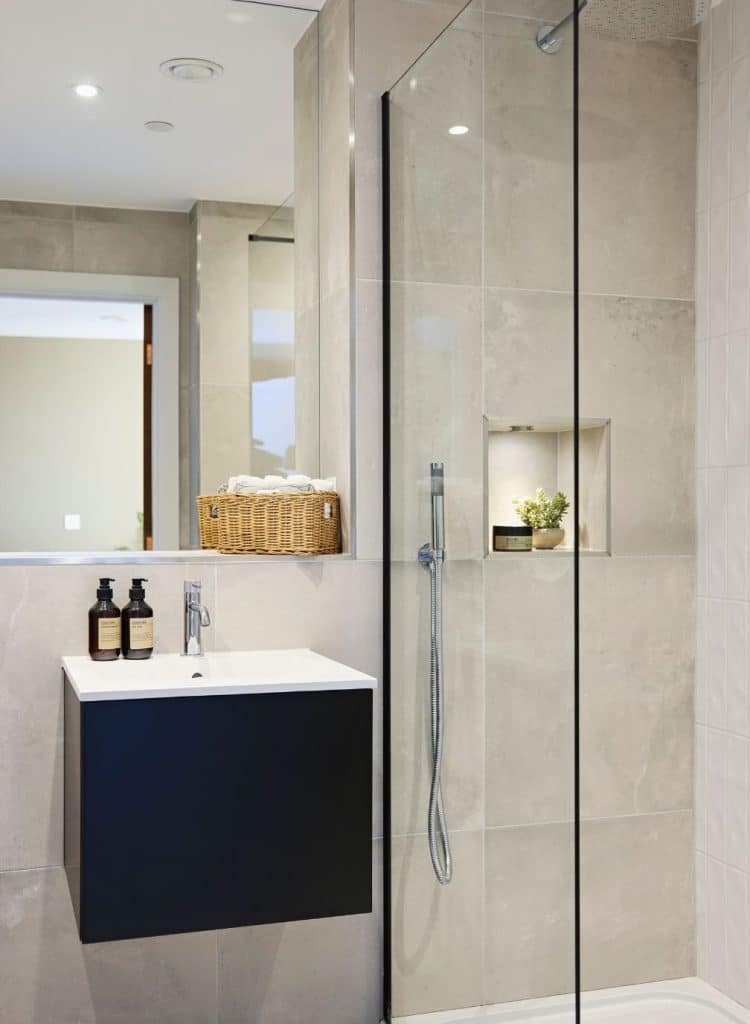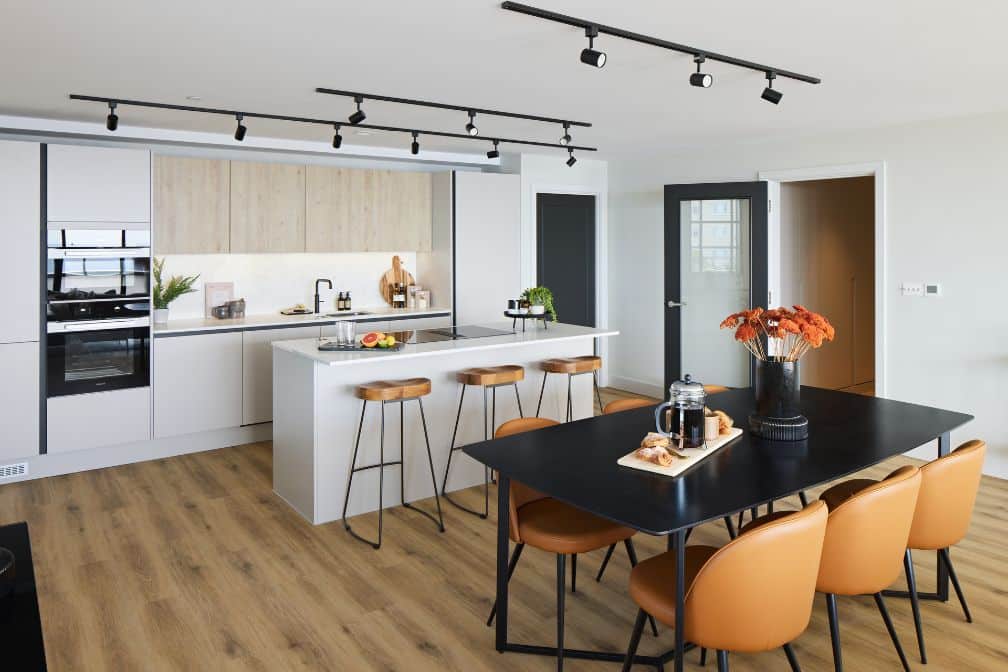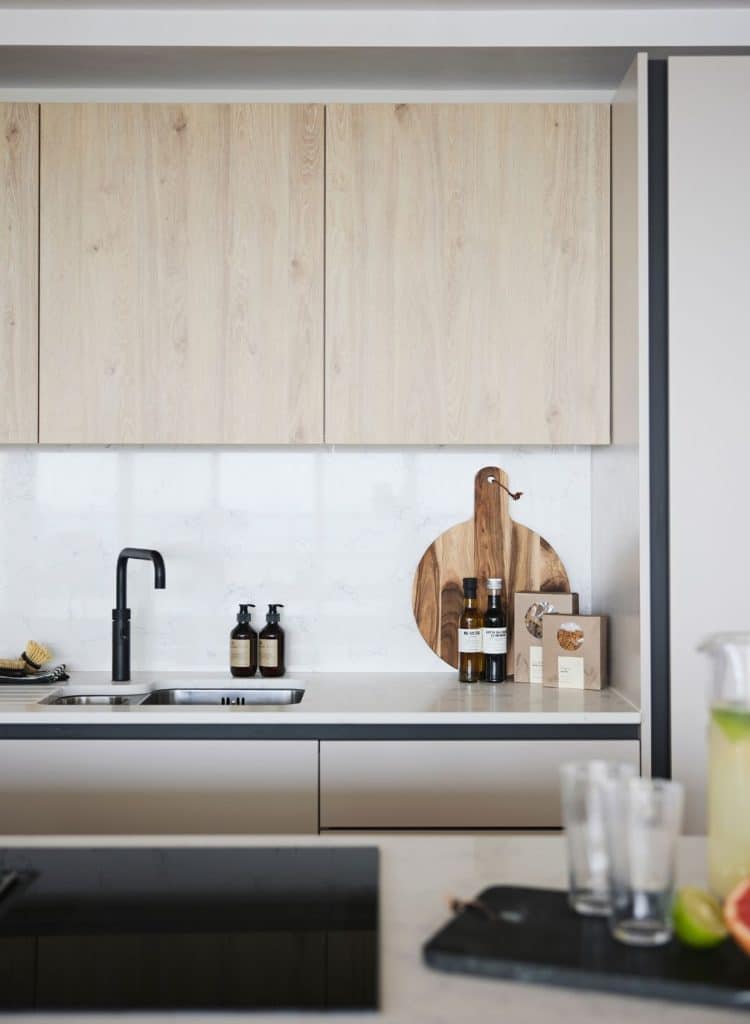 We opted for large abstract artwork throughout the property to bring a sense of drama and bold graphic prints in the soft furnishings to reflect the Art-Deco inspired building. We used linen voiles throughout to frame the beautiful views and create privacy; the wave headed voiles create structured architectural lines and pair well with the black window frames.
The installation was challenging for Jigsaw as the entrance and communal areas were still unfinished. Our wonderful installation team carried every piece of furniture up the stairs to the 5th floor, and even used one of the builder's forklifts to get the sofa onto the external scaffolding and in situ via the balcony doors.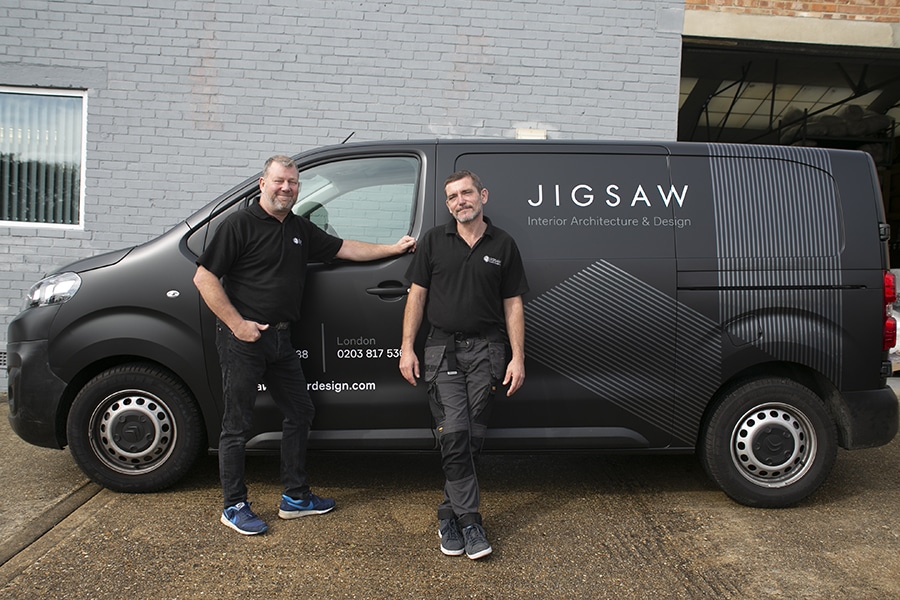 Mark and Gary make up our incredible, hard-working installation team
For this particular show home, we provided a rental service, meaning all of the furniture installed is rented to the developer and will be returned to Jigsaw when the property has sold. This is a more cost-effective way to create a high-end show home, especially when the property is likely to sell very quickly! For more information about our show home packages get in touch.
Following the success of this penthouse show home, we have also designed Jigsaw BOX schemes tailored for more of the apartments, that can be customised by the properties purchaser. We are also in the process of designing the neighbouring penthouse apartment for the new purchasers.
If you would like to discuss a future project or learn more about Jigsaw, please contact us.
Get in touch