19 | 03 | 2023
The Power of Colour Theory in Design
Using colour theory to create beautiful spaces that support function and form in commercial and residential design.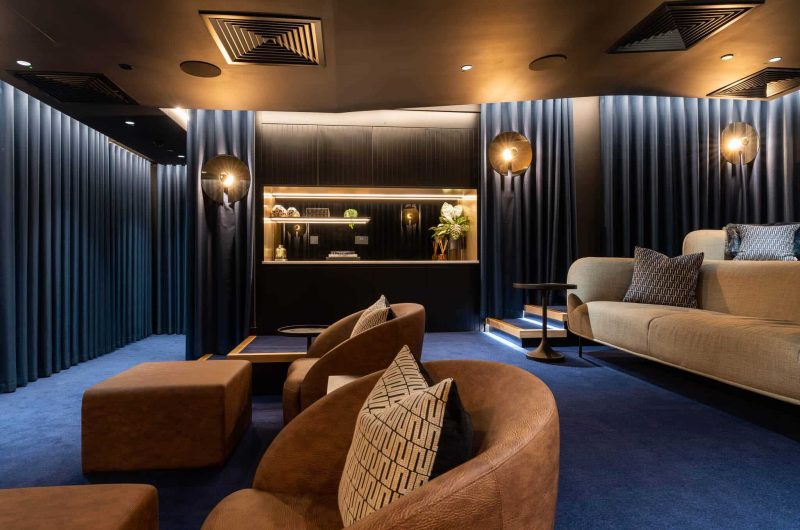 Cinema room for residents at Postmark, London. Designed by JIGSAW.
Wellness and Design
The practice of wellness involves adopting healthy lifestyle habits to improve quality of life. Your environment can influence this through carefully selected lighting, colour, biophilia, and more. A thoughtfully designed interior can enhance daily life and elevate the standards of modern living.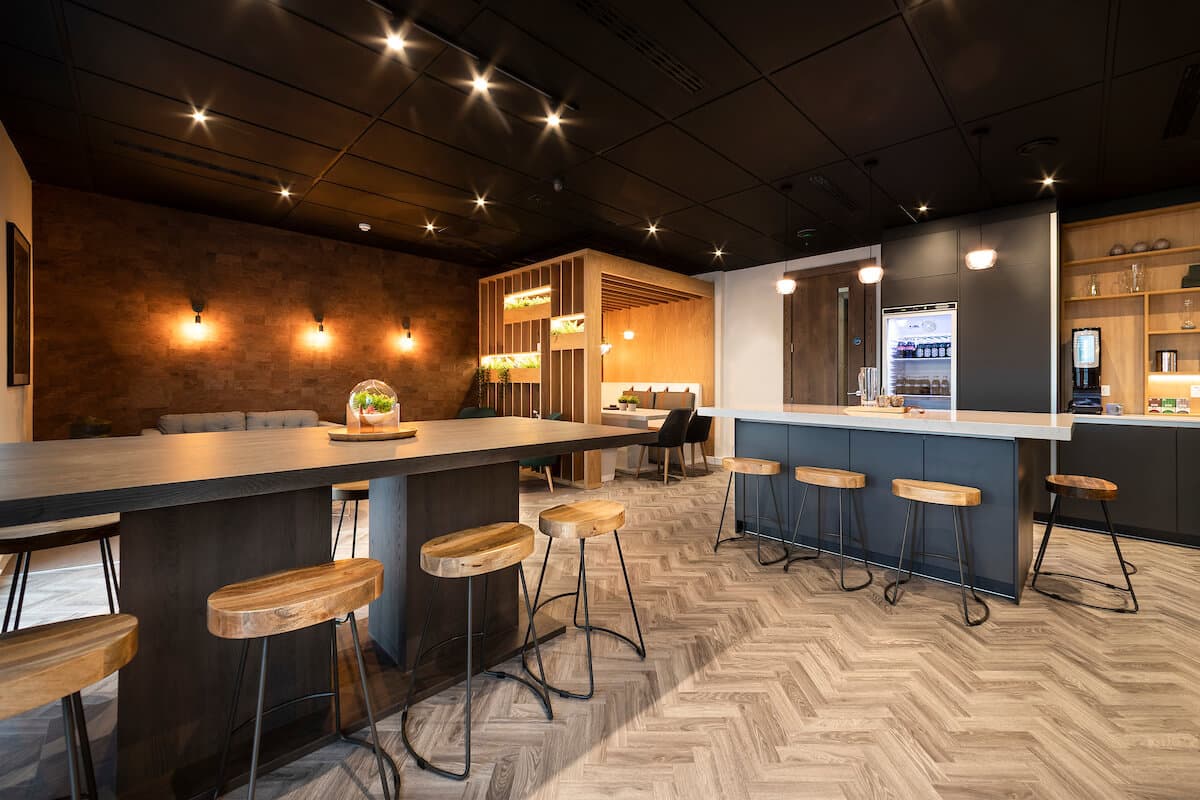 Thoughtfully positioned lighting in a commercial break out space, designed by JIGSAW.
Colour Theory
Colour theory is the study of how colours are perceived, and the subconscious messages they convey, as well as the relationship between certain colour combinations. Colours can be described as warm or cool, bright or dull, strong or weak, depending on their hues and intensity.
This student accommodation in Coventry hosts bold primary colours to bring energy and enthusiasm to its communal spaces, designed by JIGSAW.
Colour Theory and Interior Design
Colour theory is a useful tool in interior design to support the desired behavioural and mental influence of a space. Colour can affect your mood, productivity and health, so it's worth considering how you may use it in your home, office and commercial space.
Designers in interior architecture and design use colour theory to select colours that support the purpose of a space, to fuse form and function in a harmonious way.
Blue: Tranquil and Ambition
Royal blue and navy express confidence and ambition when used as accents or statement colours. These are best suitable for spaces formed to inspire productivity, such as commercial and domestic office spaces.
Zoned royal blue commercial break out space with gold accents, designed by JIGSAW.
When designing a commercial office in Billinghurst, West Sussex, our designers were inspired by the positive influence of blue interiors. In a traditional open-place office layout, zone break-out spaces offer flexible workspaces for meetings, collaboration and socialising, separated by biophilia and bespoke panels to invite privacy.
Accented navy-blue fixtures inspire ambition for nomad remote workers in this cafe, located in the basement of a London hotel designed by JIGSAW.
Green: Calmness and Security
Green interiors evoke thoughts of balance, growth and restoration. In interior design, green can bring a sense of calmness and security in environments for decision making, like a marketing suite or meeting room.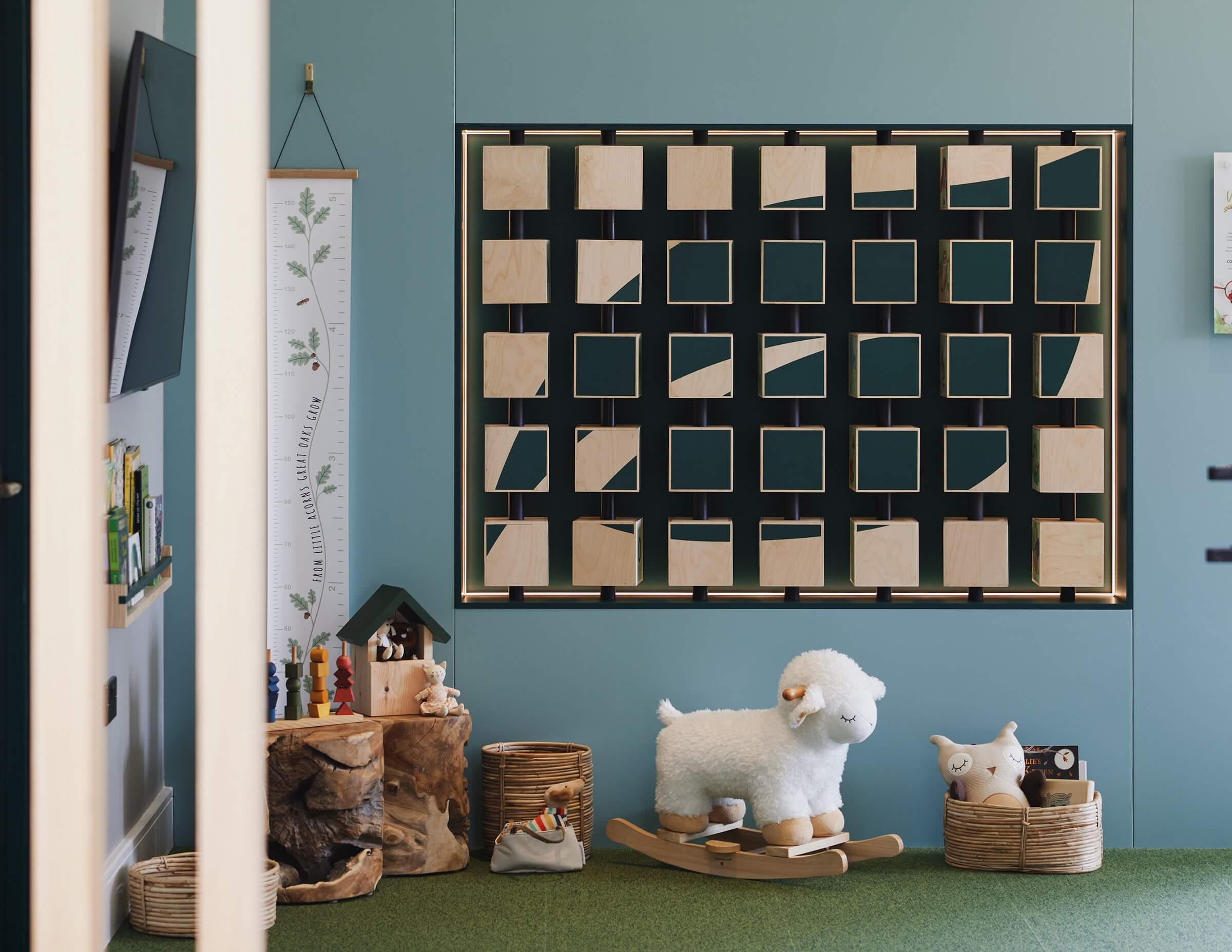 Nature-inspired children's play area.
Our interior architecture and interior design teams incorporate green with nature-inspired accessories in this children's play corner at a residential marketing suite in Woodgate, Pease Pottage, reflecting the client's mission to shape sustainable communities of an environmentally restored future.
Connecting with Nature
Green interior design is also perfect for city homes seeking a connection with nature and can be paired with biophilic prints and natural textures to bring the outdoors indoors.
Our BOX furniture scheme The Botanist offers fresh ambiance as the turnkey solution to interior design. Inspired by nature, this furniture scheme has a limited colour palette allowing botanical prints and green tones to bring life to this calming scheme.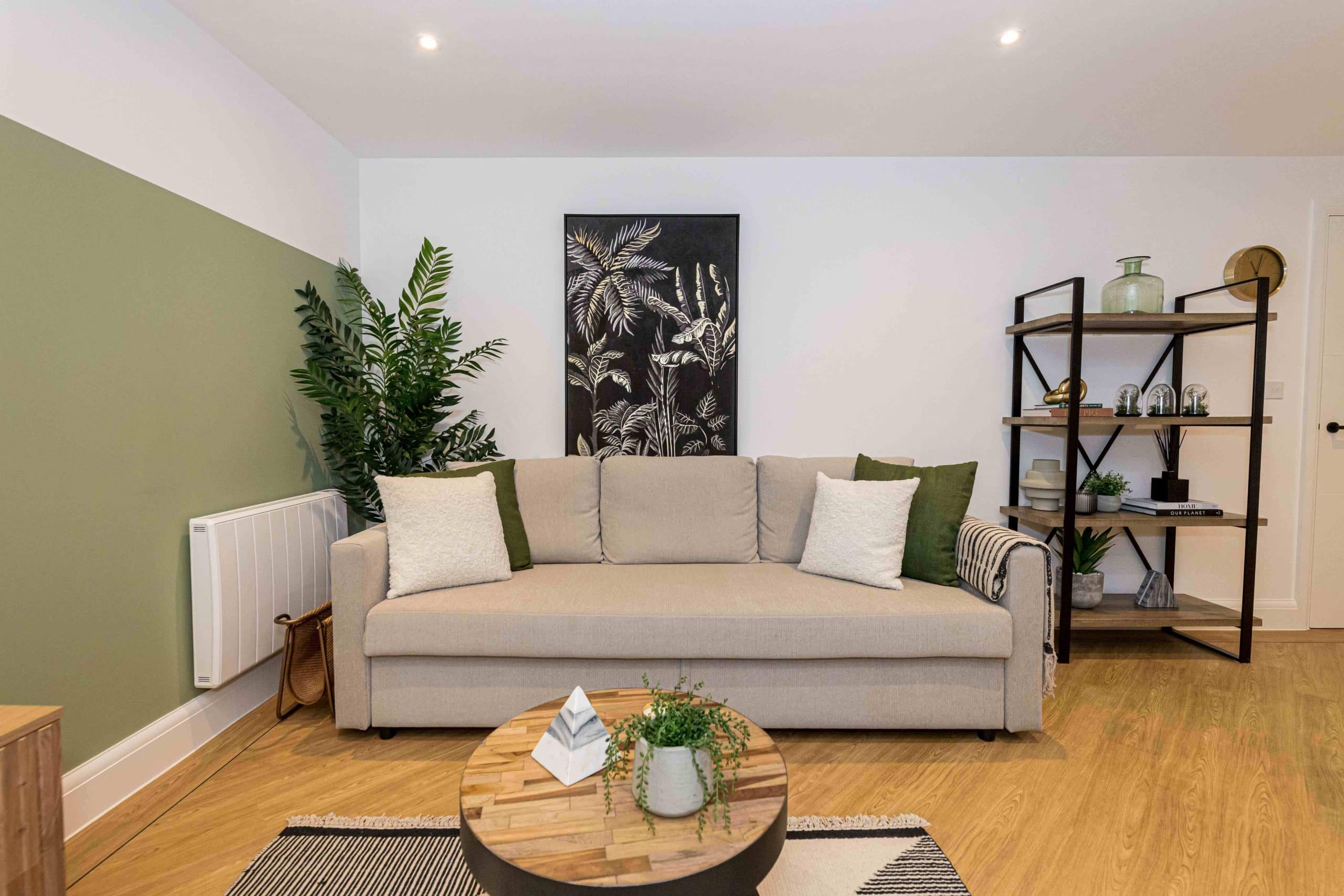 The Botanist furniture scheme showcases botanical prints, natural accessories and raw textures in this AirBnB in Dorset. Click here to learn more about BOX furniture packs.
Red: Confidence and Passion
Red interior design induces intense emotions with several connotations, depending on how the colour is used. It stimulates primal instincts of danger, love and passion, evoking a desire to take action.
Red claims boldness and power and can present as a great statement in entrances in both residential and commercial interior design to assert a strong, memorable experience.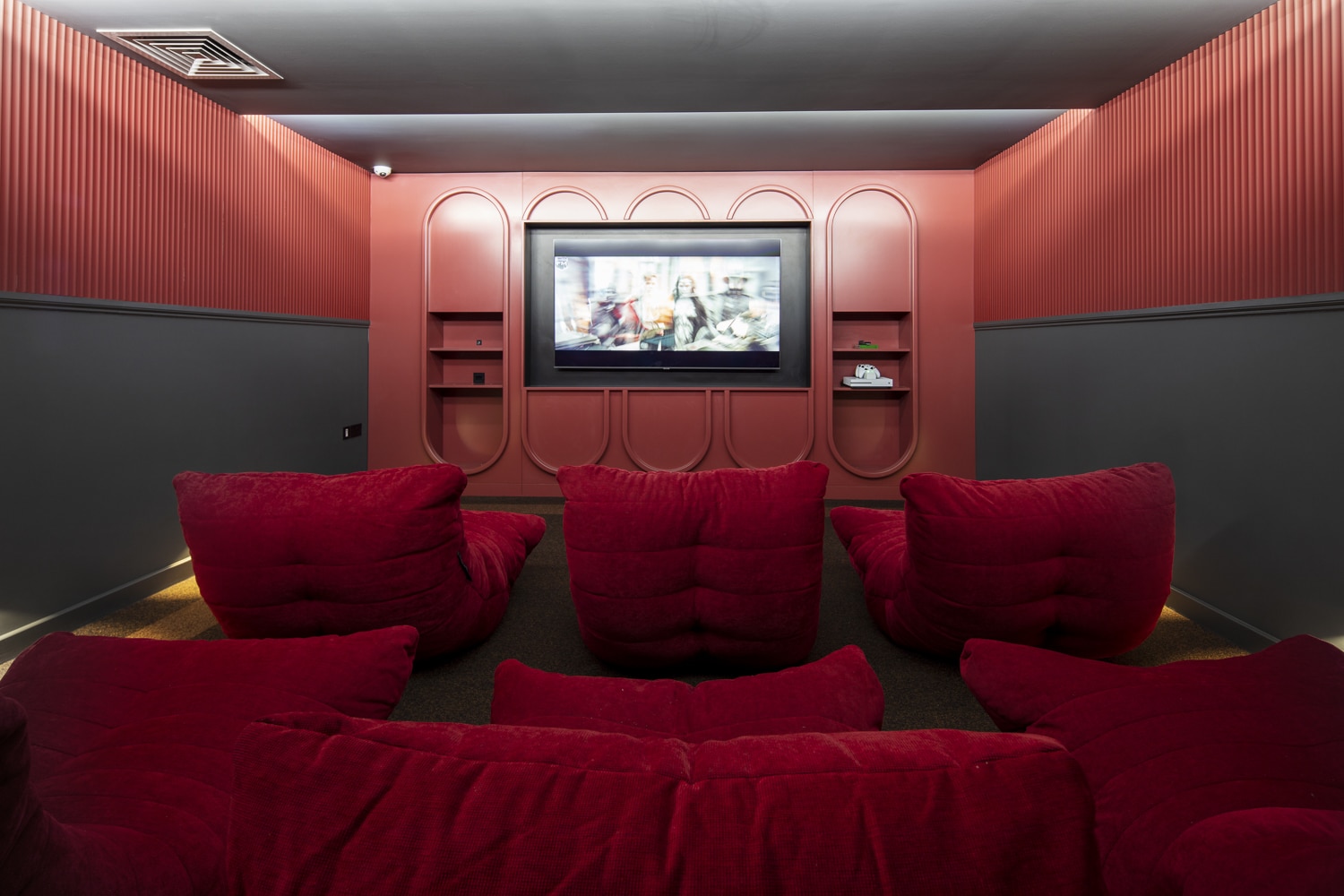 Monochromatic red cinema room for student accommodation in London, designed by JIGSAW.
Colour of 2023: Viva Magenta
At the close of 2022, Pantone announced that Viva Magenta is the colour of 2023. Viva Magenta embodies the confidence and energy of red that the colour derives from and invites inspiration and self-expression from cool tones.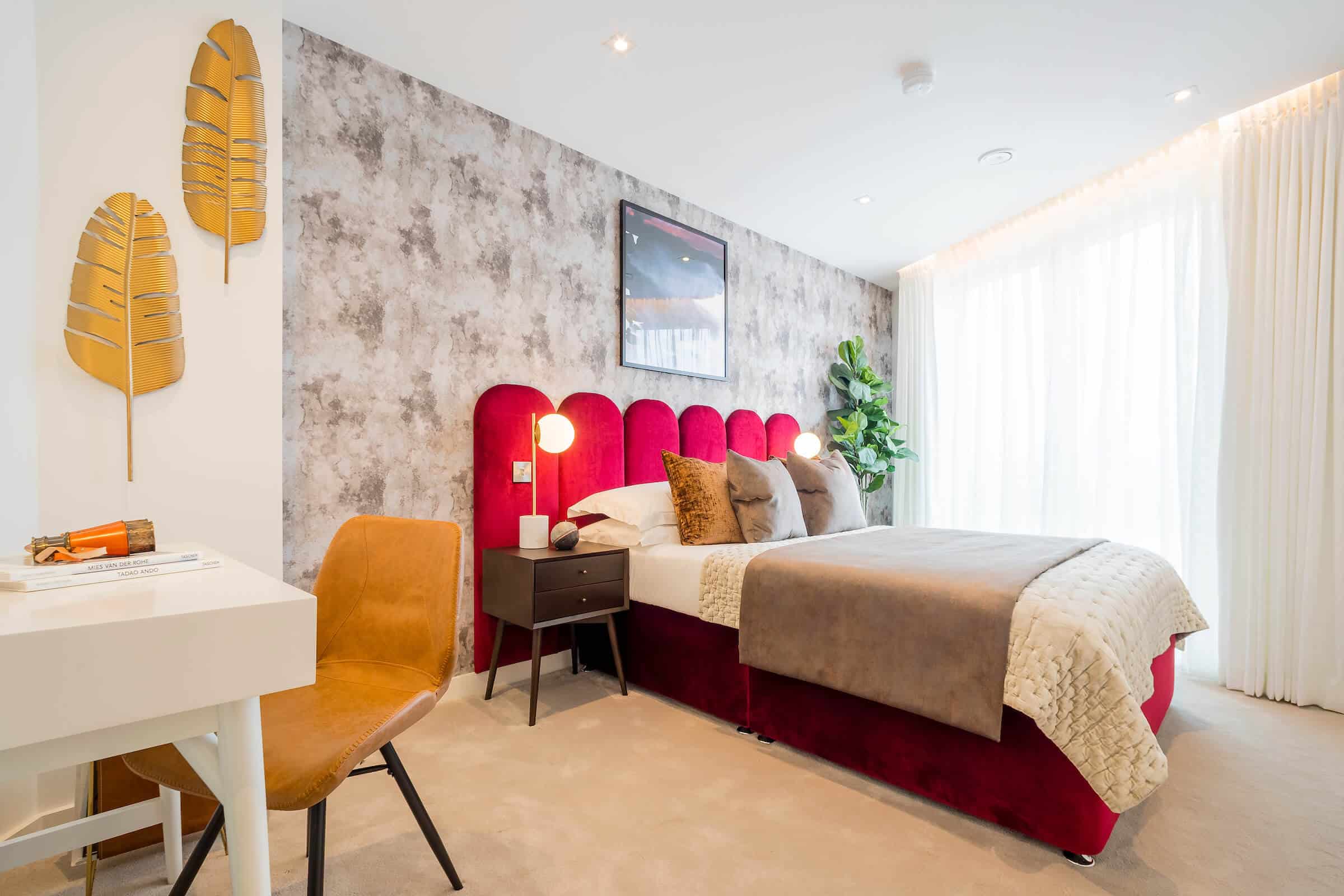 Adding a touch of viva magenta to this residential master bedroom.
How JIGSAW Can Help
JIGSAW is a leading interior architecture and design practice with over 15 years' experience, built on a passion for design and style. Our creativity forces us to obsess over style, colour, light and texture. Our love for well designed furniture, fixtures and fittings creates opportunities to enrich the aesthetic of the space.
We provide bespoke services in both interior architecture and interior design treating each new project as an individual entity with a fresh perspective to each concept. We also now offer pre-designed BOX furniture schemes as the turnkey solution for interior design to complement any property.

Get in touch
Are you seeking interior architecture and design solutions for a commercial, residential or domestic space? Get in touch today to arrange a consultation.
Keep up to date with JIGSAW Interior Architecture and Design by signing up to our newsletter, or drop a follow-on social media:
Instagram | Facebook | LinkedIn | Pinterest